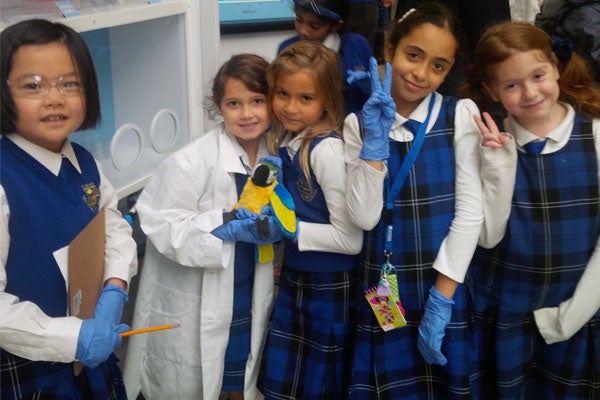 Stem cell exhibit for kids is a hit with adults too
Teaching school kids "mere steps from the place where stem cells were discovered"
How much do you remember from science classes about stem cell biology? Perhaps more importantly, how much do your kids – or grandkids – know? 
An award-winning stem cell exhibit has been delighting children, parents/grandparents and educators since it arrived at MaRS Discovery District, and Torontonians have a few more days to view it before it moves on to its next location. 
Super Cells: The Power of Stem Cells is a free, interactive, museum-quality exhibit that introduces children between the ages of four to 14 years old to the wonders of stem cells. Brought to Toronto by the Centre for Commercialization of Regenerative Medicine (CCRM), with funding provided by the University of Toronto to support science public outreach, the tri-lingual exhibit (English, French and Spanish) has quickly become integrated into science curriculums for the schools that have visited.   
"It's fitting to be teaching our young people about stem cells mere steps from the place where stem cells were discovered and we're hopeful this exhibit sparks their curiosity and passion for science – especially in regenerative medicine," says Professor Peter Zandstra, chief scientific officer of CCRM. 
Cherie Sachar, a math and science teacher at Robbins Hebrew Academy in Toronto, brought 32 grade 8 students to learn about stem cell science. She's a fan of Super Cells. "I found the exhibit very interesting and informative and it is something that we should all see to enlighten us about stem cells and the research being done."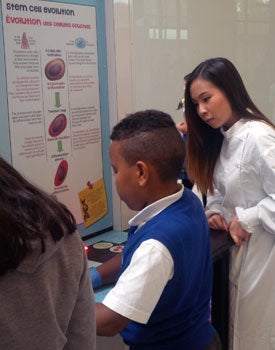 CCRM has arranged to have a U of T grad student on hand whenever a school group is visiting. (Pictured at right: Theresa Chow, a PhD candidate at U of T who is also with the Lunenfeld-Tanenbaum Research Institute at Mount Sinai Hospital, explains the evolution of stem cells to a visiting student.)
Ursula Nosi, a fourth-year PhD candidate with the department of physiology at U of T, said she really enjoyed her experience of being a volunteer.
"The exhibit was awesome. I think the kids, as well as the teachers, were generally very impressed," Nosi said. "The teachers were very thankful to get the opportunity to expose the kids to the exhibit and a real 'scientist.' Not only were the kids very inquisitive […] but teachers were asking me to explain concepts to them as well."
Super Cells was produced by the Stem Cell Network and Musée Nature Sciences Sherbrooke, with financial support and expertise provided by CCRM, CIRM and the UK's Cell Therapy Catapult. EuroStemCell contributed content/oversight. 
MaRS provided exhibition space and U of T's Institute of Biomaterials and Biomedical Engineering and Science & Engineering Engagement gave financial support to the Toronto exhibition. 
Super Cells is open daily from 9 – 6 and closes on Friday, November 13 to travel to California.