'Statistics anxiety': How this U of T lecturer is using art to help students overcome their fear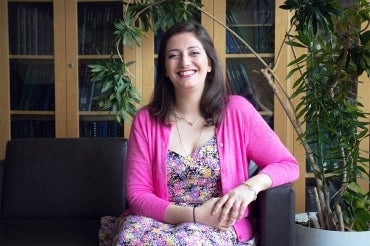 Psychology and neuroscience student Farnaz Vahadat waited until the last year of her undergraduate program to enrol in a statistics class she needed to finish her degree.
"I knew I had to enrol at some point, but I put it off until the very last minute. I was just so terrified of statistics and that I would fail," she says.
Vahadat is not alone with her "statistics anxiety". No one knows that better than U of T lecturer Asal Aslemand. Since she started teaching statistics courses to students pursuing a degree in social or life sciences, she has come across many who would gladly choose a visit to the dentist over signing up for a statistics class.    
"Statistics has a bad rep," she says. "It's just something a lot of people perceive negatively. It makes me sad, because I know how much students in almost every discipline can benefit from learning statistical methods."
To help students overcome their fears, Aslemand, who earned a master's degree in statistics and a PhD in statistical education, decided to combine her two loves, statistics and education, while also not forgetting about her background in visual arts.
In 2016, when she taught her first statistics course for non-statisticians at the U of T Scarborough's department of computer and mathematical sciences, she let students pick data sets for their final project that lined up with their interests. For extra credit, students could also let their creativity run wild and turn the results of their data analysis into a piece of art.  
"I was absolutely blown away by what the students came up with: string art, mini models, posters. Some students even composed songs [see video below] and poems about their final research," says Aslemand.
"I'm not saying, we need to use art to make science better," she says. "But I think that providing students from various backgrounds with an interdisciplinary approach and a way to visualize their research helps them connect with and communicate their work – and maybe even fall in love with statistics."
That certainly came true for Tasnia Elahi, a second-year city studies student, minoring in geographic information studies and statistics. It was Aslemand's class, she says, that convinced her to choose statistics as a minor.
"Before, I hadn't even considered statistics, but Asal's class made me realize how much statistics and social sciences are connected," she says. "Being able to visualize my research at the end of the term was really helpful, too. It helped me connect to my findings on a different level, and it also made it easier to explain to others why these numbers matter."
To illustrate her analysis of a data set on homeless shelters in Ontario, Elahi created a 3D model out of paper and Christmas decorations – including twinkle lights to illuminate the buildings in her "shelter city". Her data analysis revealed a shortage of shelter space in Toronto compared to other cities across the province.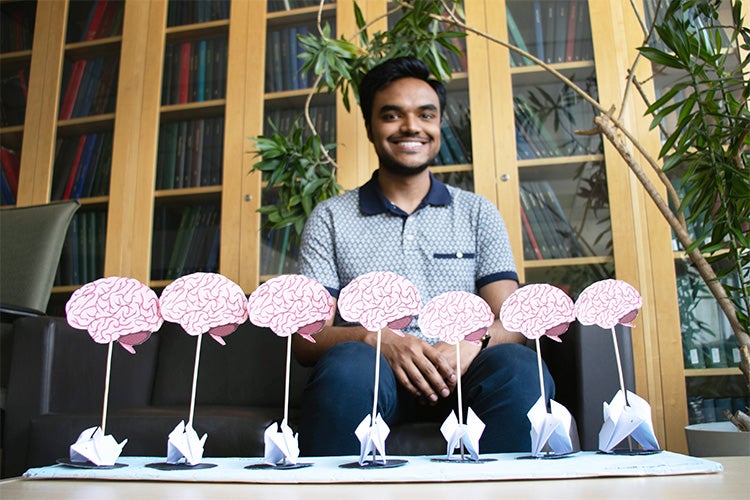 Life sciences student Al-Amin Ahamed created a model to illustrate a link between obesity and cognitive function, based on a study in mice.
Since her first class, Aslemand has worked on fine-tuning her teaching methods, while teaching statistics classes at the department of statistical sciences and the U of T Scarborough's department of computer and mathematical sciences. She is planning on collecting some of her students' art pieces in a book. She is also eager to conduct a study of her "teaching experiments" to analyze students' experiences and see if they embrace statistical thinking long-term – in their work, but also in life. After all, she says, statistical thinking is needed more than ever in times of fake news and black-and-white thinking:
"Statistical sciences are important because they teach a mindset that doesn't assume but critically questions what is happening. We need to be careful to not just conclude things but to pay attention to relationships and the things we don't know. It's necessary for producing good academic work but also for understanding the world around us."
Statistics