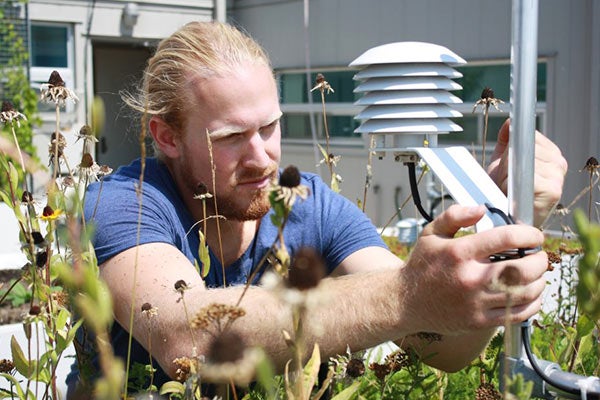 Spotlight on student researchers
Meet Benjamin Matthews and Curtis Puncher
The University of Toronto's Green Roof Innovation Testing Laboratory, or GRIT Lab, is the only laboratory of its kind testing green roofs in an urban environment in Canada.
Established in 2010 by the Centre for Landscape Research, the GRIT Lab contains 33 eight-by-four aluminum-sided plant-filled wood boxes that vary in soil type, depth, and irrigation regimes. Each box, or module, has been outfitted with 8 sensors that collect information on soil moisture, rainwater runoff, temperature, rainfall, and humidity.
Writer Dale Duncan spoke with Benjamin Matthews and Curtis Puncher, third-year Master of Landscape Architecture students, about what it's like to work in the GRIT Lab with Assistant Professor Liat Margolis and Associate Professor Robert Wright of the John H. Daniels Faculty of Architecture, Landscape and Design.
What do you do at the GRIT Lab?
Curtis (pictured below, right): Everyday is different. We've worked on everything from the construction and installation of the green roof modules to producing drawings of all the components. This past summer we've been absorbed with wiring all of our sensors and getting the data flowing. Next season we'll focus on analyzing this data and testing our hypotheses.
Why is this research important?
Curtis: There has been no empirical research conducted on green roof performance (its cooling effects and storm water retention capabilities, for example) in Toronto's climate. Current standards, including the City of Toronto's Green Roof Bylaw, have been primarily based on research conducted in Europe. Conventional wisdom has been to find the lightest soil at the shallowest depth to support species that will survive for extended periods of time without water. GRIT asks how we can maximize a green roof's contribution to the urban environment. If high performance green roofs can be deployed across our urban centres there will be real implications for mitigating storm water flows and urban heat island effect.
Benjamin: Green roof technologies have become commonplace in contemporary sustainable design, yet we know little about their metrics. We hope to unravel how green these technologies truly are through raw, hard data collected in the field in the particular climatic condition of Toronto.
What are the challenges involved in this work?
Benjamin: The greatest challenge is that the instrumentation we have employed is seldom used with such intensity. We basically have a weather station for each green roof module adding up to over 250 sensors which all need wiring, calibrating and programming. These instruments have been   borrowed from the fields of agriculture, biology, engineering, meteorology and so on, so there has been ongoing adaptation, amalgamation, and innovation required on our rooftop cyborg.
What have you discovered or learned so far that has surprised you?
Curtis: What I find particularly interesting is the unexpected biological dynamics we've been observing this year. The beginning of the summer was very hot and dry, and many of our beds without irrigation got completely scorched; we thought they were gone. When it started to rain in late summer, amazingly one species of grass (Bouteloua gracilis) came back from the dead. Some of our sedum beds have been colonized by a mysterious leaf fungus, while thousands of tiny beetles have moved into other beds.
Landscape architects often play the role of choreographer — pulling together and coordinating collaborators from different fields. Can you tell us about some of the different people you have worked with and the role they have played in your research?
Curtis: The GRIT lab is a very interdisciplinary project. Scott MacIvor, a Biology PhD candidate at York University, was integral in selecting species for the green roof and green wall modules. He is on the roof weekly conducting biodiversity and growth rate analysis, as well as documenting colonizing species. He's already working on publishing a paper comparing plant performance in different soil depths. Another integral member of the team has been Lorne Haveruk, who designed our irrigation system. Lorne is among the highest Certified Water Resource consultants in North America and continues to work with us as inevitable problems arise. With Lorne we've implemented the first known moisture-activated irrigation system on a green roof. Roughly a third of our modules receive water only when the soil reaches a certain 'dryness,' water on demand.
How has the opportunity to work at the GRIT lab informed your education at Daniels?
Benjamin: Working at GRIT Lab has helped me reconnect to the real world. In our studio courses, we are free to imagine designs without worrying about their actual cost and construction time. The GRIT Lab is hands on; we are witness to our design decisions in a very real way. Being up there in the 40° heat with soil in our fingernails really brings you back down to earth.