Sounds of Silence: composers, poets and U of T students collaborate for Canada 150 event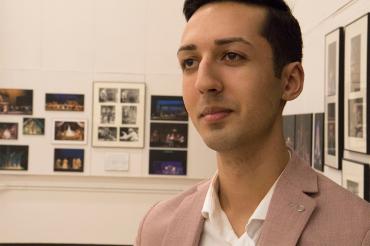 At poetry slams and salons around Toronto last summer, Daniel Robinson was scouting the scene, looking for writers to collaborate with U of T music students for his Sounds of Silence project.
The project premieres on Friday with 15 poets, all from underrepresented – and often marginalized – communities, who are working with 15 composers and 15 singers from U of T's Faculty of Music to create musical pieces to commemorate Canada's 150th anniversary. Poets include playwright, poet and spoken word artist, Charlie Petch, poet Karen Lee and Iranian-born poet, Bänoo Zan who is also the founder of poetry salon, Shab-e She'r. 
The tone will be reflective, using music to address the cultural, political and social dissonance that still exists in Canadian society. 
"There were creative differences and ideologies," says Robinson, the project curator who is a master's student in the Faculty of Music.
But that was the whole point of the project, he says. He wanted to show that beauty can result from making the smallest efforts to acknowledge diversity around us.
"Music allows people to come together over common ground, to have dialogue, and communicate," says Robinson.
The project, funded by U of T's Canada 150 student fund, provides a platform for voices to be heard. Poets in the project represent Indigenous, immigrant and LGBTQ communities.

Poet Karen Lee (centre) rehearses with composer Francis Ubertelli (left) and singer Amy Moodie (right) for Friday's premiere (photo by Hannah James)
Robinson says it was important for everyone in the project to feel respected and safe so he sought the advice of various people including poet Lee Maracle, who is also a traditional teacher at First Nations House and Qu(e)ering Religion at the Multi-Faith Centre.  
Robinson, also an opera singer, collaborated with composer Evan Hammell and poet Heather Clear Wind Blows Over the Moon.
Clear Wind Blows Over the Moon is a Cree First Nations writer and spiritual healer. She is also an intergenerational residential school survivor who uses poetry as a way to heal.
"Poetry transcends my traumatic past and gives me a voice, something I didn't have as a child during the abuse," she says.
"It also helps me to raise awareness and hopefully help other people understand things that are going on in Canada that they wouldn't even know about."
Her poem Bison of My Longing will be performed on Friday. It's about "deep longing to belong" and is also a tribute to the millions of bison that once roamed the prairies. The poet expresses her hope for the bison's return to Turtle Island one day.
When she first heard a piece of her poetry sung by Robinson, Clear Wind Blows Over the Moon says she was overcome by emotion.
The collaboration between Hammel, Robinson and Clear Wind Blows Over the Moon was so successful that they've come up with an eight-song cycle, which will be performed at U of T on May 7.
"When I first heard Daniel sing, I was blown away," she says.
Robinson says he's a firm believer in the power of music to break down barriers and also to heal.
"Perspective, empathy and education – I always say are the most important things anyone could give or have access to," says Robinson.
"This project is proof of that for me," he says.
The Sounds of Silence will be performed at 7:30 p.m. Friday at St. Michael's College. Organizers are hoping to follow up with other performances later in the year.
UTC