Songs from the past: U of T researcher's work leads to Grammy nomination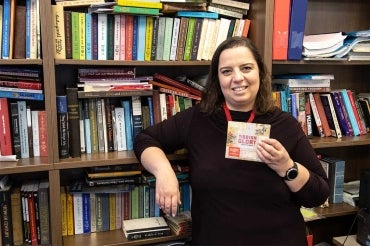 An album of long-lost Yiddish songs – discovered by a University of Toronto scholar at a library in Ukraine – is up for a Grammy award this weekend.
Yiddish Glory: The Lost Songs of World War II, nominated in the Best World Music Album category, grew out of a restoration project led by Anna Shternshis, the director of U of T's Anne Tanenbaum Centre for Jewish Studies.
The album consists of songs originally written by amateur authors during the Second World War – women, orphaned children, Soviet Jewish soldiers and others – and tells stories of abuse, poverty, racism and discrimination. But the material was lost for decades until Shternshis discovered it and brought it back to life with the help of Russian singer-songwriter Psoy Korolenko and musicians brought together by Toronto-based producer Dan Rosenberg. 
Shternshis's son, Isaac Rosenberg, performed three songs on the project, including "My Mother's Grave," written by a 10-year-old child from Bratslav, Ukraine. Rosenberg was just 12 when he recorded the songs, making him the youngest nominee of the ensemble – and one of the youngest Grammy nominees ever. 
"I was shocked," says Shternshis of the moment when she learned the album was nominated for a Grammy. "I almost fell off a chair."
That said, Shternshis understands why the music drew significant attention, beginning with San Francisco record label Six Degrees, which released the album. 
"They took this project because they believe the dangers of anti-Semitism are so real now, that they need to do something about it," Shternshis says. "The project, when we pitched it, resonated with them."
The album's source material was originally compiled by a team of ethnomusicologists from the Kiev Cabinet for Jewish Culture, led by the folklorist Moisei Beregovsky. But Beregovsky and his team were arrested in 1950 amid increasing anti-Semitic campaigning by Josef Stalin's regime. They were ultimately sent to Siberia and the musical archive was thought to have disappeared with them.
In 2005, Shternshis was tipped to the existence of the archive at Kiev's Vernadsky National Library of Ukraine and acquired them in 2010. It took a few years before she was looking for creative ways to present the material – a challenge that Korolenko, who holds a doctorate in Russian literature, was well suited to take on. Shternshis and Korolenko began working together in 2013.
"My goal was to tell the story of experiences of Russian Jews during the Holocaust and [Korolenko's] goal is that people don't fall asleep during the presentation," Shternshis says with a laugh.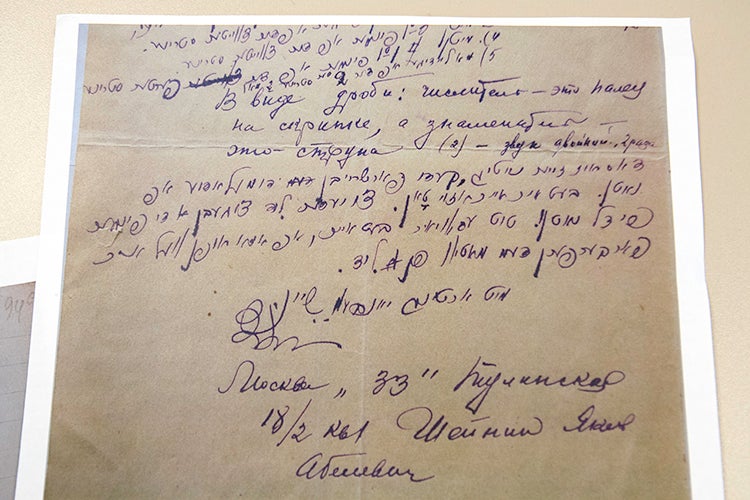 A page of lyrics from folklorist Moisei Beregovsky's musical archives, discovered by U of T's Anna Shternshis (photo by Perry King)
The project received significant buy-in from the music industry. Rosenberg, the producer, marvelled at the material when he first encountered it during a 2015 presentation at Toronto's Miles Nadal Jewish Community Centre.
"I thought 'These words are incredibly moving, the stories are heartbreaking and at times uplifting,'" says Rosenberg, who helped Shternshis and Korolenko connect with other musicians. 
"But this idea of how much they suffered – [it] seemed like we had to do something so this work wasn't in vain."
Shternshis recalls Rosenberg remarking that the story told by the songs was so compelling that it went beyond what one usually associates with academia – or, for that matter, a musical production. 
"He said 'You have the potential to bring these worlds together.'"
At Rosenberg's suggestion, the project tapped a number of prolific contributors. They included: U of T alumna Sophie Milman, a Juno award-winning jazz musician; composer Sergei Erdenko, who helped create multi-instrumental arrangements for the songs; and Alexander Sevastian, an accordion virtuoso who lived in Richmond Hill, Ont. 
The world premiere of Yiddish Glory took place on Toronto radio station Classical 96.3FM via a live concert at their Toronto studios.
For the collaborators, the project was not only about music, but language. Many Yiddish native speakers were killed during the Holocaust or were greatly suppressed in Stalinist Russia.
"The fact that Yiddish is not an everyday vernacular of a majority of Jews means that it's an endangered language in some way – a language that has values and issues that were relevant to Jewish people before, and they're being lost if we don't do something about this," says Shternshis, who compared the language's decline with Indigenous languages in Canada.
Language was certainly what motivated many of the artists to take part in the project, according to Rosenberg. "These stories, to them, this is their heritage – this is what all of their families went through," he says.
"This is a very important part of history to be told, in such an unconventional way."
Shternshis, who will be with Korolenko for a special lecture-concert about Yiddish Glory at Moscow's Jewish Museum & Tolerence Center prior to Grammy night, is grateful for the recognition. She sees the nod as having an impact in academic circles as her colleagues begin to collaborate with artists on other projects. 
"It's not just a conversation about a fun way to do research, but it's actually 'Well, maybe that's what we should be thinking about in an era when students are not so excited about reading long texts,'" she says.
It's Shternshis's flair for the creative that impressed Rosenberg, who calls her a "revolutionary."
"This wasn't an ordinary project, an ordinary recording," he says. "Nobody thought it would get recognized – but we all wanted to make sure that these people didn't go to the Gulag for nothing."
Read full translations of each song on Yiddish Glory here.
UTC