As part of a research project, David Brennan, an associate professor at the Factor-Inwentash Faculty of Social Work, is recruiting volunteers to serve as "health ambassadors" on Hornet, a networking app popular among gay men (photo by Nick Iwanyshyn)
With Pride Month underway, Toronto's LGBTQ community and allies will be out in large numbers meeting and mingling at events across the city.
But such face-to-face interactions are increasingly the exception to the norm in an age of digital and social media – a trend that poses challenges for those seeking to perform sexual health outreach initiatives among LGBTQ groups.
"On a Saturday night 20 years ago, everyone would be out at a gay bar dancing," says David Brennan, an associate professor in the University of Toronto's Factor-Inwentash Faculty of Social Work.
"Now, everyone's at home swiping and watching Netflix. There isn't the same sense of community."
It's a hurdle Brennan and other researchers at U of T's CRUISElab – an interdisciplinary social work research lab that focuses on the health and well-being of gay, bisexual and other men who have sex with men – hope to overcome by using social media apps to promote sexual health and then track the tactic's effectiveness in reaching the desired audience.
The lab is currently recruiting men for a public-private-academic effort that will see volunteers serve as "health ambassadors" on Hornet, a popular social networking app for gay men.
The health ambassadors, as well as the regular Hornet users who they interact with, will then be given a chance to participate in focus groups and surveys so researchers can learn more about how social media apps, which are increasingly popular among people seeking out sex, romance, friendship and community, can be leveraged for sexual health outreach.
"We want to see whether these types of conversations make a difference in people's lives, and whether these interactions cause people to take actions to take care of their health and wellness," says Brennan, who is CRUISElab's director.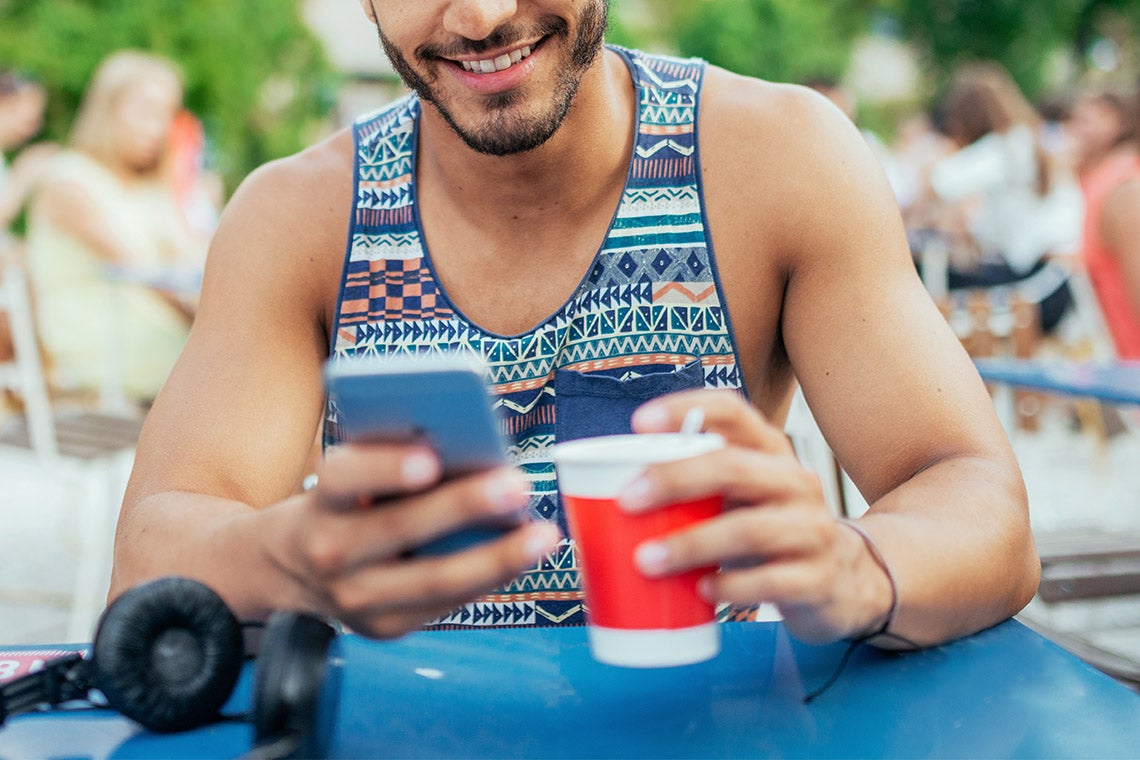 Brennan says social media platforms enable the delivery of sexual health information to those who might not have anyone in their lives to turn to for advice (photo by Drazen via Getty Images)
Some 30 men will be recruited for the study. They will complete a training program designed by the AIDS Committee of Toronto and then have their Hornet profiles highlighted with a badge that marks them out as health ambassadors – meaning they're open and available to share information about sexual health and discuss their personal experiences.
"We want a diverse range of guys – diverse in terms of race, age, gay or bisexual, trans and also in terms of life experiences," says Brennan, who was recently appointed the associate dean, research at Factor-Inwentash.
"If you're a Hornet user and you have questions about PrEP [pre-exposure prophylaxis treatment to reduce the risk of contracting HIV] or being HIV+ or mental health or substance abuse issues, you can ask a health ambassador. They've gone through training and they'll talk to you about their experiences."
After three months, the health ambassadors will be invited to a focus group to share their thoughts on the project. Next, the regular Hornet users who interacted with them will be invited to fill out a survey to share whether they remember interactions with health ambassadors, learned anything or took any decisions as a result of the interactions.
The project builds on previous work, including a 2015 study led by Brennan that found encouraging results about men's experiences accessing this kind of sexual health outreach on websites and apps.
Brennan explains that AIDS service organizations have previously experimented with using trained volunteers and staff to deliver outreach services through websites and apps.
"One of our manifestos as social workers is to 'meet the client where they're at,'" says Brennan. "If people are online and that's where they're connecting with other guys and finding out about sexual health, then we need to be in these apps, too."
Brennan also notes that social media platforms enable the delivery of important sexual health information to people who might not have anyone in their lives who they're comfortable turning to for advice.
"If I'm 16 years old, realizing I'm gay and I'm thinking about engaging in sex with other guys, I don't know that the first person I'm going to talk to is my family physician, my parents or my pastor or religious leader – probably not," Brennan says.
"But I might be able to find some peers online who can tell me to think about this or that, so I can begin to build a supportive network."
Hornet was selected as a partner for the study because of its demonstrated commitment to its users' health and wellness, according to Brennan.
The network, which has over 25 million users, already runs health ambassador programs in various cities around the world, with the first such initiative trialed in Rio de Janeiro during the 2016 Olympic Games.
However, Toronto will be the first city to benefit from a rigorous research evaluation – in the form of the CRUISElab's study – before any Hornet health ambassador program is launched here.
"If these apps can be used to help build community, that would be amazing," says Brennan.
"In the future, I see us being able to use apps to very quickly get information and support out to people who need it. That's what I'm hoping for."