'So much potential goes unspotted': Celebrating 20 years of the Rose Patten Mentorship Program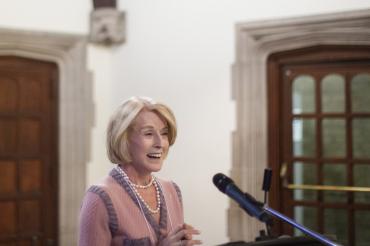 When University of Toronto Chancellor Rose Patten began to speak about mentorship and leadership at this week's celebration marking 20 years of a program she created, the packed Music Room at Hart House hushed.
"So much potential goes unspotted," she told the room filled with mentors and mentees on Tuesday afternoon. "The more we can learn and ply our knowledge for spotting potential and nurturing and developing it, the better off we're going to be in the leadership world."
Patten has been a champion of mentorship at U of T and throughout her career. The Rose Patten Mentorship Program celebrates the contributions of its mentors and mentees each year, but for this year's 20th anniversary, it honoured all 600 mentors and mentees who have taken part over the years. Patten gave a small gift to volunteers who contributed at least six years to the program.
"Dr. Patten is probably the quintessential mentor," Kelly Hannah-Moffat, U of T's vice-president of human resources and equity, told the gathering. "She had the foresight from very early in her career to understand the role of mentoring – especially as it applies to those with different opportunities, and to women and racialized people and employees within different kinds of corporate contexts and public-sector interests."
Hannah-Moffat, whose office sponsors the program, also praised its senior leaders and participants. 
Among those honoured on Tuesday were Louis Charpentier, who retired as secretary of U of T's Governing Council in 2015 and was co-founder of the program, Fran Wdowczyk, who is a leader of the program at  U of T Scarborough, and Sheree Drummond, secretary of the Governing Council who has served as a mentor for 10 years.
"I can get very personal about this," Charpentier said. "I have worked very closely with Rose when she was chair of Governing Council, and I have respected and appreciated her incredible leadership gifts.
"She has served, in many ways, as a mentor to me."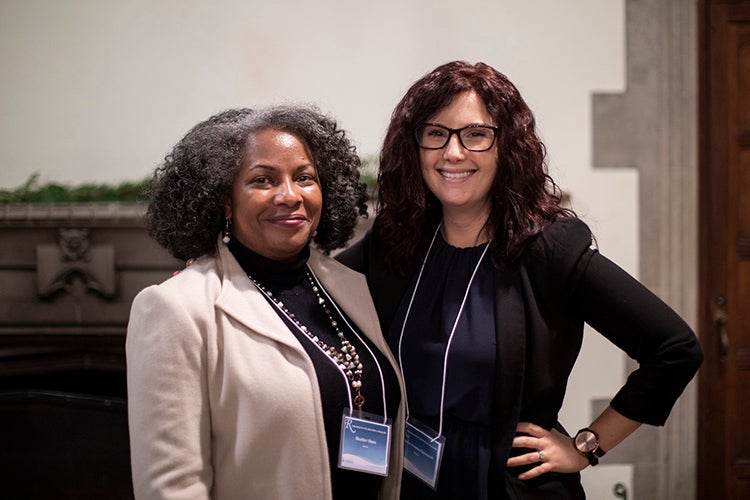 Heather Hines (left) and Mariaveronica Sayewich: "The first day that I met Heather, I thought,  'Ah, this is going to be good,'" says Sayewich (photo by Nick Iwanyshyn)
Drummond, who previously worked at the University of Alberta, joined the program to help nurture mentees with similar career trajectories.
"I was asked to be a mentor and I was very enthusiastic about it," said Drummond, who served in the provost's office when she was tapped to become a mentor. "I wanted to help others who were making a similar transition, and figure out the university faster."
The early days involved many discussions on how to organize the program. Wdowczyk, director of business development and special adviser to the chief adminisrative officer for U of T Scarborough, said there was "lots of work around governance and finance and building your spiels.
"There were a lot of opportunities to actually visit other departments and faculties," she said about the work taking place across all three campuses.
She described U of T as "the mountain with no top" because it is constantly growing.  And mentorship has become so crucial in that growth, she said, in a way "that is a little bit more casual,  that allows a mentee to keep discovering."
The program has promoted a "culture of mentoring," Charpentier said.
"Think of those 600 [mentors and mentees], and beyond that the kind of impact that those people have had.
"That's a major cultural shift."
Tuesday's ceremony also recognized this year's participating mentors and mentees.
For Mariaveronica Sayewich and Heather Hines, her mentor, the partnership began on a Skype call. 
"The first day that I met Heather, I thought,  'Ah, this is going to be good,'" said Sayewich, who was then co-ordinator for alumni relations on the downtown Toronto campus. "Beverly [Kahn, the program's co-coordinator] introduced us and said, 'Oh, I'm going to leave you for a half hour on your own.'"
"I wanted to join this program to see what kinds of skills, tips and tricks I could use and build to get into that position," said Sayewich, who credits the program with helping her land a digital project managerial role that she began this week.
Hines, director of undergraduate programs and student services at U of T Mississauga, said her mentee was "very thorough in her analysis of things and it made our conversations easy for me. She was really looking for someone to bounce ideas off of. She knew where she was going, she needed someone to say 'Yeah, yeah, yeah, you are going in the right direction.'"
Sayewich was Hines's fourth mentee. After being informally mentored when she first arrived at U of T Mississauga, Hines felt compelled to help others grow their careers.
"What can you do to make things better? This is an opportunity – to meet with people who are interested in their careers at the university and are looking for ways to contribute. 
"If I can help, then I'm expanding that circle of people who really care and want to be what the university is all about – excellence, inclusivity, all those things."
UTC