'Sky's the limit' for U of T Mississauga grad who counts family as key to her success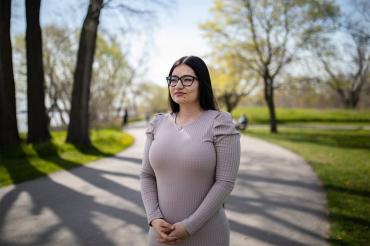 When Khadija Hosseini receives her degree this week, she'll be excited, nervous and relieved – but also grateful towards her family whose constant support carried her to the end of this journey.
"My family has been really, really flexible and supportive of me," says Hosseini, who is receiving her bachelor of business administration degree from the Univeristy of Toronto Mississauga. "I am really thankful that I have a very understanding family... they were always there, and they were amazing."
Originally from Afghanistan, Hosseini and her family also lived in Iran and the United States before settling in Hamilton when she was in Grade 11.
Her friends chose to study closer to home, but while researching schools, U of T immediately appealed to her.
"I really liked the community of U of T," she says, adding that the Mississauga campus particularly caught her eye. "I applied to UTM because I thought it was kind of neat how there's literally a pond in the middle of the university. It looked like a great place to be."
The commute by bus from Hamilton wasn't easy. But when the weather was bad in winter, her father stepped in to help. Hosseini remembers that he would drive her to school on snowy days – and wait until she was done her classes to bring her home. 
"He would literally just come with me," she says. "If he didn't have anything scheduled during those days, he would just go hang out in a library close by. And then we would just leave after I was done."
While pursuing her studies, Hosseini also worked part-time as a cashier on weekends and began to get involved in many student clubs. In her third year, she joined the Innovative Business Association (IBA) and in her fourth year, she joined the Afghan Students Association – a particularly meaningful experience for her.
"[Being] from Afghanistan, I always wanted to be involved and still be connected to the culture," Hosseini says. "[When the] Taliban came back and took over Afghanistan, that was a really rough time for Afghans all over the world." That was in 2021, Hosseini's fourth year of university. "I thought: maybe I can join this club and see what we can do for the little community that we have at UTM. There was a lot of emotional aspects to it."
From second through fourth years, Hosseini earned a spot in the department of management's Director's Circle by completing a requisite number of activities in the professional skills development program. She served as a career assistant at the UTM Career Centre and was later promoted to associate lead career assistant. She also received a COVID-19 Student Engagement Award as part of a U of T Global group project researching and reporting on the global impacts of COVID-19.
"I've always been really active. Even in high school, I was in many clubs," she says. "I just think the aspect of community and community building is really important."
After juggling her studies with a weekend job and co-curricular and extra-curricular activities, Hosseini's advice to future students would be to lean on friends and family and practise self-care.
Now that she's graduating, she hopes to work for a few years in the banking or technology sector and plans to eventually earn her MBA.
"It's very exciting and kind of nerve-wracking," she says. "The sky's the limit."
UTM