A health-care worker from Nicklaus Children's Hospital in Miami, Fla. holds a package of Kerra skin cream that was donated by a company spun off from research in the lab of U of T Engineering Professor Milica Radisic (photo courtesy of Quthero Inc.)
A company spun off from the University of Toronto's Faculty of Applied Science & Engineering has donated its entire stock of skin-care product to health-care workers fighting the global pandemic.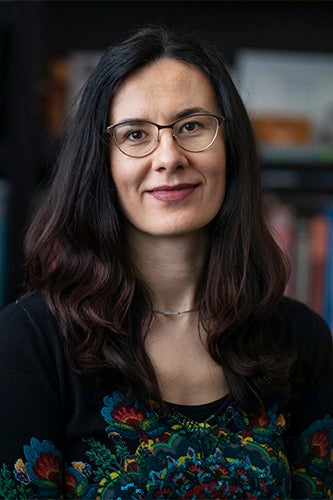 Several years ago, 
Milica Radisic
, a professor in the department of chemical engineering and applied chemistry and the Institute of Biomedical Engineering, and her team developed a peptide-hydrogel biomaterial that prompts skin cells to "crawl" toward one another. The material was initially designed to help close chronic, non-healing wounds often associated with diabetes, such as bed sores and foot ulcers.
The technology was later commercialized via Quthero, Inc. a company with offices in Toronto and Pinecrest, Fla. Its first product, Kerra, incorporates the peptides designed by Radisic and her team, and is bioengineered to protect skin from everyday environmental stresses.
Last spring, Quthero made the decision to donate its entire stock of Kerra to frontline workers combating the COVID-19 epidemic. The goal is to help soothe, nourish and regenerate skin damaged by wearing masks for prolonged periods of time.
"Our founder, Professor Radisic, was looking at online photos of the faces of health-care workers bruised and marked after wearing personal protective equipment for long shifts caring for COVID-19 patients," says Susan Bruggemann, Quthero's chief financial officer and chief operating officer.
"She suggested that we could use our wound-care peptide in a face cream to help front-line workers' skin recover from their shifts so that they are better prepared for their next shift."
The team started reaching out on social media to some of the workers who were posting photos of themselves in order to send them Kerra gift baskets. In addition to the Kerra cream, the workers received washcloths, soft silicone face scrubbers and ear savers for their masks.
Groups that have received the gift baskets include:
Brigham and Women's Faulkner Hospital in Boston, Mass.
NYU Langone Medical Center in New York City, N.Y.
Cedars-Sinai Medical Center, Los Angeles, Calif.
Nicklaus Children's Hospital, Miami, Fla.
University of Miami Medical Center, Miami, Fla.
Jersey Shore University Medical Center, Neptune, N.J.
University Health Network, Toronto, Ont.
Trillium Health Partners, Mississauga, Ont.
Grand River Hospital, Kitchener, Ont.
"We felt strongly about donating our entire stock of Kerra as we wanted to help as many front-line health-care workers that we could reach with our social media campaign and our personal connections," says Bruggemann. "We wanted to help each and every health-care professional that reached out to us."
"The response has been great so far," says Radisic. "We're all in this together, and it's important to help out however we can."