'A singular legacy': U of T community remembers former Mississauga Mayor 'Hurricane' Hazel McCallion
The University of Toronto community is mourning the death of Hazel McCallion, a devoted champion for her community and a longtime friend of U of T Mississauga. 
The legendary former mayor of Mississauga – nicknamed "Hurricane Hazel" for her bold approach – died on Jan. 29 at the age of 101. She is survived by her children Peter, Paul and Linda, and by granddaughter Erika. 
She was an honorary U of T degree recipient and special adviser to U of T Mississauga.  
"The University of Toronto joins in mourning the loss of our great friend, adviser and champion Hazel McCallion," says U of T President Meric Gertler. "Hazel played a key role in the development of U of T Mississauga as a powerful engine of progress in the western GTA and well beyond. This sprang from her belief in the crucial importance of higher education and her incredibly passionate devotion to the City of Mississauga and its residents. 
"Hazel has left a singular legacy, through her lifetime of civic leadership and charitable initiatives. Her accomplishments as a trailblazer will benefit all of us for generations to come. On behalf of the entire U of T community, I offer deepest condolences to the McCallion family." 
The fifth mayor of Mississauga, McCallion was also its longest serving and best known. She held the office from 1978 to 2014, having been elected 12 times – twice by acclamation. She prided herself on never campaigning formally, saying she won her elections one voter at a time in the grocery stores and at hockey rinks. 
During McCallion's 36 years as mayor, Mississauga grew from a suburb of 250,000 people to Canada's sixth-largest city, boasting more than 50 Fortune 500 company headquarters. Under her guidance, Mississauga developed into a key economic centre, attracting international investment and building a thriving and culturally diverse city that has earned international acclaim.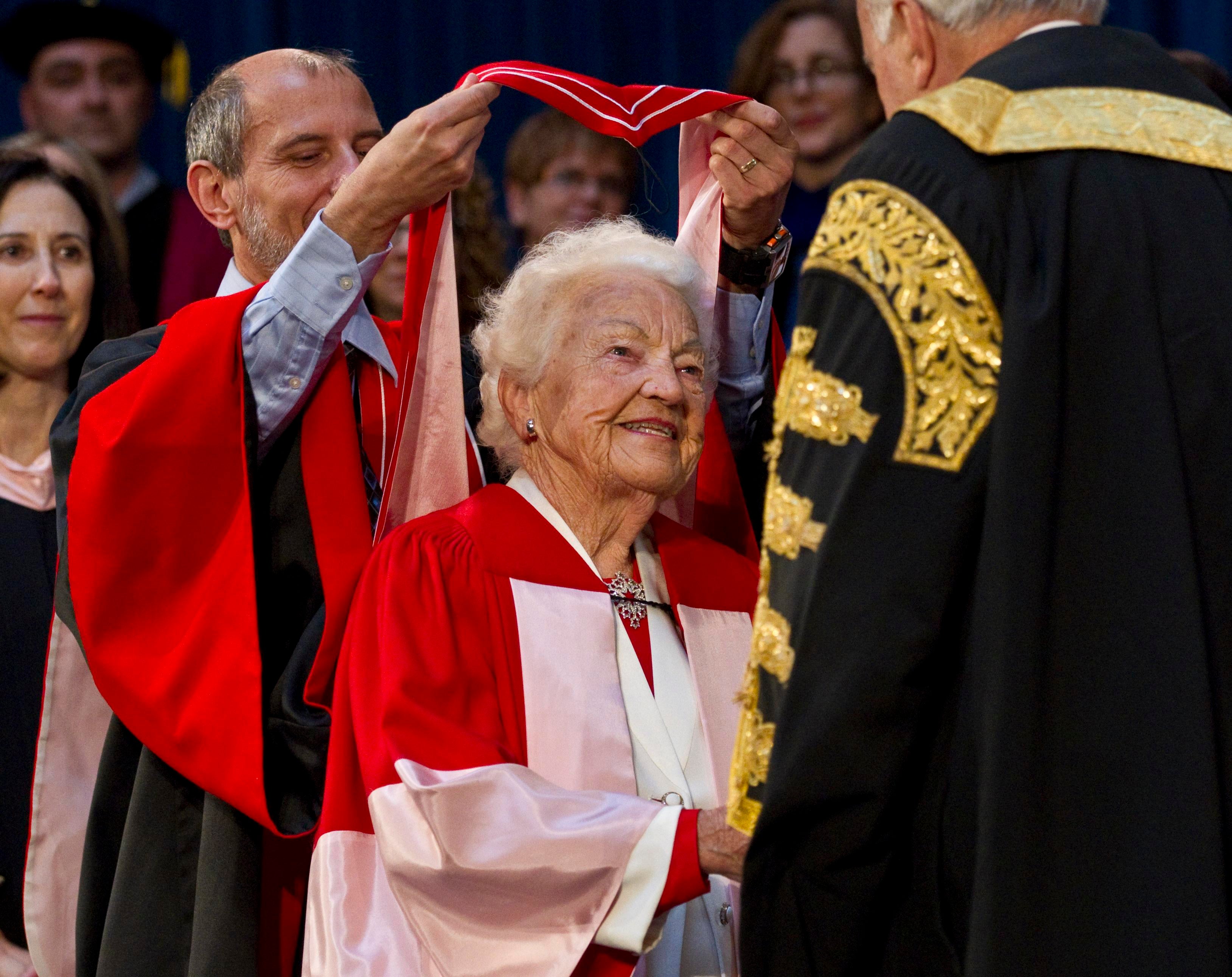 Hazel McCallion receives her honorary degree from U of T in 2010. McCallion is hooded by Professor Ulrich Krull as she faces then-U of T Chancellor David Peterson (photo by David Cooper/Toronto Star via Getty Images) 
In 2010, U of T honoured McCallion, then 89, with an honorary doctor of laws in recognition of her remarkable contributions to public life. 
A strong proponent of education and innovation, McCallion understood the value and importance of a university for the development of a city. U of T Mississauga collaborated with McCallion, the city, and other stakeholders and industries, creating active partnerships and links within the community. One such collaboration was the Healthy City Stewardship Centre, a made-in-Mississauga model led by McCallion that, in 2006, won the World Leadership Award honouring exceptional leadership in cities around the world. 
When the university was developing the Mississauga Academy of Medicine, an increase in spaces for medical students was needed. True to her unflinching style, McCallion made the necessary phone calls, explaining the value of this expansion – and it worked. 
She also helped U of T Mississauga to raise $6 million for her namesake Hazel McCallion Academic Learning Centre. 
After retiring from politics, McCallion took on the mantle of special adviser to U of T Mississauga, where she advised on matters relating to strategic development, consulted with the Institute for Management and Innovation to develop a master's degree in urban innovation and development, and lent her expertise to a non-credit training course for those aspiring to enter public service.  
She also served as a guest lecturer and served as an invaluable mentor, interacting with faculty members and students over the decades. 
"Hazel was a dedicated advocate for UTM and a fierce champion for Mississauga," says U of T Vice-President and U of T Mississauga Principal Alexandra Gillespie. "Strong, outspoken and knowledgeable, her extraordinary contributions as a civic leader and, later, a tireless volunteer, strengthened our community, helping our campus and city grow into the diverse, innovative, global leader it is today. 
"This is a tremendous loss," she continues. "We have lost a valued adviser and trusted friend. Her energy, spirit and unwavering commitment to a brighter future will be deeply missed."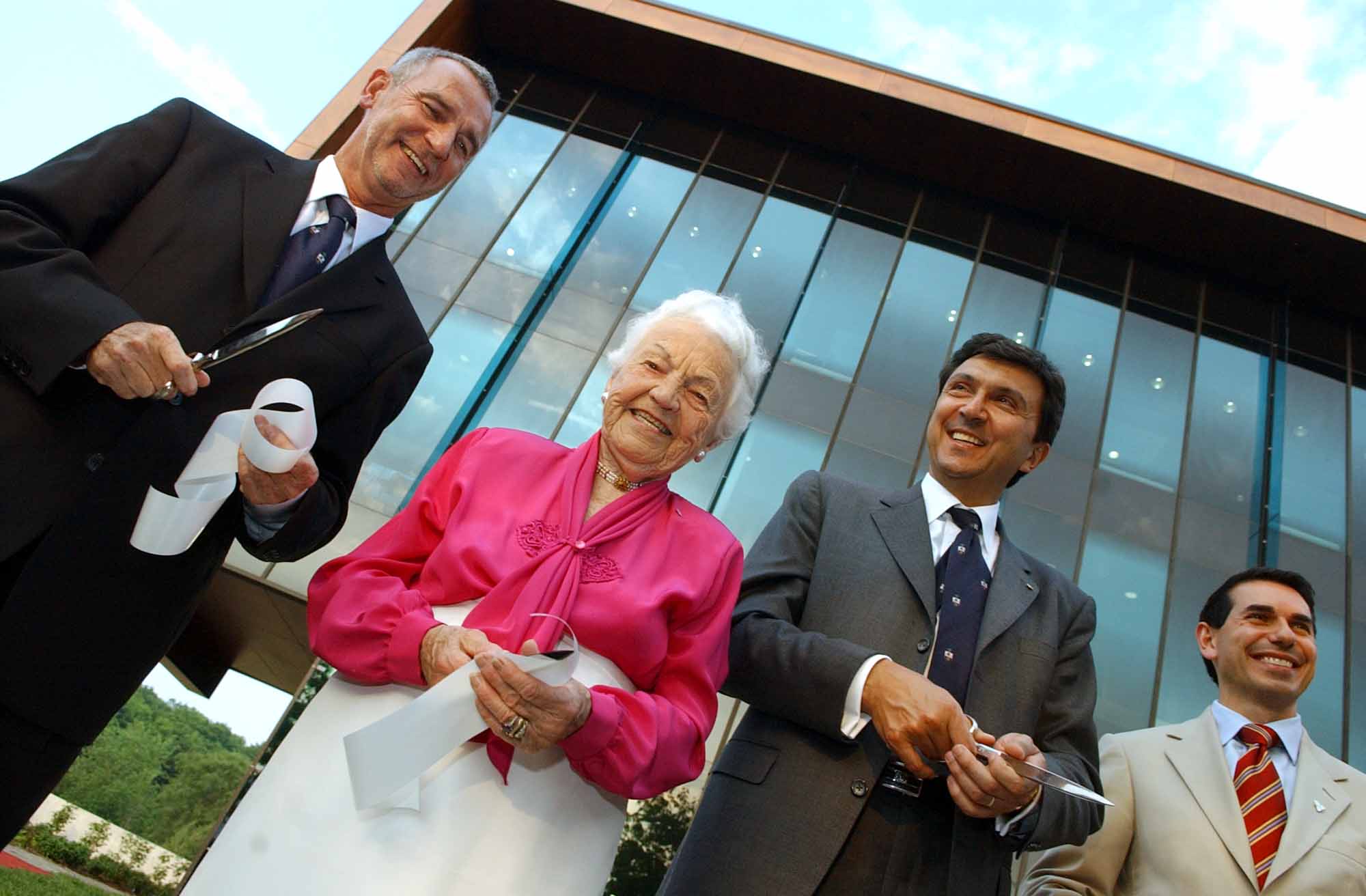 Hazel McCallion attends the opening of the Hazel McCallion Academic Learning Centre (File photo)
Ulrich Krull, former vice-president and principal of U of T Mississauga, remembers McCallion as a leader with a vision. 
"Although the world is filled with billions of people, each of them with their individual stories, Hazel rises above the noise with a bright beacon, creating a better place," Krull says. "She touched everywhere, from our neighbourhood to our province, our country and the globe." 
McCallion described herself as a child of the Great Depression and had no formal education, recalls former U of T Mississauga Vice-President and Principal Ian Orchard. This motivated her to value an education she could not have and support education for others. 
Orchard remembers walking with McCallion through the recently opened Hazel McCallion Academic Learning Centre. Students yelled out her name and asked for selfies. Everyone in Mississauga knew her, he says, and knew they could call her "Hazel." 
"The University of Toronto Mississauga has lost a true friend," says Orchard, who describes McCallion as a force to be reckoned with, a force for the better, someone who instilled pride in the city and a role model for many.  
"In many ways the City of Mississauga and UTM grew up together, and we mourn the loss of such a wonderful friend and incredible champion of UTM. Her outstanding legacy will live on at UTM." 
Born in Port Daniel, Que., on Valentine's Day in 1921, McCallion worked as a secretary with the Canadian Kellogg company – first in Montreal and then in Toronto. She settled in Mississauga after her husband Sam's parents gifted the newlyweds land in Streetsville in honour of their 1951 wedding.   
Streetsville was the launch pad for McCallion's career in politics. She was elected deputy reeve in 1967. She then served as mayor of the village from 1970 to 1973 before joining Mississauga's city council after amalgamation in 1974. 
In her first bid for mayor in 1978, she won by 3,000 votes. 
A little over a year into her first term, she and the city were thrust into the world spotlight when a string of CN rail cars carrying dangerous chemicals, including liquid chlorine, derailed as they passed over Mavis Road at Dundas Street on Nov. 10, 1979.  
More than 200,000 residents had to be evacuated. At the time, it was the largest peacetime evacuation in North American history. The only injury reported was to McCallion herself, who twisted her ankle while surveying the wreckage.   
The derailment not only put the city on the international map, but also helped open it up the wider region. During negotiations with Canadian Pacific Rail to recoup the cost of the emergency response, McCallion's council convinced CP to allow GO trains on their Milton line. The deal opened the line – and the city – to commuters. 
Her deft handling of the crisis earned her the moniker "Hurricane" and cemented her reputation as a resolute leader.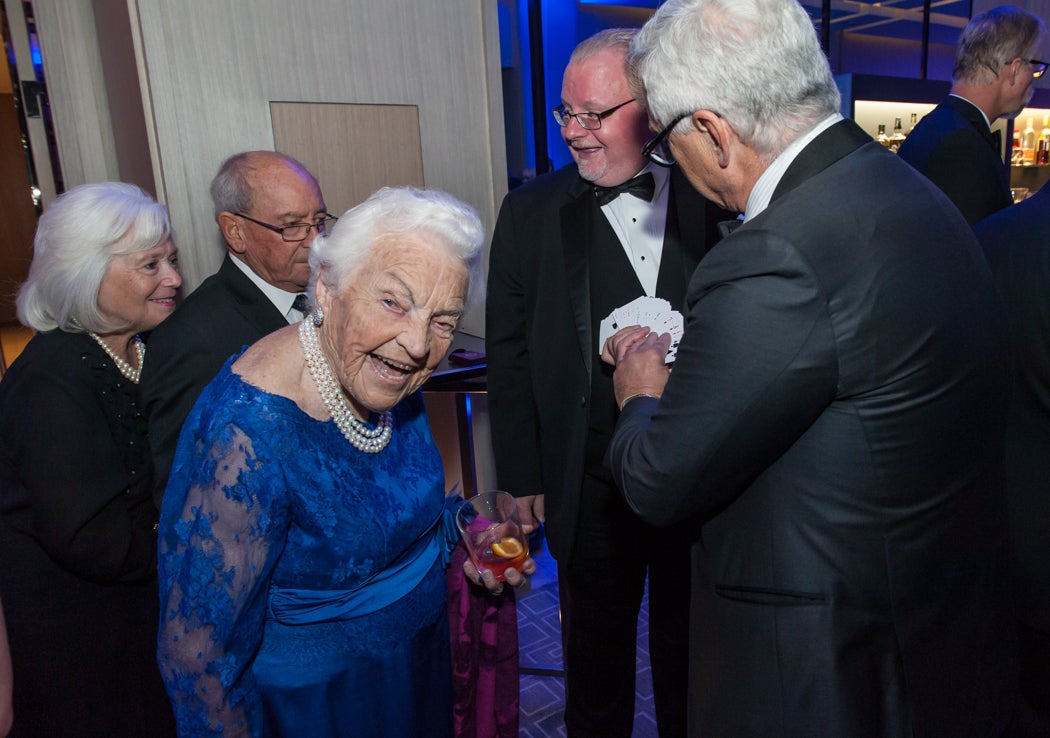 Hazel McCallion celebrates at U of T Mississauga's 50th anniversary gala in 2017 (photo by Lisa Sakulensky)
McCallion earned many accolades throughout her political career. They included: Member of the Order of Canada, Cross of the Order of Merit of the Federal Republic of Germany, Japan's Order of the Rising Sun, first chancellor of Sheridan College and 2005 runner-up for the World Mayor Award. 
After retiring as mayor, McCallion continued her busy pace, taking on roles as Chief Elder Officer for the retirement living group Revera Inc. and as business ambassador for the law firm Speigel Nichols Fox LLP. 
In February 2022, Mississauga Mayor Bonnie Crombie and Ontario Premier Doug Ford announced the 18-kilometre Hurontario LRT line linking several transit systems (which McCallion had demanded from the provincial government after Toronto received one). It will be named the Hazel McCallion Line. 
McCallion also found time for her personal passions. A lifelong hockey fan known for carrying ice skates in her trunk "just in case," McCallion played professional women's hockey for the Montreal Kik in the 1940s for $5 a game. As a board member of the Ontario Women's Hockey League, she was instrumental in the construction of the Hershey Centre in Mississauga and helped Don Cherry's group bring an Ontario Hockey League franchise to the city in 1998. 
She also founded Hazel's Hope, a campaign to fund health care for children afflicted with AIDS and HIV in southern Africa. 
On her 101st birthday, McCallion shared the advice she would give to her 20-year-old self:  
"Think positive, work hard and, if you want to be a success, you've got to be independent and you have to realize that you are on this earth for a purpose, so get with it," she said. "And do your homework." 
---
Community members who wish to make a gift in memory of Hazel McCallion can do so by visiting this weblink.
UTM