The shove, the comments: U of T experts analyze Trump's first NATO and G7 summits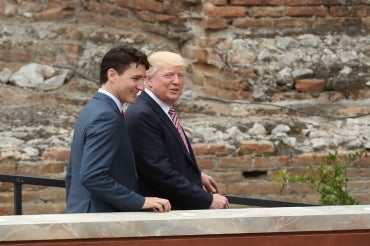 U.S. President Donald Trump is attending his first NATO and G7 summits – and attracting attention for everything from pushing aside the prime minister of Montenegro to accusing NATO members of not paying their dues.
With Trump apparently reluctant to compromise with European leaders over climate change, trade and migration, the European council president said today that this could be the most challenging G7 summit in years. 
U of T's Robert Bothwell, a professor of Canadian history and international relations, says there is the slight possibility that Trump may decide to walk out...or not return next year.
U of T News spoke with Bothwell and Aurel Braun, professor of international relations and political science, about Trump and "the elephant in the room," Russia. 
---
Robert Bothwell, professor of Canadian history and international relations in the Faculty of Arts & Science and the Munk School of Global Affairs:
How does Trudeau need to position Canada on major issues at the summits? 
Our positions are well known, and they conform closely to Trudeau's election promises so they are politically very important. The obvious ones are climate/environment and trade.
In both cases our positions are close to five of the seven. We cannot give way on climate change, even if we reduce the motivation to purely local political advantage. Trudeau's party and voters would not stand for it. The U.K. has a very doubtful climate/environment record, though Theresa May would probably pretend the contrary.
As for the U.S., well, who knows? It may depend on what Trump had for dinner last night. He may respond to political pressures. It is doubtful if he will respond to reason or evidence. We are also strongly committed to liberalizing trade, and we will have a lot to say to the Europeans and the Japanese on these issues. The British may wish to be pleasant because they want very much to get a trade deal with Canada (and the U.S.) to replace the EU.   
What can we expect from Trump at G7?
We've already seen one photographed disaster in Brussels, pushing aside a prime minister and then standing in front of the assembled group staring belligerently, gut advanced, like the bull statue on Wall Street. It's an image that will adhere to Trump, and that will define, or confirm, what people think of him. 
Some U.S. presidents have been very heavily scripted at summits – Ronald Reagan being the most obvious, indeed the outstanding example. But he was happy to stick to the script and the other conferees were happy to let him do it.  Reagan deferred to the informed and usually intelligent views of his entourage. Trump? Who knows? He is much more ignorant than Reagan, but the difference is that Reagan knew it, and as a good actor, behaved accordingly – modest, friendly and cooperative. Not so Trump. With scandal breathing down his neck in Washington, and everybody at the summit probably watching CNN, I think things would be rather dicey as he tries to figure out why his trip abroad has not rescued him from the mess at home. This may stimulate his instincts to Twitter with no good outcome for the rest of the world. 
There is also the possibility, slight in my opinion but not nonexistent, that Trump might decide to walk out to please his base at home, and there is always the possibility that he would not come to the next summit. 
Trudeau's relationship with Trump, and any talks on NAFTA?
There will certainly be some common chat among the leaders – probably a lot of it, as long as Trump isn't in the group – about the nature of Trump. We certainly have put a lot of time & effort in to studying the phenomenon, so I would think our opinion would be worth having. 
My guess is that Trump will have little time for Trudeau at the G7, so direct pressure is not too likely. 
---
Aurel Braun, a professor of international relations and political science at U of T Mississauga, is working on a new book, Russia, the West and Arctic Security: 
What are major issues on the table for NATO?
The first issue has been burden sharing. This is a long-time emerging concern that there wasn't fair sharing in military spending. At the Wales summit at 2014, the member states agreed that all countries in NATO would spend at least 2 per cent of their GDP on defence, and that they meet that requirement by 2024. The problem that has been frustrating Americans and the Trump administration has been especially vociferous is that the vast majority of NATO states haven't met that commitment. They haven't even come close to the 2 per cent minimum.
One of the countries happens to be Canada. We need to consider this is not merely in terms of an obligation toward NATO, but we have an even higher concern, and that is in protecting our sovereignty. We have not done what we should do in terms of protecting our sovereignty in the North, in the Arctic. There has been a massive Russian buildup. With global warming, there may be new opportunities for exploration and navigation. All of that affects Canadian sovereignty. It affects the environment. It affects our interests. So, independent of any pressure we may feel from NATO, we simply have not spent on defence what would be required to have adequate protection for our sovereignty. 
And what about Russia and Trump's address to NATO? He lectured NATO on Thursday about not spending enough for collective defence.
Even though Russia is not in the room, it is nonetheless the elephant in the room.
Trump did address Russia in a surprising way to some. The perception is that he's Russia's man. That he basically just wants to have good relations with Russia, that he does not want to provoke Russia and that he favours Russian interests. But this is not how he spoke at the NATO meeting because he said very clearly that NATO needs to protect itself against threats from the East, including Russia.
I'm not here as an advocate for Mr. Trump. He is a very flawed president. But he has said he wishes to tremendously increase American energy production and exports. That means that will be a lot more energy on the market, depressing energy prices. Russia is extremely dependent on energy. Low energy prices have been more damaging to the Russian economy than any sanctions that have been passed. He has also talked about increasing the military budget by $54 billion, which is a fairly large sum of money on an already huge defence budget so the Russians are extremely concerned about that.
UTC