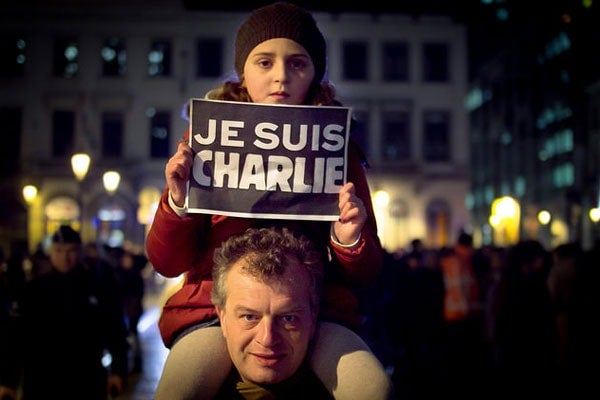 Shooting the messenger: Charlie Hebdo and the emotional effect of violence on journalists
A Q & A with Peabody Award-winner Dr. Anthony Feinstein, author of Journalists Under Fire: The Psychological Hazards of Covering War
Psychiatry professor Anthony Feinstein of the University of Toronto has studied the effects of violence on journalists for more than a decade, and found that stress may affect their emotional well-being. Recently, he discussed the emotional fallout of the Charlie Hebdo attack on a profession unaccustomed to being the subject of the story.
What was your reaction when you heard about the attacks?
My first reaction was one of just horror and sadness for the people involved. Then I started thinking about the implications for freedom of speech. Right now there's defiance and heartbreak, but in the cold light of day, how comfortable will journalists feel saying exactly what they want to say? Time will tell.
It is important to remember that the majority of journalists killed are local journalists working in countries in conflict, silenced by drug cartels, warlords and politicians. What happened this week in Paris is new.  The dangers are no longer just in distant countries engulfed in conflict. The threat is now within us. In the heart of a major western city, journalists can be targeted for what they write.
What is your biggest concern?
If you prize freedom of expression, does killing the messenger stifle this? By silencing journalists, you silence freedom of speech. The terrorists, if not home-grown, come from societies where there's very little freedom of speech or they don't want it. So targeting the media is another way of undermining democracy.
It used to be that journalists were a rare target. In the First World War, only two journalists were killed. In the current conflict in Iraq, more than 200 have died. Now they are prized by terrorists. That's a fundamental change. The messenger is in the cross hairs. Kill or kidnap journalists and it's going to be big news.
As a psychiatrist, you've studied journalists who cover wars and domestic upheaval. How does this kind of violence affect them?
For the most part, journalists are very resilient. They can withstand these things. Soldiers fight one or two wars, but I've studied journalists who have worked in combat zones for 15, 20 years. However, if one adds up the cumulative dangers confronted, then you can understand why rates of post-traumatic stress disorder approach that seen in combat veterans. Some suffer from depression or anxiety disorders. Some will continue to experience emotional difficulties on returning home.  Anxiety can remain together with a constant sense of threat and anticipation of further violence.
Why should the world care about the emotional life of journalists?
For a long time, they didn't. It's only been in the past 15 or so years that we've been studying this issue, and now news organizations like CNN are taking it very seriously.
Good journalism depends on healthy journalists. Traumatized journalists aren't going to do their work very well. You don't want to get the news through the prism of a traumatized journalist. In Mexico, where reporters who cover the drug cartels are amongst the most vulnerable, we found a quarter of those studied were too traumatized to tell their stories. They had been cowed into silence.
(Read about the report on violence and freedom of expression in Mexico from the Faculty of Law's International Human Rights Program and PEN Canada.) 
You don't want journalists to become so fearful of saying what they want to say because someone can just walk up to them in the street and kill them.
What would you say to a journalist affected by the shootings?
I just think journalists need to be aware of what could happen to them emotionally. Not everyone is affected, but be aware, and be prepared to seek help.
Anthony Feinstein is a professor in U of T's department of psychiatry and on staff at Sunnybrook Health Sciences Centre. He is the author of Journalists Under Fire: The Psychological Hazards of Covering War and a recipient of a 2012 Peabody Award. See a preview of the film Under Fire: Journalists in Combat.