She was first in her family to attend university, today inspires others
Lydia Gill is U of T's new student recruitment officer for equity outreach and support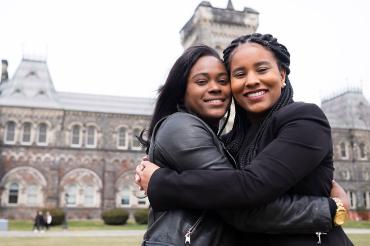 By the time Lydia Gill got the hang of university, she was already on the cusp of graduation. 
It was a steep learning curve, at least initially, because she was the first in her immediate family to go to university. There was no one at home she could turn to for advice picking a major or writing a term paper.
Among the 70,000 students on campus, there was one familiar face: her friend from high school Suzie Watson. The eldest of four kids, Watson was a first-generation student like Gill, and they leaned on each other while finding their way on campus. They commuted together from the suburbs, picked many of the same courses and pulled the occasional all-nighter in the library – all the way until convocation.
"Neither of us knew what we were doing," Gill recalls. "We linked arms and tried to make it through." 
Six years after they did just that – and succeeded in graduating – Gill is back at U of T in an administrative role that she wishes had existed in her student days. She's the new student recruitment officer for equity outreach and support, a role that entails helping under-represented groups, including Black and Indigenous students, get to university. 
She not only greets high-school students and their parents on campus – she goes to their communities. She visits high schools in the Greater Toronto Area, makes connections with school counsellors and community groups with the goal of helping students learn the ropes of university before they arrive.
Even while she was a U of T student juggling essays and other assignments, Gill had already been thinking about how to improve the Black student experience. "Lydia and I often spoke about making a difference," Watson remembers.
They were both members of the Black Students' Assocation, the largest group for self-identified Black students at U of T. One of the BSA's signature events is an annual conference at the downtown Toronto campus for high-school students, bringing students face-to-face with Black mentors in university and graduates. This year, the BSA is hosting its 19th conference on May 2.
When Gill volunteered at a BSA conference, she got lots of questions about her own time in university and what it was like: How hard is U of T? How do you write a 2,000-word essay? She didn't sugarcoat the answers.
"You don't want to scare them, but you want to re-enforce that they're able to do this," she says. 
"Yes it's hard, yes it requires a lot of time management, but I'm here and I'm doing it," she told them.
In her first semesters at U of T, Gill wasn't comfortable asking for help. "That was probably my biggest fear, and that was one of the things that really held me back," she says. 
But as she progressed from one semester to the next, her confidence grew. She found a sense of community in the BSA, became involved with the Caribbean Studies Students' Union (her family is from Barbados) and met inspiring professors like Alissa Trotz through courses in Caribbean studies.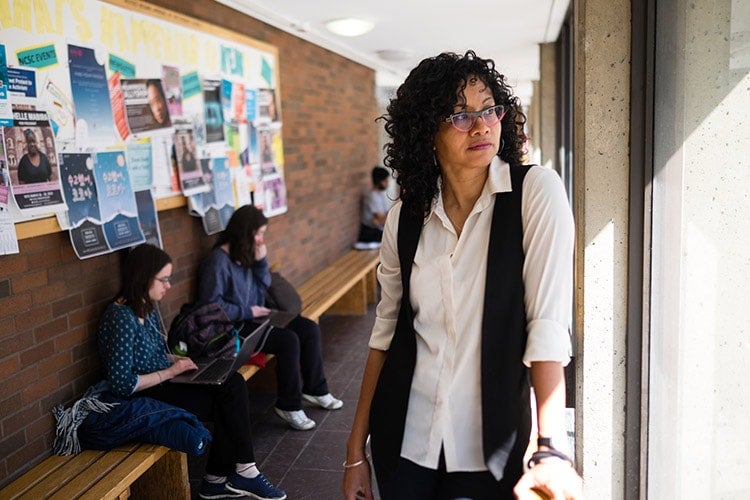 Gill says she was inspired by her courses in Caribbean studies, including one taught by Associate Professor Alissa Trotz, above (photo by Geoffrey Vendeville)
Eventually she learned she wasn't the only U of T student who sometimes felt lost. "Everyone's trying to figure it out," she recalls.
She and Watson were inseparable on campus, but during graduation, their convocation ceremonies were on different days. Watson wasn't about to miss her friend's graduation. 
"It was so important for me to be there because she had sacrificed so much for me," Watson says, adding that Gill would drive far to pick her up to study together. 
Watson sat in the rafters of Convocation Hall to watch Gill cross the stage and receive her bachelor of arts. Even in a hall big enough for 1,700 people, Gill could hear her friend screaming her name. "My mom, my boyfriend, everyone was there clapping and cheering, but I could remember hearing her voice, and it was almost like this celebratory 'We made it' moment. I'll never forget it," she says. 
In the years before coming back to U of T as an employee, Gill worked for Pathways to Education, a non-profit that started in the Regent Park neighbourhood of Toronto and expanded coast-to-coast to help students in low-income neighbourhoods graduate from high school and get a post-secondary education.
Watson graduated with a degree in political science, Caribbean studies and history, and is working in marketing. They still talk every week. 
While she recognizes each student who comes to U of T is unique, she hopes that by sharing her story, she'll make a difference.
UTC