She Talks: answering the Truth & Reconciliation Commission's calls to action at U of T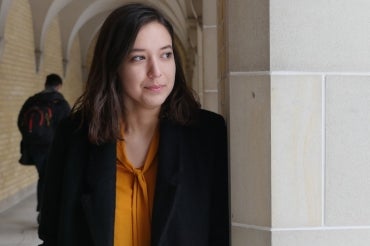 When talking about Truth and Reconcilation in Canada, people often ask, "What can I do to help?"
This year, the fourth annual She Talks focused on how average people can help bring about reconciliation in Canada. Every year, the She Talks event brings together four influential women from the U of T community to speak about a current issue facing contemporary society. 
At the She Talks event last week, panellists First Nations House's Bonnie Jane Maracle, Professor Keren Rice and Indigenous Studies Student Union President Jennifer Sylvester shared stories about how their work has addressed specific calls to action recommended by the Truth and Reconciliation Commission (TRC).
The event was held at the Athletic Centre, hosted by the Faculty of Kinesiology and Physical Education's Equity Movement and the Indigenous Education Network, and the Indigenous Studies Student Union. Sarah Bear, a fourth-year student, moderated the event.
Each panellist was asked to select one of the 94 TRC calls to action that most resonated with them, talk about how they've implemented it, and share advice for Indigenous and non-Indigenous people.
"Come out, learn, be a part of things and ask, 'How can I be an ally?'" said Sylvester.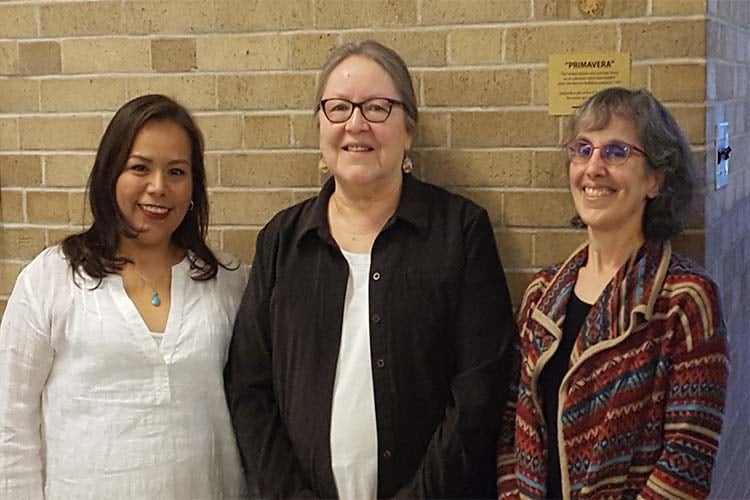 She Talks panellists, left to right, Jennifer Sylvester, Bonnie Jane Maracle and Keren Rice (photo by Hannah James)
---
Bonnie Jane Maracle, Aboriginal Learning Strategist, First Nations House
Call to Action #14: enact an Aboriginal Languages Act.
Maracle said the action resonates with her because she has long been involved in Indigenous education as an activist, scholar and educator.
Much of her work revolved around trying to make sure children in her Mohawk community in Tyendinaga Territory could learn the Mohawk language - Kanien'kéha - and receive a good education.
She started a "language nest" for children to learn Mohawk. At first, she said, there weren't enough Kanien'kéha speakers to teach the kids so she started adult immersion programs. These language initiatives have been running in Tyendinaga for more than two decades.
"I have watched fluent children evolve into fluent families," said Maracle about her Kanien'kéha language programs.
Call to Action #93: revise the information kit for newcomers to Canada and its citizenship test to reflect a more inclusive history of the diverse Aboriginal peoples of Canada, including Calls to Action and information about the Treaties and the history of residential schools.
Maracle said she was interested in this action calling for a revision of the information kits for newcomers to Canada and citizenship tests to reflect more inclusive history of Indigenous peoples of Canada. She said she has been working with libraries to come up with programs to help educate newcomers about Indigenous people.
---
Keren Rice, professor and chair of linguistics, interim director of the Centre for Indigenous Studies
Call to Action #14: enact an Aboriginal Languages Act.
Rice said there's a reason for why people talk about the "urgency" to preserve language.
When Rice first began studying the Dene language as a PhD candidate, she spent time in Fort Good Hope along the Mackenzie River in the Northwest Territories. There, she said she met children barely able to understand their Dene-speaking grandparents. Rice talked about how embracing a language can fundamentally change people.
"It allows them to embrace who they are and where they come from," said Rice. "I have seen people transform time and time again."
Rice said persistence, perseverance and patience are needed to continue to work toward reconcilation in Canada.
"If you don't have these, you'll give up," she said.
---
Jennifer Sylvester, president, Indigenous Studies Student Union
Call to Action #10: Draft new Aboriginal education legislation with the full participation and informed consent of Aboriginal peoples.
Jennifer Sylvester is a prominent figure in the Indigenous community on campus as a student leader.
It wasn't always this way.
"For years, I resisted who I was," said Sylvester who grew up in Toronto attending Catholic school and was told by high school counsellors she'd never make it into university. 
Years later, she enrolled at U of T and took an Indigenous studies course and her path was set.
"It changed my life...I mean it really changed my life!" she said. "I decided it was what I needed to do."
She said this action is important because not everyone learns the same way, and that courses and programs should take that into account.
UTC