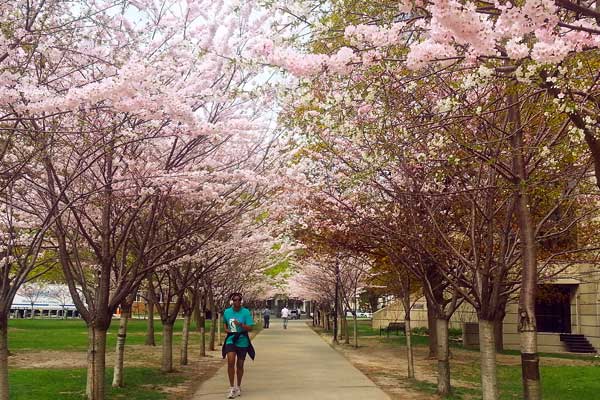 Sharing the best cherry blossom moments at U of T
Photographers celebrate the sakura
Even though each blossom lives between four and 10 days, the annual flowering of sakura (or cherry blossom) trees draws millions of tourists to destinations around the world.
In Washington, D.C., park rangers tend to more than 3,700 cherry trees. Their peak bloom was in April, and tourists were able to see the elusive cherry blossoms on ranger-led walks, from paddle boats and via a cherry web cam. In Japan, where the tourist association publishes a map showing when flowering has begun across the country, peak bloom came earlier than normal – and petals are already falling. But in Toronto's High Park, where the nature centre has been counting down the days, the showiest display is expected between May 7 and May 9.
And at the University of Toronto? Students, staff, faculty and community members have already been capturing the display and sharing the results on Instagram, Twitter and Facebook. The above photo has already received so many "likes" on social media it is close to rivalling last year's Convocation marriage proposal photo.
If you would like to add your photos to the collection, use the hashtag #UofT.
Below, you can scroll through some of this year's highlights: