Sex workers and antiretroviral drugs: U of T public health experts at Canadian Conference on HIV/AIDS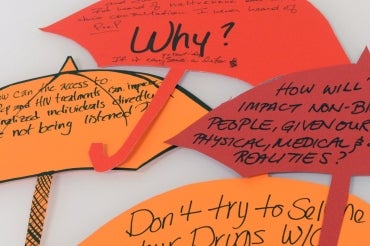 For the first time in North America, public health researchers gathered sex workers and those who work with them to discuss the pros and cons of taking antiretroviral drugs to avoid HIV infection. 
The results of that discussion will be presented at the Canadian Conference on HIV/AIDS on Wednesday in Montreal. Back in October, a group of 50 people from across Canada were invited to meet with researchers from U of T's Dalla Lana School of Public Health for a three-day consultation on the use of pre-exposure prophylaxis (PrEP) – a way for those who are at risk of HIV infection to reduce that risk by taking antiretroviral drugs. 
"Some suggest PrEP is the new condom," said Dan Allman, assistant professor of social and behavioural health sciences at U of T who is facilitating the Montreal presentation. "While PrEP won't prevent syphilis, gonorrhea or other sexually transmitted infections, the evidence is strong that despite side-effects, when taken properly, PrEP can work to help prevent individuals from acquiring HIV."
Allman led the October consultation as part of the project, PrEP in the context of sex work: possibilities and limitations, which was funded by the Elton John AIDS Foundation, the Canadian Institutes of Health Research and Gilead Sciences Canada, Inc. He worked with Andrew Sorfleet, president of the Triple-X Workers' Solidarity Association of B.C. to shape the consultation agenda.
"I found a set of guidelines that suggested people involved in commercial sex should be prescribed PrEP, yet there had been no opportunity for consultation or input from sex workers," said Sorfleet during his opening remarks at the consultation.
Sex workers are one marginalized group that has inequitable access to health services. Indigenous people, racialized communities and those in the LGBTQ+ community also face equity issues, notably barriers related to access to prevention, care, treatment and support. Many of these issues were discussed during the consultation by people on the front lines, as well as community outreach workers, social service programmers, health-care providers and advocates from more than 20 sex worker-directed organizations and peer-run programs from across Canada.
 
"It was validating to see how attuned to the health implications, good and bad, our group was," said Allman, who described the consultation as a form of education and capacity building, not as research.
Allman said that the consultation design was in keeping with the World Health Organization-led Ottawa Charter for Health Promotion because it "started where the people are." 
"It is part of an active movement in global health that recognizes the important work that excluded communities can have in reducing HIV infections through innovative approaches to health, harm and well-being associated with HIV and AIDS," said Allman.
At the Montreal presentation, the consultation team will premiere a comprehensive report and video, developed for community members as well as public health, policy and research practitioners so that they too can more effectively and respectfully engage sex workers in meaningful dialogue. 
Allman is hopeful that through the process and consultation, participants are empowered to take what they learned about HIV prevention and PrEP back to their communities.
Dalla Lana