Martin Cannon's book, Men, Masculinity and the Indian Act, explores over four decades of case law calling attention to the inability – if not refusal – of courts to connect sexism with racialization (photo by Perry King)
For decades, Martin Cannon had wanted to write a book that seeks to better understand the Indian Act's effect on both Indigenous women and men "with an eye toward restoring gender balance and complementarity." 
A member of the Oneida Nation of Six Nations of the Grand River Territory, Cannon says Men, Masculinity and the Indian Act, published last year by UBC Press, is inspired by feminist theory and Indigenous women's writings about sexism and racism that he read in the 1980s and during work on his master's thesis in the 1990s.

"In the book, I am committed to seeing a change in the consciousness and minds of Indigenous Peoples about sexism and its impact on Indigenous nationhood," says Cannon, an associate professor in OISE's department of social justice education whose teaching and research interests include Indigenous-settler relationships, rejuvenation, racism and settler colonization and nation-building.

"In all the work I do, I'm really wanting to encourage students to not just acquire facts and information or histories, but to also understand that knowledge in order to resolve those histories."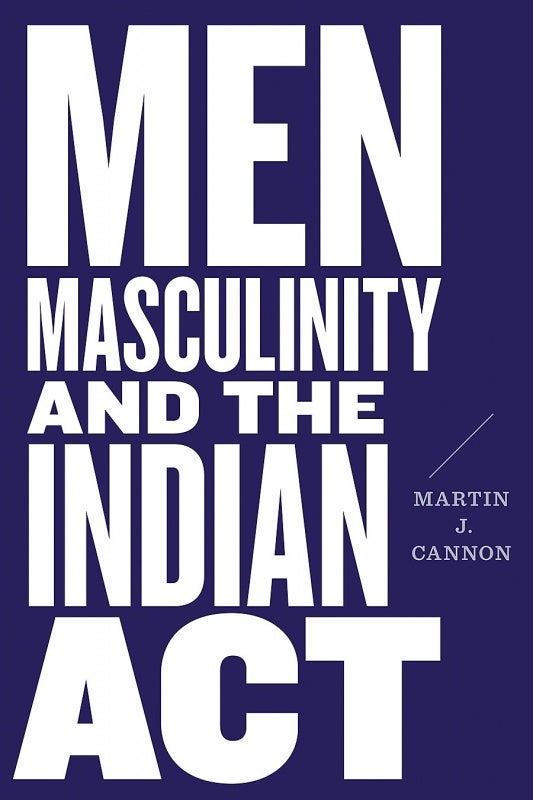 Men, Masculinity and the Indian Act 
explores over four decades of case law calling attention to the inability – if not refusal – of the courts to connect sexism with racialization and to acknowledge Indigenous Peoples as sovereign nations.
"I contemplate how courts, Parliament and even some status Indian organizations, in seeing the matters before them as discrimination involving only sexism, ignored the matter of Indian-ness – in turn re-telling a 'raceless story of sexism,'" says Cannon.
Cannon's publisher nominated the book for the Shaughnessy Cohen Prize for Political Writing, an honour awarded by the Writer's Trust of Canada.
"The attention to [the book] is just as important as anything else," says Cannon of the nomination. "When I'm thinking about what my book will look like to the public, I just hope the connections I am making about racialization being inseparable from sexism are talked about and recognized."
Cannon says sexism within the Indian Act affects all Indigenous Peoples and undermines the collective rights of nations by determining who gets to belong and who doesn't. For example, sexism in the act enshrined the structure of band councils, which were historically all male – including the Haudenosaunee, who have been traditionally matrilineal.
Citing arguments from his friend and co-author Lina Sunseri, an associate professor of sociology at Brescia University College, and other Indigenous women like the late Patricia Monture, Mary Ellen Turpel, Jennifer Denetdale, Joanne Barker, and J. Kēhaulani Kauanui, he argues that sexism is always intertwined with racialized discrimination.
"What [these scholars] suggest to me is that sexism is a tool. It's the precise tool that's used to exact and mobilize settler colonialism and lands dispossession – and, for the longest time, before Canada only recently amended the Indian Act, it furthered our legislative and sometimes physical elimination as people," Cannon says.
His book explores what sexism has meant for Indigenous men – challenging an assumption that the act has affected Indigenous Peoples as either "women" or "Indians," but not both. It is here that Cannon sought to approach this book with an intersectional lens.
"The book belongs to a grand tradition of feminist intersectional theorizing that's primarily been written by Indigenous and Black women," says Cannon, who eventually hopes to see constructive criticism from trans, two-spirited, and/or queer Indigenous perspectives.
He calls on Indigenous men and male-dominated leadership groups to acknowledge the Indian Act
as a tool of both patriarchal and racialized subordination.
Ultimately, Cannon wants the Indian Act to undergo "a slow death by amendment" – not simply for Canada to address sex discrimination, but also to address the category "Indian" and to restore First Nations sovereignty and jurisdiction over citizenship.
Citing 
Douglas Sanderson
, an associate professor at U of T's Faculty of Law, Cannon says that "Canada, through its parliament, and with Indigenous Peoples needs to work together to identify specific sections of the Indian Act that no longer serve a legitimate purpose – whose elimination from the Indian Act would work to restore autonomy, property rights, and freedoms."