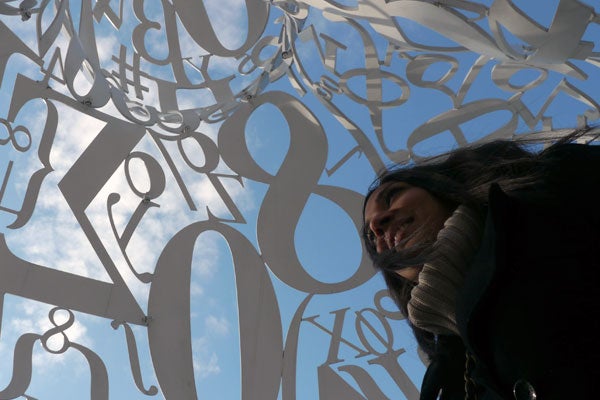 Seema Marwaha: documentary filmmaker and physician
She's been an award-winning documentary filmmaker and she's taken pictures with National Geographic – and that's on top of her work as a physician. 
Seema Marwaha, a resident fellow in general internal medicine at University Health Network and postgraduate student in medicine, is now taking her 'don't just tell me: show me' mantra to new career heights. She recently won the $100,000 Harvard University Knox Fellowship and in August she'll begin her masters in technology and innovation in teaching at Harvard.
It's an opportunity, she says, that blends her love of technology, video and story-telling.
"This is such an honour," said Marwaha, who came to U of T after doing her medical degree at University of Alberta.  "I've had really good mentorship opportunities here at U of T and I think they've really prepared me for this fellowship. I really feel that I've been exposed to world-class research and I think it gave me a leg up on winning this award. It's a competitive scholarship but many U of T students could probably get if they knew about it."
"The award is also in memory of Frank Knox, who was somebody who wanted Commonwealth students to come to Harvard to study and then use what they learned to go back to their countries and become future leaders, and that's really important to me as well."
The Frank Knox Memorial Fellowship program provides funding for students from Australia, Canada, New Zealand and the United Kingdom to conduct graduate study at Harvard University. Through in-country competitions, Knox Fellowships are typically awarded to 15 newly admitted students each year. Knox Fellowship funding is guaranteed for up to two years of study at Harvard for students in degree programs requiring more than one year of study. There can be as many as 30 Knox Fellows at Harvard in any given year.
Marwaha recently won the Ivey School of Business' Global Impact award for a video she created on hand-washing. The video's message, 'It just makes sense' – resonated with colleagues at UHN, who are now screening it for new medical staff.
"We're trying now to see if this video will change behaviour," said Marwaha, who got her first camera in junior high school.  "I think a lot of the educational resources are dated, so if you can make something people would want to share on their own with a positive message, that can be powerful."
Marwaha will go to Harvard in August to begin her fellowship in her new program and plans to move to Boston for one or two years. She says her time as a U of T student helped carve out a niche for her passion for story-telling, which she hopes to bring with her to Harvard.
"Medicine is full of untold stories. It's so hard to explain what you see on a daily basis in medicine. Every night when I work, I feel like there are so many stories I want to tell."
To view Seema Marwaha's hand-washing video: http://youtu.be/M8AKTACyiB0