A sea of colour and energy: Tri-Campus Parade and Clubs Carnival welcome U of T's Class of '23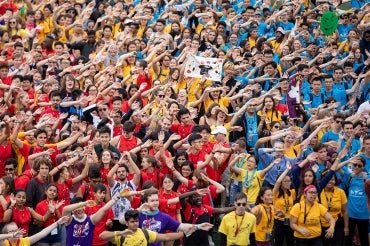 The University of Toronto was abuzz with excitement Wednesday as orientation activities got into full swing, with the highly anticipated Tri-Campus Parade and Clubs Carnival welcoming incoming students.
The tone for the day was set prior to the parade, with students from all three campuses gathering in Varsity Stadium for 2019's Cheer-Off, trading chants, cheers and banter.
The parade then set out on its route along Bloor, Yonge and College Streets before emerging at King's College Circle for the Clubs Carnival, with students lapping up the opportunity to learn about campus clubs and groups covering every interest from fencing and Ukrainian heritage to bioethics and poker.
 "Everyone's so welcoming, kind and supportive," said Sarah Abdelgalil, a first-year life sciences student at U of T Mississauga who attended the parade. "I'm the type of kid who's really shy, but when people around me are filling the air with energy, I like to fill the air with energy as well and make new friends."
President Meric Gertler, who mingled with students at the Clubs Carnival, said "the energy level seems to be particularly high this year, and you can feel the enthusiasm.
"It's a great incoming class and I'm looking forward to getting to know them and seeing what they can get up to."
President Gertler encouraged students to take full advantage of their time at U of T.
"One of the remarkable things about U of T is how many opportunities there are for extracurricular and co-curricular engagement with clubs and groups to suit every interest," he said. "It's a great way for students to meet people other than folks who are in their program or residence or people they already knew when they arrived. It's also a fantastic opportunity to begin to build your co-curricular record, which increasingly becomes important when you look for a job or apply for graduate school."
Here are some images of the day by photographer Nick Iwanyshyn:
"My parents went to U of T Scarborough so it kind of runs in the family," said first-year student Dylan Rapanan. Rapanan added that he was drawn to U of T Scarborough by the reputation of its computer science co-op program and the campus's proximity to his home.

"St. Mike's is the best and the people here are amazing," said first-year political science student Jonathan Shu (third from left) of St. Michael's College. "The vibe is incredible. I'm having so much fun today."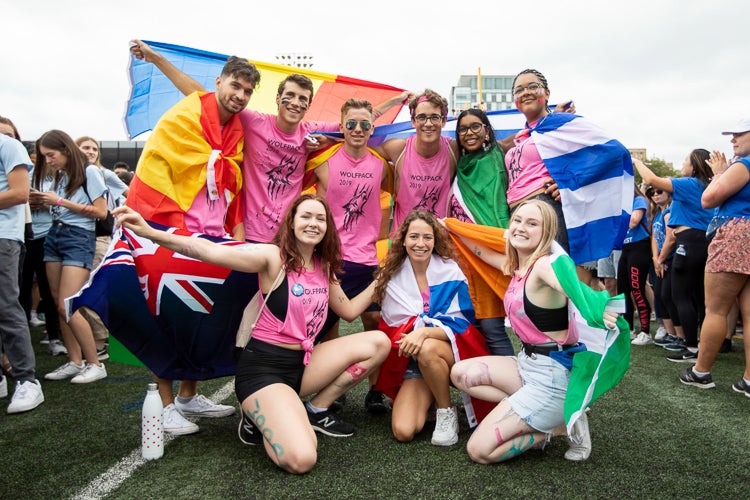 Woodsworth College orientation leaders pose with flags from around the world during the Cheer-Off at Varsity Stadium. "It's a lot of playful banter with the other colleges but they're all good people," said Danielle Linder (front row, centre), who moved to Toronto from Mexico City and is entering her third year studying anthropology and political science.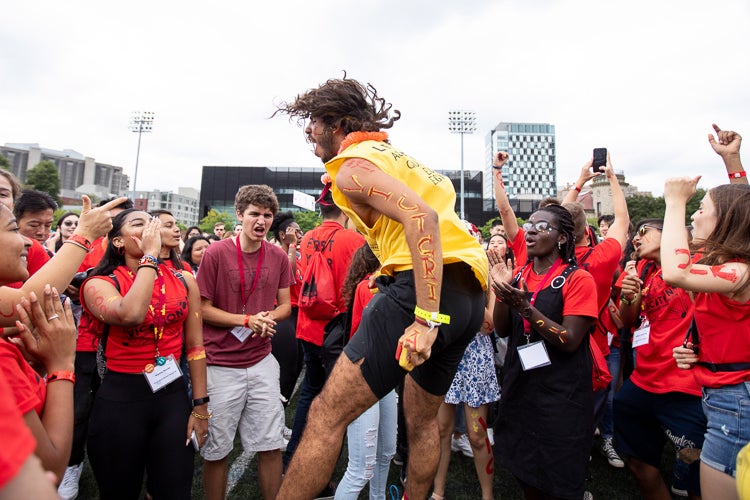 Students from Victoria College make their voices heard at the Cheer-Off as an orientation leader urges them on.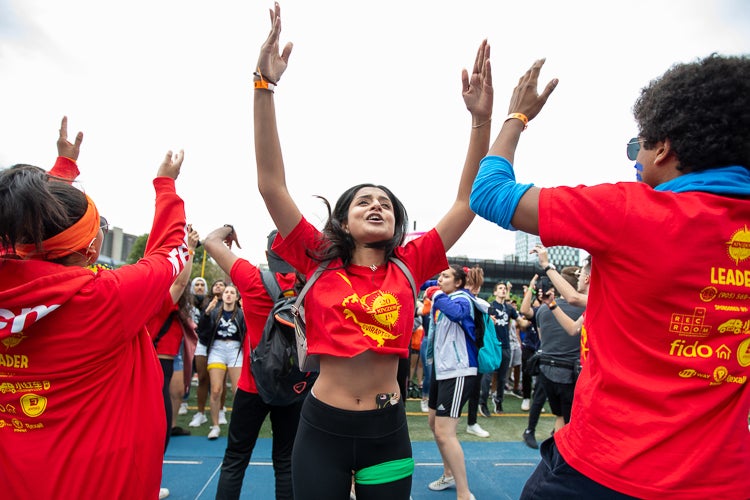 Orientation leaders represent U of T Mississauga during the Cheer-Off. "I chose UTM because I personally love the campus – it's surrounded by nature and it's so beautiful," said first-year student Sarah Abdelgalil.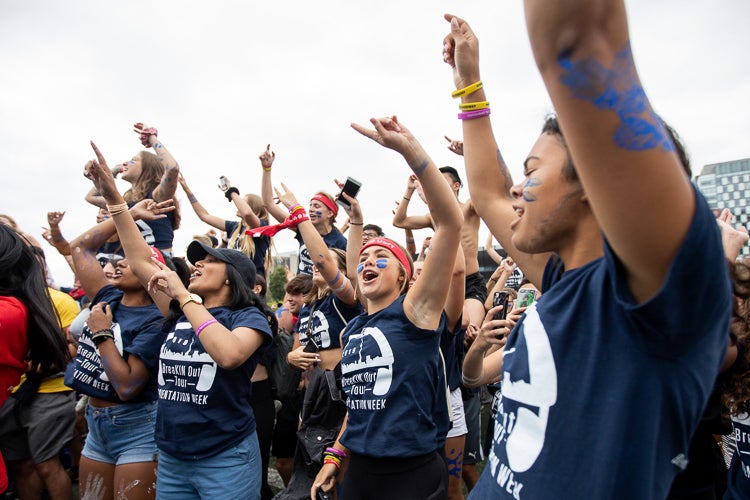 Students from the Faculty of Kinesiology & Physical Education chant in unison during the Cheer-Off.
Students from the John H. Daniels Faculty of Architecture, Landscape, and Design march during the Tri-Campus Parade along Bloor Street. Daniels students made sure to remind everyone that there would be no campus buildings without architects and designers with a simple but pointed chant: "We built that!"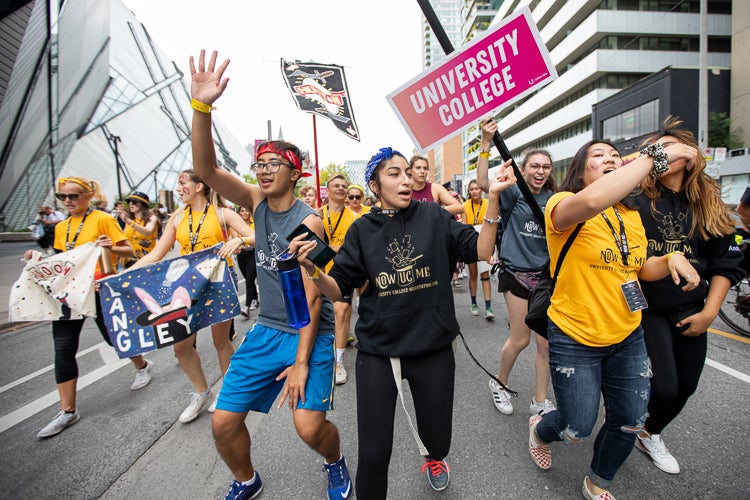 Students from University College display banners showing off their residential houses – including Langley, Loudon and Hutton – while marching past the Royal Ontario Museum during the Tri-Campus Parade.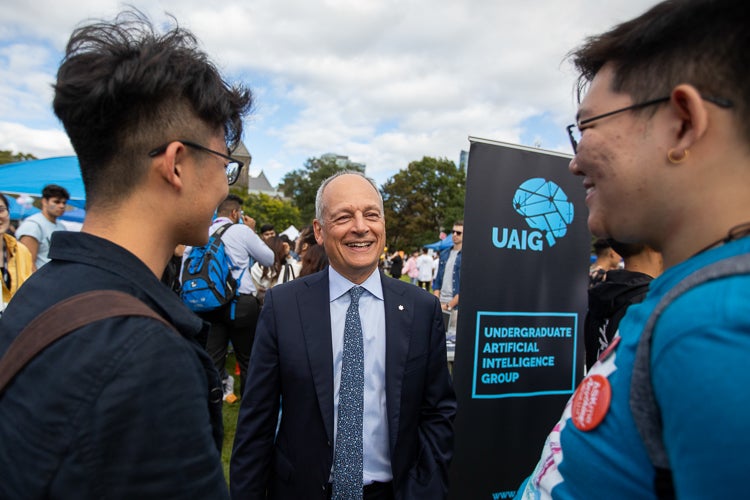 President Meric Gertler chats with first-year computer science student Edward Li (left) and his Innis College orientation leader Tony Niu, a third-year mathematics student, during the Clubs Carnival. Li said he's delighted to study computer science at U of T given its contributions to artificial intelligence.
UTC