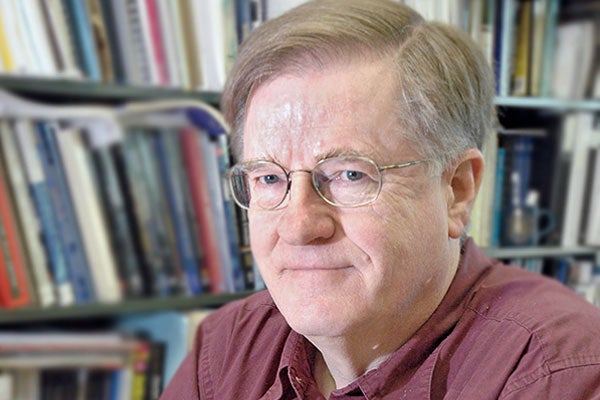 Science engagement: exploring Toronto's astronomical heritage
As an expert in the stars and in science education, Professor Emeritus John Percy believes everyone should know about their cosmic origins and place in the universe.
One of the first recipients of the University of Toronto's President's Teaching Award, Percy has served as president of the Royal Astronomical Society of Canada, the Royal Canadian Institute, the American Association of Variable Variable Star Observers, the International Astronomical Union Commissions on Variable Stars and on Astronomical Education, and the Astronomical Society of the Pacific
Percy delivers a free, public talk December 4 at the North York Central Library as part of the University's science engagement program. Organized by Professor Ray Jayawardhana, the U of T president's senior advisor on science engagement, and Professor Craig Fraser, director of U of T's Institute for the History & Philosophy of Science & Technology, the series brings U of T researchers to the Library to share their expertise. Speakers have included: Brian Baigrie on Sir Isaac Newton; Janis Langins on ballooning during the Enlightenment and the French Revolution; and Marga Vicedo on the history of autism.
What drew you to this field – and to U of T?
I have been at U of T, in one way or another, since 1958.
I was drawn to astronomy then because it was entering a golden age, and it's still in it. But teaching and outreach were traditionally very important in my department (astronomy) and still are, so I have been doing outreach for 50 years. I was influenced by many colleagues, including Helen Sawyer Hogg, who was Canada's best-known and most beloved astronomer – a weekly columnist at the Toronto Star for over 30 years. I also had the opportunity to be a founding faculty member of UTM in 1967, and am also cross-appointed to OISE – an important link, I feel, between education experts and subject-area experts.
What can people expect to hear December 4?
A profusely-illustrated, non-technical overview of how astronomy has developed in Toronto since 1839, and how its development has paralleled the development of our university, our city and our country. 
When Toronto was the Town of York, with a few hundred people, a few surveyers might have known about practical astronomy, and a few educated people might have known the basics of general astronomy. Now, Toronto is a world centre for astronomy research, education and outreach. I will introduce the people and the organizations which led to this, and also answer the perennial questions, "What's happened to the Dunlap Observatory?" and "Why did the McLaughlin Planetarium close?".
Tell us a bit about your work.
I'm not a professional historian; my research is actually on stars and stellar evolution, but this presentation has a different provenance. It arose from the International Year of Astronomy 2009 (IYA), a 148-country celebration of the 400th anniversary of Galileo's development and first use of the astronomical telescope. In Canada, we had over 3,600 events, reaching almost two million people face-to-face. I was one of the national organizers, but we were also encouraged to organize local events – especially ones that reached new audiences.
I am a member of Heritage Toronto, and am a fan of their heritage walks, so I developed a walking tour of astronomical sites on and around the U of T campus. This annual walk has been enormously popular. For IYA, we had also developed a successful partnership with the Toronto Public Library, and we continue to give astronomy talks at library branches across the city. So I developed a presentation based on the heritage walk. This is it.
One of the other positive outcomes of IYA was that we developed partnerships with other departments, one being the Institute for the History and Philosophy of Science and Technology, and this presentation is one of many aspects of that partnership. One of the reasons for the success of IYA was partnership; I strongly recommend it!
Why should students today study this area?
They should study astronomy because everyone should know about their cosmic origins, and their place in the universe. Students are intensely interested in astronomical topics. Our largest courses (1350+, superbly taught) are of non-science students taking introductory astronomy. But we also have specialist undergraduate and graduate students doing research here at one of the world's leading astronomy centres. Students should also be exposed to history and heritage, to understand how their subject area developed, and who developed it. I'm technically "retired," but continue to teach courses – for later-life learners.They, too, are interested in astronomy, both the history and the current developments, and they are great supporters of U of T and other universities.
Why is science engagement important?
I interpret "science engagement" as science outreach and communication, and these are important for many reasons: to increase public awareness, understanding, and appreciation of science ("scientific literacy"); to present a positive image of science, and scientists; to attract young people to science, and to our university; to attract support for science (the University of Toronto has benefitted from many major donations to support science, including astronomy); and for accountability – our salaries and research are supported by taxpayers, so they should know what we are doing!  But also because science outreach is fun – and people of all ages are interested in science!
It also gives our undergraduate and graduate students, who do much of our outreach, a wonderful opportunity to show their enthusiasm and develop communication skills.