Scholars and writers at U of T conference dissect CanLit's relationship to land, Indigenous and racialized communities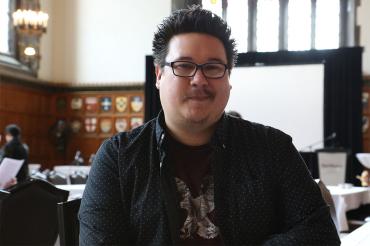 When some of the top creative and scholarly minds gathered at U of T last week for a conference exploring the relationship between Canadian literature and the land, Indigenous communities and racialized groups, participants decided to rise above the raging debate on cultural appropriation.
In his keynote speech at the Mikinaakominis (Turtle Island) TransCanadas: Literature, Justice, Relation conference, Métis scholar, writer and filmmaker Warren Cariou set the tone.
"A week ago, I thought maybe I should rewrite my presentation to more directly address these problematic assertions and assaults on the value of Indigenous stories," he said. "But I stepped back, took a deep breath, and I thought about what it would mean to abandon my intended address and talk about something else. I thought maybe it's better to avoid the temptation of getting caught up in that colonial-reflex syndrome."
Cariou, an associate professor at the University of Manitoba and Canada Research Chair in Narrative, Community and Indigenous Cultures, said he opted to "centre his resistence in his own Indigenous values and practices" rather than frame his speech as a response to colonial thinking.
The 2017 event, hosted at U of T's Hart House in collaboration with the University of Calgary, was the biggest TransCanadas event to date, bringing in storytellers, poets, novelists, creative non-fiction writers, critics and interdisciplinary practitioners from Brazil, Taiwan, Poland, Italy, Jamaica and France.
U of T English Professor Smaro Kamboureli, a poet, writer and Avie Bennett Chair in Canadian Literature, has been organizing the TransCanadas conferences since 2005. She said her original intention was to create a series of events across Canada to create a community of scholars, writers and Canadianists who could come together to engage in intensive, critical dialogue about Canadian literature and pedagogies. 
This year's conference was against the backdrop of Canada 150. Speakers included Nisga'a writer Jordan Abel, U of T poet and author Lee Maracle, Canada's parliamentary poet laureate and U of T English professor George Elliott Clarke, director of U of T's Women and Gender Studies Institute Rinaldo Walcott, University Professor Ato Quayson from the department of English and director of the Centre for Diaspora and Transnational Studies, Japanese-Canadian poet Roy Miki, and artist and novelist SKY Lee.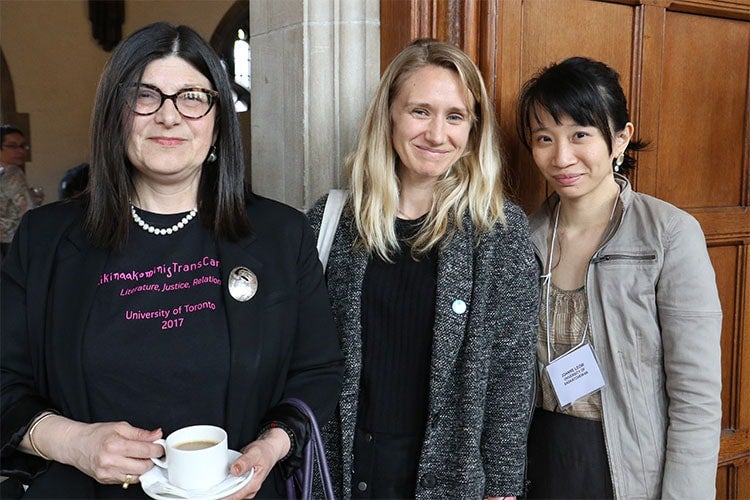 Smaro Kamboureli and graduate students, Evangeline Holtz from U of T and Joanne Leow from the University of Saskatchewan (photo by Hannah James)
Abel, whose book Injun is nominated for this years' Griffin Poetry Prize, said he was pleased to see a conference that addresses race and Indigeneity in meaningful ways. 
"A lot of the issues coming up in the papers are related to cultural appropriation in some ways like the problematic construction of our current society that in a certain way fosters the kind of ignorance that leads towards the appropriation prize happening," he said.
Abel says his Griffin-nominated work is poetry that's deeply invested in Indigenous issues using tools and methodologies of conceptual writing. He looked up western novels available from the Gutenberg Project's digital archive and searched for the word injun, a pejorative word for "Indian." He then cut up and rearranged 500 sentences he found that contained the word and made one long poem.
Abel – who is also a PhD student at Simon Fraser University presented two papers alongside Maracle, who Kamboureli describes as one of the most important Indigenous writers of our time and Eileen Antone, a U of T Elder and professor emeritus. 
Sessions included topics like Performing Critical Race Thought, Indigeneity & Black and Asian Diasporas in the Canadian City: Critical Artistic and Pedagogical Approaches and Storytelling and/as Activism and Podcasting, Pedagogy and Canadian Literature.
Kamboureli has previously held TransCanadas conferences in Vancouver, B.C., Guelph, Sackville, N.B., and has published a volume of essays and submissions from presenters after each conference.
"The conference has had a big impact on the field from institutional formations from literary publishers to university structures and how they shape and affect influence the study, teaching and writing of Canadian literature," said Kamboureli.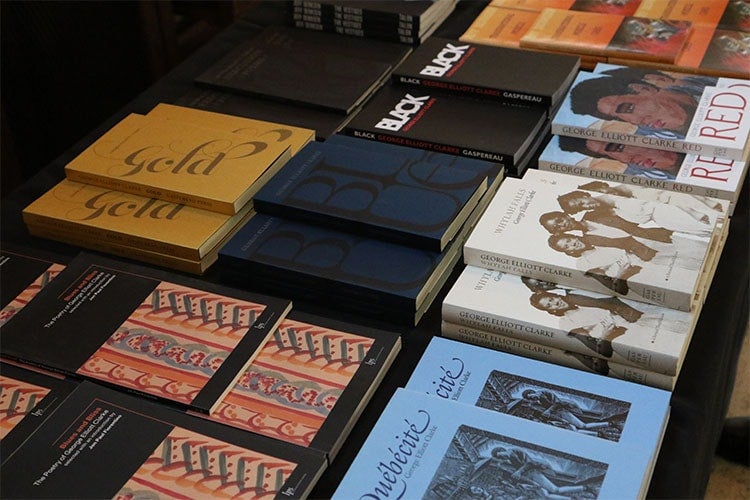 U of T Bookstore brought a gorgeous display of books by featured conference authors including Lee Maracle, George Elliott Clarke and Smaro Kamboureli (photo by Hannah James)
UTC