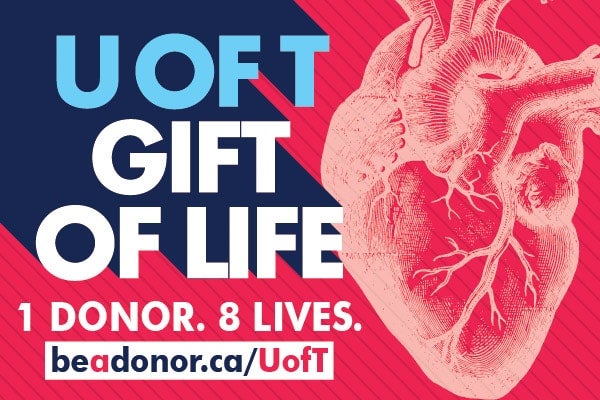 Saving lives: U of T campaign to increase organ donation
Every three days in Ontario, a patient dies waiting for an organ transplant, and the Greater Toronto Area has one of the lowest donor registration rates in Canada.
So on January 13 2014, the University of Toronto is launching a campaign with the Trillium Gift of Life Network to encourage faculty, staff and students to register as organ donors.
The University has played a central role in the progress of transplant medicine. U of T and its partner hospitals were home to the first and largest organ transplant program in Canada. Surgeons at the Toronto General Hospital performed the world's first single and double lung transplants, and today the University Health Network's multi organ transplant program provides surgery to 400 patients and follow-up care for 5,000 patients every year.
"For those in the U of T community who want to be donors, this campaign is a great opportunity to ensure they are registered," said Professor Jill Matus, vice-provost of students & first-entry divisions at U of T. "We know the University can take a leadership role for the GTA in organ and tissue donation, and really make a difference for those who so desperately need  a transplant."
One organ donor can save up to eight lives. Most Ontarians say that giving consent for organ donation is important, but in the GTA only about 15 per cent are registered. Many people mistakenly believe they are registered because have signed a paper donor card, but the cards are often not available at the time of need and the province does not record the information on them.
Potential donors often have concerns that prevent them from registering. These include the belief that their organs are too old or unhealthy, and that they won't be able to have a funeral with an open casket. But age and health typically aren't barriers to registration, and most procedures have no impact on funeral arrangements.
Another common misconception is that transplants often don't work. Transplants save and enhance lives, and include a growing range of organs and tissue: heart, liver, kidneys, pancreas, lungs, small bowel, stomach, corneas, heart valves, bone and skin.
"Transplant medicine has come a long way in a very short time," said Professor Catharine Whiteside, dean of the Faculty of Medicine at U of T. "Despite the complexity of the procedures, the biggest challenge we face today is not only how to preserve the function of transplanted organs by controlling a patient's immune response — equally important is recognizing  the shortage of organs for transplantation."
The University's organ and tissue donation campaign will run from January 13 to 27, 2014, but members of the U of T community can register any time at https://beadonor.ca/uoft.
It only takes two minutes to register consent.
Jim Oldfield is a writer with the Faculty of Medicine at the University of Toronto.