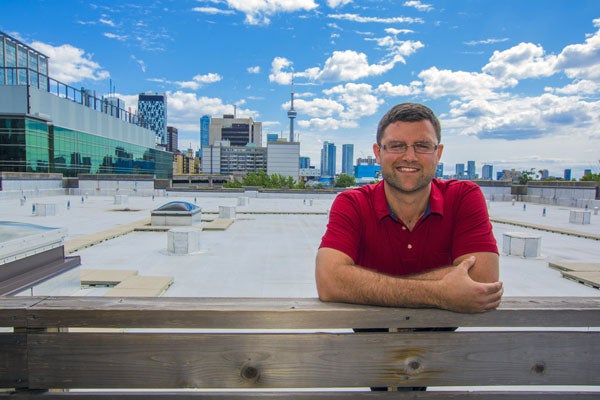 Saving energy, trees and a billion litres of water: the view from U of T's Sustainability Office
Celebrating ten years of conservation innovation by students, faculty and staff
"You've probably heard of green roofs, but what about a white roof?" Tyler Hunt asks as he gestures at the bright surface of the top of 255 McCaul, the Gold LEED-certified building that houses the University of Toronto Sustainability Office.
Hunt, a project coordinator at the Office, says the white roof saves energy by bouncing back the sun's rays and keeping the building cool in summer.
Replacing traditional roofs with white roofs, Hunt says, is just one way that U of T is reducing its carbon footprint. There are many other examples, he says, such as the campus libraries setting their printer defaults to double-sided in 2010.
"That's saved us three million sheets of paper – enough paper to reach over half-way up the CN Tower," he says, pointing at the iconic Toronto landmark in the distance.
Hunt gives other examples: the 100 solar thermal panels on the roof of the Warren Stevens Athletic Centre that provide one out of five hot showers in the building; the billion litres of water the St. George campus has saved since 2010 – "enough water to fill Convocation Hall 36 times" – and the 14.5 kilometres of underground pipes that provide 97 campus buildings with space heating, hot water and humidification. (More examples can be found in the Office's 2013-14 Sustainability Yearbook.)
Hunt is one of three project coordinators at the Office, which is celebrating its 10th anniversary this year. He and his colleagues, under the direction of director Paul Leitch, work with students, staff and faculty to develop and support projects, policies and initiatives that reduce consumption of resources. Key projects include a Green Ambassador program, green office certification, green courses and an "It's Greener Here" awareness campaign.
Over the past 10 years, the Office has helped build environmental decision-making into every aspect of campus life, from laboratories to offices to student residences, he says.
"Residence is a very key stage of students' lives. It's a great time to make an impression, and to teach students how to reduce their energy use and save water and compost," Hunt explains.
"We have the attention of these future leaders for at least four years. Even if they aren't intending to become environmental leaders, it's important that they're conscious of the world's needs. So we should take advantage of the attention of these students while they're here, and build environmental consciousness into what they're doing."
Sustainability is not only good for the planet; it's good for the university's bottom line, Hunt says. Those three million sheets of paper saved by the library meant three million fewer sheets of paper to buy. "We can save tremendous amounts of energy, water and other resources by thinking long-term."
As the Office begins its second decade, new initiatives include working with campus tour guides and university recruiters to include the sustainability message in their pitches to potential students and faculty.
"Campus tours, for example, are now looking at the campus agriculture plots, they're looking at the chimney on Russell Street, and they're looking at the solar array on the Athletic Centre that heats hot water."
Hunt says the Sustainability Office's message can be boiled down to: "incremental, everyday decisions can have significant change. People are often overwhelmed by the enormousness of climate change and deforestation and all these things, but by scaling down your impacts and really integrating them into your day-to-day life, it can have tremendous impact."