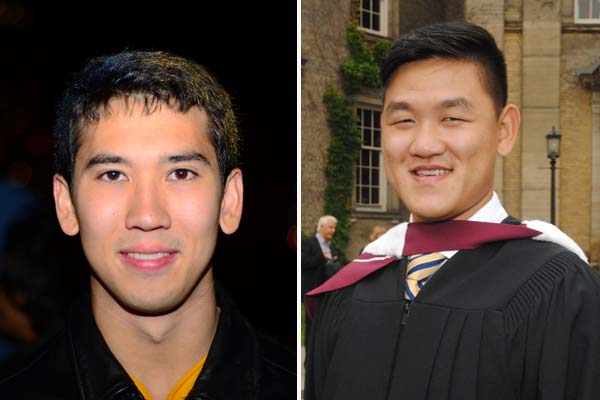 Satellites and body-implanted electronics: U of T alumni recognized in global Undergraduate Awards
Eight U of T graduates have been named to the Highly Commended list at this year's Undergraduate Awards – a competition inviting top students from around the world to take part at its Global Summit in Dublin starting November 10.
To make it into the 'Highly Commended' category a student's academic paper or research must be ranked in the top 10 per cent of more than 5,000 submissions. The competition is open to students in their final or penultimate year of studies.
Read more about the Undergraduate Awards.
Over the years, U of T students have regularly numbered among this elite group. 
(Read more about Highly Commended alumni in previous years.) 
This year's finalists and their categories are:  
Raghav Singal - engineering and built environment
Dominic Liao-McPherson - engineering and built environment
Xiyu [Tim] Liu - engineering and built environment
Misha Boutilier - history
Ira Halpern - literature pre-1710
Roshaan Wasim - literature pre-1710 & literature 1710-present
Dean McHugh - philosophy & theology
Winnie Lieu - psychology
In the final instalment of our series, Liao-McPherson and Liu speak with U of T News writer Brianna Goldberg about their ideas for saving fuel in space and ensuring medical devices implanted in bodies can last longer before needing to be re-charged.
What is your paper about?
My research paper is about controlling the relative motion of two satellites using as little fuel as possible. Fuel is a precious commodity in space and typically the operational life of a satellite is dictated by how much fuel it has remaining.
Unfortunately, it costs fuel to keep spacecraft in a desired orbit. So we looked at ways of reducing the amount of fuel needed by taking advantage of forces caused by the Earth's magnetic field. The control strategies to accomplish this were the main focus of my research.
I've always fallen firmly on the space side of aerospace. I found the project interesting because it gave me an opportunity to work with satellites and explore control engineering at the same time. I ended up enjoying the field enough to enrol in a PhD program.
What's next for you?
I'm currently pursuing a PhD in aerospace engineering at the University of Michigan. More specifically, I'm studying how to control systems that have constraints (i.e. collision avoidance, safety limits etc.) with spacecraft and automotive applications.
Any supporters at U of T who helped you along the way?
I'd like to thank Professor Chris Damaren, my supervisor for the project for his help and support. My experience with this project helped convince me to pursue further study. I also wanted to thank Professor Adam Steinberg for his advice and support throughout my time at U of T.
Any other highlights from your time at U of T?
I've been involved with rugby at U of T as a member of the varsity team and as coach for Engineering's intramural team. I also served as a VP for the Engineering Athletics Association and as mechanical design lead for the U of T concrete toboggan team.
TIM LIU
What is your paper about?
My research paper discussed the design of a wireless power transfer system with optimized power transfer efficiency for charging of body-implanted electronic devices. Body-implanted electronics devices of various functions and sizes have been widely studied in recent years for their potential to provide direct, localized monitoring and treatment on specific tissue and organs. However, current power delivery technologies – transcutaneous wires or batteries – significantly hinder the feasibility of these implantable devices for sustained use. As a biomedical systems engineer, I am extremely passionate about bringing these implantable devices to life and providing new treatment options for those in need. 
What are you hoping to get out of your experience in Dublin?
I look forward to the once in a lifetime chance to network with the best and brightest undergraduate students from around the globe and see their fantastic work. From the workshops, I hope to develop new skills and be inspired by other participants which will no doubt further my own growth. I also hope to experience the city of Dublin and its rich culture and history.
What's next for you?
Currently, I'm working in management and manufacturing for Proctor & Gamble. This allows me to get closer to the products that affect people on a daily basis. 
Any supporters at U of T who helped you along the way?
I would like to acknowledge the exceptional guidance and support I received from my supervising Professors Costas D. Sarris and Hans-Dieter Lang. I also have to thank the Division of Engineering Science for their demanding and innovative curriculum which challenged me to become a better problem solver.
Any other highlights from your time at U of T?
I was the president of Tetra Society University of Toronto Chapter. This is a club dedicated to the design, modification and building of custom assistive devices to help people with disabilities.