Sara Seager, a leading astrophysicist who advanced our understanding of exoplanets, receives honorary degree
A world-renowned leader in astrophysics and planetary science, Sara Seager has been instrumental in advancing the study of planets outside our solar system. Her research over more than 20 years has greatly improved our understanding of the wide variety of exoplanets that exist in the galaxy and pushed us closer to finding another Earth-like world that could support life.
For her leadership in the fields of astrophysics and planetary science and as a leader in the field of exoplanet atmospheres, Seager today receives a Doctor of Science, honoris causa, from the University of Toronto.
Born and raised in Toronto, Seager told University of Toronto Magazine writer Dan Falk in 2021 that she fell in love with the stars after a childhood camping trip to Bon Echo Provincial Park, in eastern Ontario. She knew about the stars from books and from visits to the McLaughlin Planetarium, and had even managed to glimpse a few from light-polluted Toronto.
But she had never seen them against the rural, black sky. "It was so incredible and so touching," she recalled, "and I wondered why no one had told me about it."
She attended Jarvis Collegiate in downtown Toronto, then earned a Bachelor of Science degree in math and physics from U of T. Seager's experience at the university included two summers studying stars at the David Dunlap Observatory, just north of the city.
After U of T, she headed to Harvard University for grad school, earning her PhD in 1999. She wrote her dissertation on exoplanets, which at the time was a fringe topic in astronomy.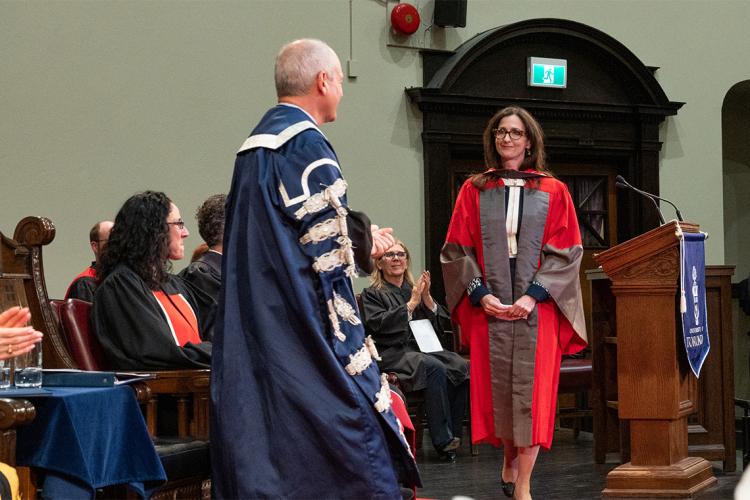 Since then, Seager has conducted research into many of these distant worlds, developing techniques to analyze the composition of their atmospheres. She has also built computer models to simulate a range of planetary atmospheres and, she hopes, determine what combinations of gases might support life.
Small, rocky planets are common in the galaxy, she explained in the University of Toronto Magazine interview. She suspects water and other elements needed to support life are, too. "The ingredients for life are there, and the planets are there, and really they just need to come together the right way," she told Falk. A New York Times Magazine profile in 2016 dubbed her, "The woman who might find us another Earth."
Seager became a tenured professor at MIT in her mid-30s and received a McArthur "genius" grant several years later. Her work on exoplanet atmospheres earned her the Helen B. Warner Prize from the American Astronomical Society.
In her award-winning memoir, The Smallest Lights in the Universe, Seager describes how she came to the realization that she is autistic. It began with the New York Times Magazine article, which had described Seager's preference for solitude, her disinterest in small talk and her inclination to attack every new project with laser-like focus. After the story was a published, she received an email from a friend whose wife was familiar with the signs of autism. Seager's first thought, as she writes in her memoir, was that she was "too old not to know such a basic fact" about herself – but a specialist confirmed it.
"It was a huge relief," she told Falk in the University of Toronto Magazine article. "I'm still awkward and different, but I'm happy to have the diagnosis." She says young scientists, especially women, sometimes approach her with their own concerns about fitting in as a result of being diagnosed with Autism Spectrum Disorder. Seager does what she can to encourage and support them. She also believes her condition has helped her excel in science. "I'm so good at my job, probably because I have autism."
Seager was named an officer of the Order of Canada in 2020. She is honorary president of the Royal Astronomical Society of Canada and a member of the United States National Academy of Sciences.
In her convocation address to graduating science and commerce students at University College, Seager urges them to remember that the road to success is not a straight line. "It will twist and turn, presenting obstacles and uncertainties along the way." Believe in yourself, she says. "Trust in your inner voice, for it holds the power to guide you towards your true purpose. … Embrace the lessons you have learned here, not only from textbooks but also from the experiences that have shaped you as individuals."
UTC