Round two: U of T expert discusses constitutional questions arising over Trump's newly revised travel ban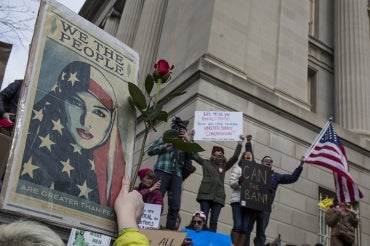 U.S. President Donald Trump took a second attempt at his controversial travel ban Monday.
For 90 days, the new order says, visas will not be issued to people from Iran, Libya, Somalia, Sudan, Syria, and Yemen. Iraq has been taken off the visa blacklist.
This time, the order appears to be trying to avoid some of the chaos of the earlier ban – the new order will not affect green card holders or anyone who already has a visa, nor is it expected to result in widespread airport detentions, which sparked protests and several lawsuits last time. But questions still remain over its legality.
U of T Law Professor David Schneiderman told U of T News that while Trump may have an easier time in court with this version, federal courts may still be interested in the constitutional questions over the new order.
---

Is the revised ban unconstitutional?
It is hard to predict what a court will say about this new revised Executive Order. The suspicion that it looks like a thinly disguised Muslim travel ban remains. While nationals from Iraq have been removed from the list of designated countries, all of the other states have predominantly Muslim populations. Moreover, as last week's leaked Homeland Security document reveals, banning travellers from these countries is an unreliable indicator of potential terrorist activity.
Just as federal courts in various states were interested in the possibility of violations of the First Amendment Establishment Clause by reason of religious discrimination in the first version of the travel ban – because of earlier statements made by then-candidate Trump and those of his top advisors – they might again be interested. But the revised Executive Order is designed to be more litigation-proof than the first, so the president may have an easier time in court than the last time around.
How is it different in terms of being able to prevent a federal judge from blocking it?
One significant revision is the exemption from the second travel ban of green card holders and those holding U.S. visas, whether outside or inside the U.S. This weakens the denial of 'due process' argument. Also the ban on Syrian refugees is not permanent but limited to 120 days.
If the first version of the travel ban was overbroad, this second version is (only) a little more carefully tailored. By omitting those who have an existing connection to the U.S., there will be more difficulty obtaining 'standing' to challenge the Executive Order before federal courts. The state of Washington, which successfully claimed standing because of its proprietary interest in public universities within the state, may not as easily obtain standing this second time around.
Indeed, standing to challenge the constitutionality of the ban (which requires showing a particularized and concrete injury) may prove more of a problem. Perhaps only litigants within the U.S. with a connection to banned overseas nationals – for instance, a U.S.-based citizen, green card or visa holder seeking to bring relatives to the U.S. – would be better situated to launch a challenge. 
  
What are the legal issues this time?
Probably the issue of religious discrimination will be most prominent.
In the first Executive Order, 'persecuted religious minorities' (mainly Christians) from within the banned countries were accorded an exemption from the ban. Having omitted any reference to religious minorities in the second Executive Order, this renders it a little less vulnerable to constitutional challenge.
U.S. constitutional law (unlike most every other mature constitutional system) is not interested in indirect or 'adverse impact' discrimination. Only intentional discrimination is constitutionally cognizable. Courts may only find discrimination if it is on the face of, or just below, the record.
As last time, the argument will be that statements made by candidate Trump and his advisors reveal that an anti-Muslim animus is behind the Executive Order. Weighing against any judicial intervention is the alleged national security interest served by the ban, coupled with the statutory authority the president possesses to issue this order under the Immigration and Nationality Act. When acting under the authority of Congress, presidential power 'is at its maximum' and so less susceptible to constitutional attack.
UTC