Rose Patten elected to serve as the 34th Chancellor of the University of Toronto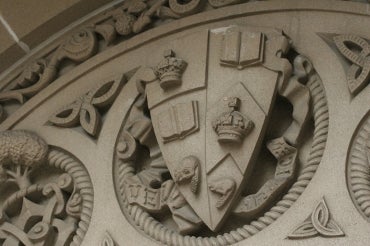 Rose Patten, the prominent Canadian business leader, philanthropist and champion of women in leadership, has been elected to serve as the next Chancellor of the University of Toronto.
Dr. Patten is a longtime senior executive at BMO Financial Group and a former Chair of U of T's Governing Council. She will take office on July 1 as the university's 34th Chancellor since its founding in 1827.
"It is my greatest honour to serve as Chancellor of this exemplary institution," said Dr. Patten (pictured left). "Among my life's most treasured experiences have been my multiple involvements with U of T – in particular my time as Chair of Governing Council, which had immeasurable rewards and positive impacts on my life and career milestones.
"I am so excited about the years ahead, and I look forward to celebrating and promoting the accomplishments of U of T's brilliant students, faculty, staff, alumni and friends. I offer my deep gratitude to all those putting their trust and confidence in me."
U of T awarded Dr. Patten an honorary degree in 2009, for her leadership as a role model for women executives in Canadian banking, community volunteerism and service to the university. That same year the university established the Rose Patten Leadership Program, in recognition of her commitment to mentorship.
Dr. Patten served on the Governing Council for nine years, from 1998 to 2007, including three years as Chair. She also chaired the Task Force on Governance, whose report in 2010 included the recommendations that led to the university's current tri-campus governance structure. In addition, she has established several scholarships, fellowships and awards, and supported the education of women, underprivileged children and new Canadians.
Currently she is Executive in Residence and Adjunct Professor in executive leadership programs at the Rotman School of Management, and a member of Massey College. She is also a member of the university's Boundless campaign executive.
"We strongly believe that Dr. Patten exemplifies and symbolizes the values of the University of Toronto, by her conduct and the standards she sets and upholds," said Dr. Geeta Yadav, Chair of the College of Electors, which is the body responsible for electing the university's Chancellor.
Dr. Patten is well-known from her 30-year career as a senior leader in the Canadian financial services industry. Currently Special Advisor to the CEO and Senior Executives at BMO Financial Group, she previously held simultaneously the positions of Executive Vice President of Business Strategy as well as Executive Vice President Global Human Resources at BMO. She is highly sought-after as an expert on strategy execution, leadership development and succession for top leaders.
In addition to her service to U of T, Dr. Patten has built an extensive record of volunteer leadership in other major institutions and organizations, most recently serving as Chair of the Board of Trustees of the Hospital for Sick Children, from 2014 to 2017. She is also a founding Director of Metrolinx, the provincial agency for transportation in the Greater Toronto and Hamilton Area.
Recognized by U.S. Banker Magazine as one of the 25 Most Powerful Women in Banking, Dr. Patten was inducted into the Hall of Fame of the Canada's Top 100 Most Powerful Women Awards, in 2007. She received the YWCA's Woman of Distinction Award for Corporate Leadership, in 2009. In 2012 she was awarded the Queen Elizabeth II Diamond Jubilee Medal, and in 2017 Dr. Patten was appointed an Officer of the Order of Canada.
As the ceremonial head of the university, the Chancellor presides at convocation ceremonies and acts as ambassador to U of T's alumni and the wider community. The Chancellor is also a key advocate for the university on the local, provincial, national and international levels.
"The Chancellor works closely with the President and me to advocate for university priorities," said Claire Kennedy, Chair of the Governing Council. "It will be a great pleasure to work with Rose, who will act as an inspiring role model for members of the university, and as a leader of the broad community of the university's alumni and friends."
"Rose Patten's track record demonstrates such an impressive mix of accomplishments and talents relevant to the position of Chancellor," said Meric Gertler, President of U of T. "She is a superb choice who will serve the university with great distinction.
"I congratulate her on her election, and I would like to thank her for her willingness to serve in this key role."
Dr. Patten will succeed the Honourable Michael Wilson, whose second term as Chancellor will end on June 30.
"I cannot say enough about Michael Wilson's tremendous contributions to the University of Toronto through his tireless work as our Chancellor," said President Gertler. "I know we are all looking forward to celebrating those contributions in the weeks to come.
"Looking at his accomplishments, and the calibre of his successor, we can all be incredibly proud of the quality of volunteer leadership that U of T attracts."
UTC