Ronald Deibert named 2017 global thinker by Foreign Policy magazine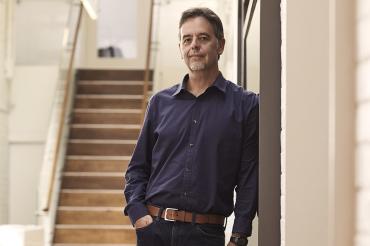 Ronald Deibert, director of the Citizen Lab at the University of Toronto's Munk School of Global Affairs and a professor in the Faculty of Arts & Science, has been honoured with a 2017 Global Thinker Award by Foreign Policy magazine.
"In a year when the full scope of Russian interference in the 2016 U.S. presidential election is just beginning to be fully understood, Citizen Lab's work to understand covert digital campaigns, including the Kremlin's efforts to manipulate public opinion, has never been more crucial," the magazine writes.
The magazine's ninth annual celebration of 100 leaders also includes French President Emmanuel Macron, whistleblower and network security expert Chelsea Manning, Chinese artist Ai Weiwei, Canadian Foreign Affairs Minister Chrystia Freeland, and San Juan mayor Carmen Yulín Cruz.
"The Citizen Lab's contributions to cyber security research and advancing human rights are invaluable to the Munk School, the University of Toronto and the world at large. Their pioneering work is a testament to Professor Deibert's exemplary leadership," says Randall Hansen, interim director of the Munk School of Global Affairs.
"It's an honour to be recognized by Foreign Policy magazine – an honour which I share with my Citizen Lab colleagues," Deibert says. "I'm exceptionally fortunate to work with a dedicated and extraordinarily talented team at Citizen Lab to undertake research on digital security and human rights issues."
"One project at a time, Deibert and his researchers are attempting to expose how governments are using the internet against one another and their citizens," Foreign Policy writes. "Deibert's researchers pick apart computer code used for surveillance – often sold to governments by private firms for top dollar – in order to understand who is being targeted and how. By closely studying code and computer infrastructure, Citizen Lab researchers turn the tools of surveillance back on the watchers."
Breaking from tradition this year, Foreign Policy is honouring the award winners as Global re-Thinkers: individuals from around the world who disrupt the status quo and change lives.
"These amazing people are not only rethinking our world but also reshaping it," writes Foreign Policy editor-in-chief Jonathan Tepperman. "They defined 2017, and we're thrilled by the chance to recognize their accomplishments."
Past honourees include Barack Obama, Hillary Clinton, Justin Trudeau, Angela Merkel, Salman Rushdie, Banksy, Ayaan Hirsi Ali, Steven Pinker, and Martha Nussbaum.
In recognition of his own work or that of the Citizen Lab, Deibert has previously been awarded: the Electronic Frontier Foundation Pioneer award (2015), the Neil Postman Award for Career Achievement in Public Intellectual Activity (2014), the Advancement of Intellectual Freedom in Canada Award from the Canadian Library Association (2014), the Canadian Journalists for Free Expression Vox Libera Award (2010), and the Northrop Frye Distinguished Teaching and Research Award (2003).
In 2013, he was appointed to the Order of Ontario and awarded the Queen Elizabeth II Diamond Jubilee medal, for being "among the first to recognize and take measures to mitigate growing threats to communications rights, openness and security" worldwide.
"It was out of the university that the internet was born," Deibert tells Foreign Policy. "If anyone is going to save it, it will be the university."
Munk School