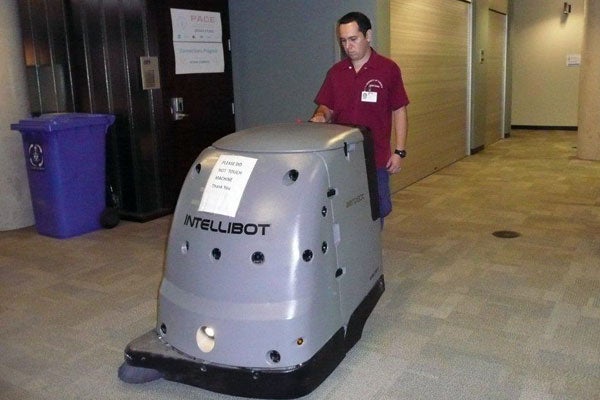 Robots, retroplated floors and environmentally friendly cleaning solutions
Caretakers push innovations to promote sustainability
Sustainability is as low tech as changing the perforations on paper towels and as high tech as a floor-mopping robot for Wayne Shaw.
Shaw manages caretaking services for the University of Toronto's St. George campus. He leads a team of 300 people who carry out such tasks as unlocking doors, changing light bulbs, and cleaning buildings. Altogether they look after about 11.5 million square feet of space in almost 110 buildings. 
Making those operations sustainable is a high priority for Shaw – for environmental reasons and for financial ones as well. Since he started at U of T ten years ago, Shaw has adjusted to budget cuts by introducing innovations that have saved money as well as the environment.
"One of the things that we've done is cut down on paper towels in the washrooms – first of all we went to centre pull hand towels where you don't have to touch the dispenser. And rather than go with the standard paper we had the paper perforated every 10 inches instead of 12 – on a 700 or 800 foot roll that makes quite a difference."
In busier washrooms, paper towels have been replaced entirely by Dyson Airblade hand dryers. "It's a digitized motor so it rotates much faster and strips the water from your hands rather than heating. That saves money and reduces the amount of time spent cleaning up paper towels from the washroom floor."
Shaw also replaced the former multitude of cleaning products with a single environmentally-friendly solution.
"Caretakers now use a single squirt bottle – it has a dispenser which is divided into two parts, one with the chemical and one with water. On top of the bottle there's a dial and you can change the setting from mostly water – what you would use for glass because you don't want chemical streaks – to stronger for tougher jobs. Even at full strength it's not harming the environment. It's a green product, and it does the job and it saves a lot of money."
Another initiative was retroplating about 300,00 square feet of terrazzo flooring on the St. George campus, Shaw says.
"By doing so we are now able to clean them with plain water, and they will never again require wax/floor finish to make them look good, or the chemical intensive process to clean them called stripping. Both process, the daily cleaning with chemicals, and the semi-annual process of stripping the wax/floor finish and applying new, put a substantial amount of chemical down the drains."
Currently Shaw and his team are testing three robot cleaners – two auto scrubbers and one robotic vacuum cleaner.
"They spray water on the floor, scrub it, suck the water up again, filter it and use it again. It will run 8 hours on 10 gallons of water where our standard machine would run maybe an hour on 10 gallons of water," Shaw says. "The bonus is that it doesn't require an operator, so where we're really tight on staffing, we can put this machine in; it will clean the floor and it will go to the elevator and it will park itself and phone the operator to tell him it's finished and in the meantime the employee can be doing other work."
Shaw says the robots will not be fully deployed for a while – some technical communication issues need to be addressed. 
He says the university is constantly searching for ways to lower its ecological footprint. Some other initiatives  include replacing traditional lights with LED lights and using microfibre cloths for cleaning.
"Our whole program is based on sustainability."
Terry Lavender writes about sustainability for U of T News.