Robot soccer, exotic peppers, social justice and more: why these undergrads are U of T's newest Loran scholars
Four first-year U of T students won Loran Scholarships, one of Canada's most distinguished university awards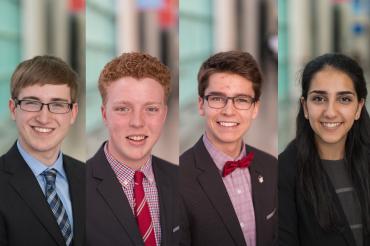 They beat the odds to get here, and now they are making a mark at U of T. 
Out of more than 4,000 applications to the prestigious Loran Scholarship last year, only 31 were picked. And four of last year's winners are now at U of T: Devon Bourgeois, Aidan Harold, Jack McCrossin and Sayeh Yousefi. 
Every applicant must have high grades – an 85 per cent average is required – but the winners are chosen based on character, leadership and dedication to community service. The scholarship is valued at $100,000 over four years, including a $10,000 annual living stipend, a matching tuition waiver and funds for a summer internship. A dozen current U of T students are Loran scholars.
Meet the newest cohorts, who came from opposite ends of the country and a couple of places in between, each with big plans and ambitions. 
---
Devon Bourgeois from West Kelowna, B.C.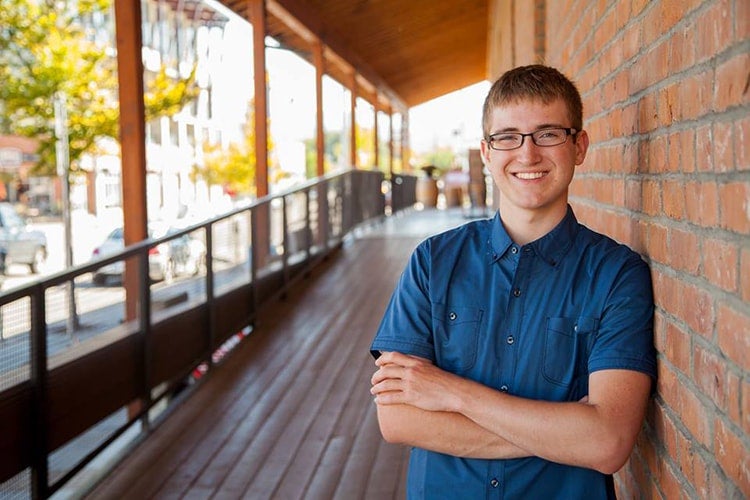 Devon Bourgeois, a computer science major at U of T Mississauga, won a Loran Scholarship for demonstrating character, leadership and a willingness to help his community. He co-founded his high school's student council and volunteered at a homeless shelter and foodbank (photo courtesy of Devon Bourgeois)
Bourgeois has been interested in programming ever since he learned to play video games. "I love computers. I grew up around them," he said. "As far as what I'd like to do as a job: I'd love to be the next Bill Gates, but that doesn't happen without a lot of hard work."
Now majoring in computer science at U of T Mississauga, he wants to study artificial intelligence. And he already has some experience with the subject. In high school, he built a disc-shaped AI gadget for robot soccer tournaments. About the size of a dinner plate, it could move, shoot and score on its own.  
This summer, he hopes to land an internship through the Loran Scholars Foundation in Cameroon to help develop an emergency medical response system. 
---
Aidan Harold from Welland, Ont.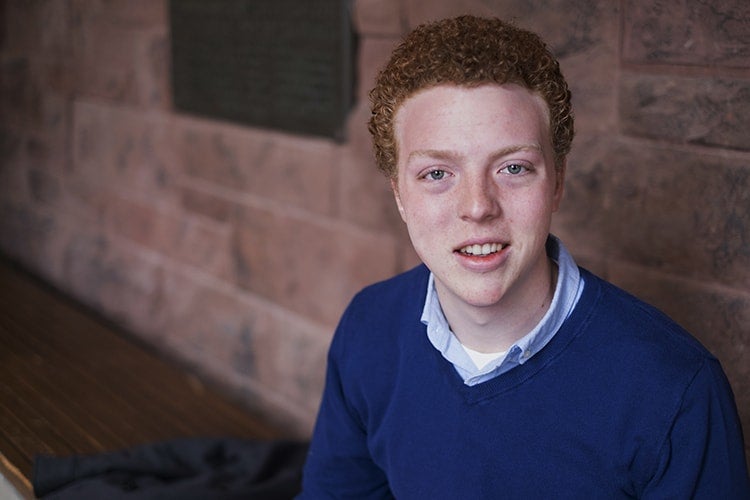 Loran scholar Aidan Harold is a political science student who is also in the Munk One program at U of T's Munk School of Global Affairs (photo by Geoffrey Vendeville)
Like his fellow Loran scholars, Harold was a straight-A student, but working hard in school didn't hold him back from community service. 
He was a youth public health ambassador for the Niagara Region and serves on the executive council of the Ontario Student Trustees Association.
Once a year, he and his family organize a music festival called Owenpalooza in memory of his late brother Owen who died in a car accident. The proceeds fund a scholarship at his old high school and also go toward a "random acts of kindness fund," which has paid for autism service dogs, rebuilding houses by fire and other charitable causes. 
After just one full semester at U of T studying political science, he is already make his presence felt on campus: he is on the board of directors of the student weekly, The Varsity, and volunteers for the local chapter of Canadian Students for Sensible Drug Policy. 
"I've really enjoyed my time here so far," he said. "I really like the ability to find a lot of different, little communities. There are all kinds of groups with people who are passionate about the same things you're passionate about." 
---
Jack McCrossin from Grand Bay, N.B.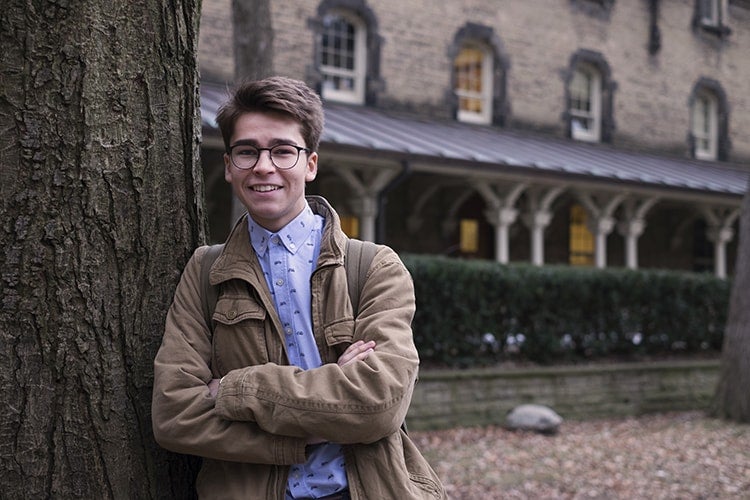 Jack McCrossin came to U of T for academics, the city and the culture. The Loran scholar is a theatre buff who acted in high school and community theatre (photo by Geoffrey Vendeville)
McCrossin became fascinated by cities on his travels through Europe and Asia. In China, where he volunteered for an NGO in orphanages, he marveled at the pace of rapid development. 
He followed his passion to Toronto, where he is majoring in urban studies, but this meant leaving another passion behind in Grand Bay, N.B., a suburb of St. John.
Back home, he is known to some as Pepper Jack, a nickname he earned after growing an impressive collection of exotic peppers. He sold the peppers at markets and eventually saved enough for a greenhouse.
Although the pepper plants stayed in New Brunswick, his moniker followed him to Toronto. New friends on campus gave him a few small pepper plants recently, and he tends to them in his dorm room at Innis College.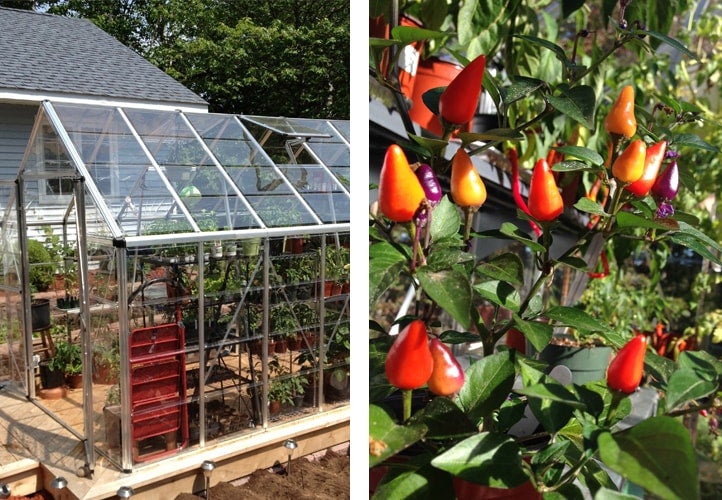 Jack McCrossin's peppers (right) and the greenhouse (left) in New Brunswick (photo courtesy of Jack McCrossin)
---
Sayeh Yousefi from Langley, B.C.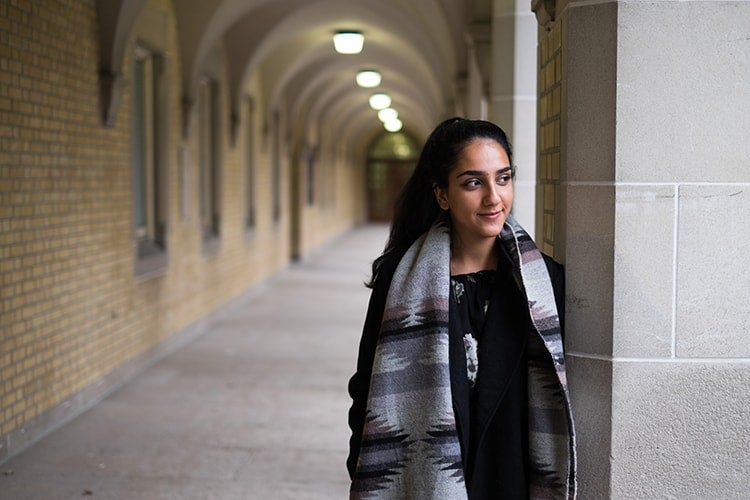 Sayeh Yousefi is an aspiring author. For now, the Loran scholar is majoring in English and international relations at U of T (photo by Geoffrey Vendeville) 
A passion for social justice and a love of writing led Yousefi to major in English and international relations.
She volunteered for Oxfam in high school and continues to do so at U of T, helping with campaigns and fundraising. She is a copy editor at The Varsity and plays defence on an intramural soccer team. 
As a Loran scholar, each student is paired with a mentor, and Yousefi says that she lucked out by being matched with Frank Iacobucci, a former Supreme Court Justice and former dean of U of T's Faculty of Law. 
Although only in her first year, Yousefi already has an idea about what she would like to accomplish after graduation: write a book about her family's history in Iran.
"I want my writing to have some sort of impact on the world, to educate and engage youth in global affairs," she said. 
UTC