The road to net zero: U of T research group takes on decarbonization of transportation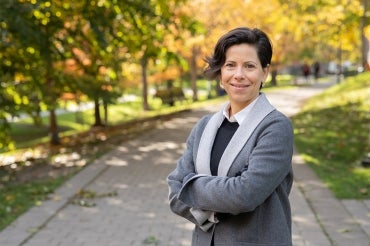 Electric cars aren't the only way to lessen greenhouse gas emissions from transportation, says Marianne Hatzopoulou, a professor in the University of Toronto's Faculty of Applied Science & Engineering. 
"Decarbonization is not just about technology," says Hatzopoulou, who leads the Positive Zero Transport Futures research collaboration. "Promoting electric vehicles won't help communities that are already mobility-poor. What we need to do is design cities that will enable people to not have to generate as much greenhouse gas emissions from transportation. That includes making other modes of transportation – such as cycling, walking and public transit systems – more accessible."
With Canada committed to reaching net zero emissions by 2050, the decarbonization of transportation remains a major challenge. In 2019, the transport sector was responsible for 25 per cent of greenhouse gas emissions in Canada – behind only the oil and gas sector, according to Statistics Canada. Since 1990, the growth in emissions was mainly due to an increase in freight trucks and passenger light trucks.  
But designing new technologies that don't rely on fossil fuels is only part of the solution, Hatzopoulou says. A holistic approach is needed to create a sustainable and equitable climate future, she adds.  
To that end, Hatzopoulou has collaborated with Greg Evans, a professor in the department of chemical engineering and applied chemistry, and Jeff Brook, an assistant professor at the Dalla Lana School of Public Health and the department of chemical engineering and applied chemistry, to create Positive Zero Transport Futures. The initiative – supported by U of T Engineering's Dean Strategic Fund – brings together 20 researchers from a range of backgrounds, including the School of Cities and Dalla Lana School of Public Health.
"U of T has great climate scientists, clean energy initiatives and transportation initiatives. But we saw a need to specifically address the issue of transportation and its effect on climate change," says Hatzopoulou, who has been working on decarbonization research for more than a decade. 
Left to right: Professor Marianne Hatzopoulou, master's candidate Keni Mallinen (in vehicle) and research associate Arman Ganji with the UrbanScanner. The vehicle is a rolling laboratory capable of monitoring air quality, traffic, trees and the built environment (photo by Phill Snel)
Evans, Hatzopoulou and Brook were part of the team that was awarded the 2021 Brockhouse Prize for Interdisciplinary Research in Science and Engineering for their innovative work studying air pollution and its effects, as part of U of T Engineering's Southern Ontario Centre for Atmospheric Aerosol Research (SOCAAR).     
"With Positive Zero Transport Futures, we are working toward pathways of reaching net-zero emissions that will ensure positive societal outcomes," Hatzopoulou says. "That means designing solutions that will not only reduce greenhouse gas emissions, but also improve air quality, environmental justice, public health, and enable community engagement."  
The team is currently building partnerships with external bodies from governments, industries, non-profits and community organizations to work on multi-scale projects and research studies. 
Last August, Hatzopoulou, Evans and Brook co-led a workshop called "The Road to Net Zero," which attracted over 150 participants from industries including freight transport, auto manufacturing, consulting and banking, along with academics, government officials, NGOs and community groups. The event highlighted the need for practical approaches to create greener mobility solutions.  
"You don't study transportation inside a lab on campus. It is studied in the real world," Hatzopoulou says. "We are going to take a living lab approach by studying innovations and policy interventions as they are deployed in a real-world context."  
One tool at the team's disposal is the UrbanScanner, a mobile laboratory that Hatzopoulou helped develop through her work as the leader of the Transportation and Air Quality (TRAQ) research group. The vehicle has been collecting real-time air quality data across Toronto since September 2020, allowing the Positive Zero Transport Futures research team to better engage with the communities they are studying. 
"Our long-term vision is to foster a learning community, so that the lessons that are derived from our research can be shared, allowing many people to benefit from the sustainable outcomes." 
Engineering