Rhodes Scholars pay it forward
Boosting students' mentoring, networking and research opportunities at U of T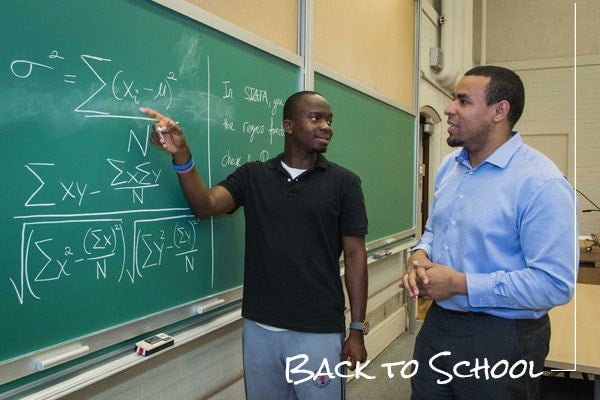 You have people that have similar experiences and can empathize with you," says Aquila Akingbade, pictured at left with Ike Okafor at right. "And such successful people – Rhodes Scholars!
It's the brainchild of Ayodele Odutayo, one of the University of Toronto's Rhodes Scholars: a project that aims to support black, undergraduate med-school hopefuls by kick-starting their research skills and building their support networks.
And it's a real-life example of an exceptional student paying it forward. 
"My family immigrated to Canada when I was 12," says Odutayo, who spent his childhood between Nigeria and the British Virgin Islands. "I had no extensive network of medical clinical people I could talk to or get advice from."
But all that changed when Odutayo found a mentor. 
As a first-year health sciences undergraduate student with plans to pursue medicine, Odutayo figured he would spend his summers working at a local shop or restaurant – he'd worked at No Frills in the past. Early in the school year, he had lunch with his mentor, an upper-year undergraduate student assigned through a scholarship program, who suggested he apply for hospital-based research jobs. Odutayo credits that tip for much of his later success.
"That first research job led to seven years of summer research positions at Sunnybrook," says Odutayo, now a Rhodes Scholar taking a leave from his U of T residency in internal medicine to pursue a Doctor of Philosophy in Clinical Medicine at the University of Oxford. 
"That mentor helped me make my first connection to the medical community."
Back to school stories often focus on new techniques and teaching innovations developed by professors to help students learn, from the inverted classroom to online courses. But students themselves are also driving change – with the help of faculty and staff. 
As one of few black students in his medical class, Odutayo is now trying to bring others along with him. Black individuals comprise a little more than one per cent of Canadian medical-school matriculates, despite accounting for three per cent of the Canadian population aged 15 to 24. Hoping to change that, Odutayo approached Ike Okafor, senior officer of service learning and  diversity outreach at the Faculty of Medicine's Office of Health Professions Student Affairs. Odutayo wanted to develop a non-credit, biostatistics course for black U of T undergraduates who want to apply to medical school. Not only would it provide practical research skills, it would also open up networking opportunities. 
In July, Odutayo and two other Rhodes Scholars – U of T's Connor Emdin and Peter Gill, a pediatric resident at the Hospital for Sick Kids – taught the first three-week session of the bio-statistics enrichment project to a class of five. 
Projects such as  these are invaluable for students underrepresented in medicine, Okafor says. "These students often don't have the same social support and access to mentors in medicine, who can provide them with guidance and developmental opportunities." 
The course is part of a greater initiative Okafor is leading, called Community of Support. In collaboration with the UME Enrolment Services Office, the U of T Black Medical Student Association and the Black Physicians' Association of Ontario, Okafor pools resources and provides underrepresented students with access to mentors, job-shadowing, volunteer and research opportunities, medical-school admission information and guidance. 
"We're trying to level the playing field and significantly increase the presence of underrepresented students in medicine," he says.
Bringing more diversity into medical schools has been shown to enrich the learning environment and foster civic engagement within the classroom, and to increase access to care for patients from marginalized communities. And with the Community of Support growing to almost 100 students across the province in just five months, there's a big demand among students for these types of programs. Okafor is hoping to collaborate with even more alumni, students, faculty and community members to provide more opportunities to support black students on their way to medical school.
Aquila Akingbade is one of the people benefiting from this support. Like Odutayo, his family immigrated to Canada when he was 12. At nine he'd decided he wanted to become a doctor when, while spending a typical afternoon reading in his mother's bookstore in Nigeria, he came across books by American neuroscientist and Republican presidential candidate Ben Carson. But he lacked connections to the medical community. 
Now a second-year undergraduate student – majoring in neuroscience and physiology, and minoring in immunology – Akingbade plans to apply to medical school and eventually become a neurosurgeon himself. 
"It's a bit intimidating because I feel like I have to compete against all these people who have so many connections." he says. "No one in my family is a medical doctor." 
An active member of the Black Students Association, and more recently the Community of Support, Akingbade has had the opportunity to job-shadow a black pediatric cardiologist in Markham and he took part in the new bio-statistics initiative. He says he's motivated by the role models he has met.
"You have people that have similar experiences and can empathize with you," he says. "And such successful people – Rhodes Scholars! You're inspired, because you think 'If these guys can do it, I can do it as well.'"