Revamped ARC Quad at U of T Scarborough to offer space for concerts, lectures and other events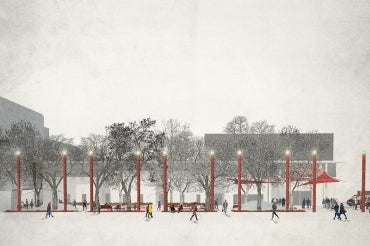 Students, staff and faculty at the University of Toronto Scarborough will have a vibrant outdoor space to unwind and recharge this fall.
The Academic Resource Centre (ARC) Quad, located beside the main entrance of the Academic Resource Centre building, will be ready for use at the end of October after undergoing a renovation that prioritizes accessibility, green space and functionality.
"The vision for this started as a place to hang out, for light work outside of meetings and to extend opportunities into the spring and the fall to be outdoors," says Jennifer Adams Peffer, campus architect and director of architecture, planning and project development at U of T Scarborough.
The updated ARC Quad will have new bench seating, electric outlets and shade sails to protect visitors from the sun or rain. Other additions include outlets for food trucks, improved Wifi access and lighting. The site is designed to be more than just a place for students to relax between classes – it also has the infrastructure to host concerts, lectures and other events. 
The quad was redesigned using a permaculture approach, which integrates groups of plants that support abundant natural ecosystems. The project is a pilot site under the Landscape and Public Realm Master Plan, established to guide future redevelopment and sustainable landscapes on campus.
The ARC Quad's landscaping was guided by consultation with Scarborough's Indigenous community, including Elders, about plants native to the area. Input was also gathered from faculty across disciplines such as the environmental and biological sciences, historical and cultural studies, and urban geography. DTAH, the award-winning Toronto architecture firm behind the Evergreen Brickworks and other well-known projects, designed the quad makeover.
"We're looking to create a space for UTSC that is recognizable, that follows our strategic plan and looks to build on our learning environment," Adams Peffer says.
"The space was informed by a host of folks who are interested in our landscape and using our campus as a laboratory for learning. This is a demonstration of bigger ideas and will be a fantastic space to enjoy."
One challenge for designers was to seamlessly blend legacy architecture on the U of T Scarborough campus with newer buildings and renovations – all while leveraging the campus's location near nature and facilitating students' commute between classes. 
"We know that the spaces between buildings are so critical. These are the spaces that we walk through every day and, as our campus grows, public infrastructure becomes more and more important," Adams Peffer says.
After more than a year of virtual learning and meetings, Adams Peffer notes that the development of outdoor spaces for the campus community to safely gather informed the new ARC Quad space and will be the focus of future projects.
"What we missed being off-campus during the pandemic are community, colleagues and getting together," Adams Peffer says. "The accumulation of so many ideas will result in a space for our community to be together again."
UTSC