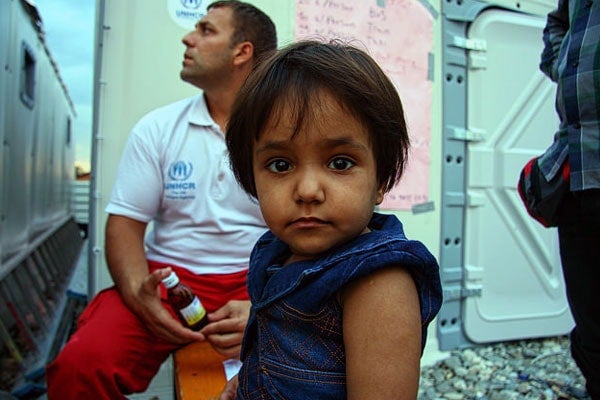 Responding to the refugee crisis: U of T, OCAD, York University to partner with Ryerson
U of T expands its Scholars at Risk Program to include students
President Meric Gertler has announced immediate steps the University of Toronto is taking to help deal with the Syrian refugee crisis. 
Gertler said the reaction to the crisis has been particularly "visceral" at U of T given the "disproportionate impact on young people and children."  
He said the "moral urgency of the present crisis – as in the past with the typhoon in the Philippines or the earthquake in Haiti – has led student groups, departments, Colleges, faculties and divisions to push for more engagement and co-ordination." (Read the president's complete statement on Syria.)
About nine million Syrians have fled their homes since the outbreak of civil war in March, 2011, according to the United Nations High Commissioner for Refugees. World Vision estimates that two million of them are children. 
Gertler said U of T will partner with York University and OCAD University to participate in a Ryerson University initiative to bring Syrian refugees families to Canada. Through the Ryerson University Lifeline Syria Challenge, 25 Syrian refugee families or 100 people would be sponsored. (Learn more about the Challenge.)
Kristin Marshall, a staff lawyer with the International Human Rights Program in U of T's Faculty of Law, recently spent time in Turkey and Jordan doing research into access for health services for Syrian refugees.
"This is a great initiative; our hope that more universities and civil society groups will similarly make commitments to aid Syrian refugees in crisis," Marshall said. "It is time to show leadership and bring hope." 
Gertler also announced that U of T's "Scholars-At-Risk" program at Massey College will be expanded with a new bursary for students at risk. The goal is to create a $1 million fund supporting bursaries of $10,000 each, which the University would award over the next 10 years. 
U of T is committing $500,000 to match donations of any size from students, faculty, staff, alumni and supporters. This program will focus on Syrian students at risk in the beginning but will be broadened to include other refugees. 
"We believe these bursaries will play a powerful role in helping these students and their families rebuild their lives," Gertler said.
(Learn how you can donate to Students and Scholars At Risk.)
Scholars at Risk was started to help "outstanding scientists, humanists, social scientists and other scholars who are the victims of sectarian, ideological or territorial repression and violence," according to Massey College. Over the years, the program has helped such leading academics as Reza Baraheni, Ramin Jahanbegloo and Fereshteh Molavi.
Anna Luengo, who co-ordinates the program at Massey, said the news from the president's office was encouraging. 
"We hope that it inspires donors to contribute so that their funding is matched by the University," Luengo said. "The program has had many scholars come through and several have completed their graduate degrees and gone on to teaching and other positions. It is very reassuring. Once they are in the program, scholars often comment on the return of intellectual discourse into their lives – something that has been so broken and for so long."
U of T Professor Shahrzad Mojab, internationally known for her work on the impact of war, displacement and violence on women's learning and education, said the initiatives were "fantastic. They are really very, very timely."
Mojab is a professor in the department of leadership, higher and adult education at OISE.  She recently received a grant from the Social Sciences and Humanities Research Council to conduct a study that is entitled: "Youth in Transition: War, Migration and Regenerative Possibilities." The four-year study will include a trip to Turkey to liaise with networks involved in conditions for migrants there. There are about 1.7 million Syrian migrants in Turkey, about 20 per cent of them children. 
The U of T initiatives "represent our intellectual, political and ethical response to a colossal human suffering," Mojab said.
Gertler said he is proud that U of T is one of the communities in Canada and throughout the world who are "joining an urgent, global response to the tragedy, profoundly demonstrating that empathy and kinship know no political or geographic bounds."
About three million Syrians have fled to Turkey, Lebanon, Jordan and Iraq, with 6.5 million people internally displaced within Syria. About 150,000 Syrians have declared asylum in the European Union. The vast majority are being resettled in Germany. 
Read U of T's Arne Kislenko on the refugee crisis.
Read about the U of T grad students speaking out and sharing stories of refugees.
Read commentary from Hugh Segal, master of Massey College at U of T, in The Globe and Mail.
(Photo below: Syrian Refugees Stranded in Vienna by Josh Zakary via Flickr)