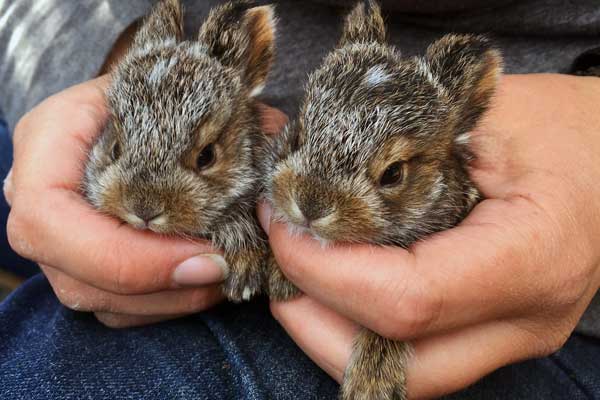 Respect snowshoe hares, award-winning PhD student tells school kids: "pretty much everything in the boreal forest is trying to eat them"
Why science engagment and community outreach is a priority for researcher Sophia Lavergne
Each year Sophia Lavergne's research takes her on an incredible journey from labs on campus at U of T Scarborough to the shores of Kluane Lake, Yukon, more than 4,000 kilometres away.    
But it's what she does in between – her leadership, initiative, scientific outreach and community engagement efforts – that sets her apart.  
A fourth-year PhD student in ecology and evolutionary biology at the Centre for Environmental Epigenetics and Development UTSC, Lavergne (pictured below) recently received a graduate student award of merit from the Senior Women Academic Administrators of Canada (SWAAC). The award recognizes female graduate students who have demonstrated outstanding leadership while maintaining an exemplary academic record.
"I was so glad to discover that an award like this exists, that recognizes the importance of leadership, initiative and outreach, in addition to academic pursuits," says Lavergne, who is currently at the Kluane Lake Research Station in the Yukon as part of a four-month field research season.
"And it's really heartening to be recognized among a very talented and successful group of female academics."
Lavergne's research looks at the role of predator-induced stress in the snowshoe hare, one of Canada's most important prey species. Snowshoe hares are a keystone herbivore in the boreal forest, an ecosystem that covers more than half of Canada's land mass. 
And if there's one species in the boreal forest that would experience stress, it would definitely be the snowshoe hare.  
"Pretty much everything in the boreal forest is trying to eat them, including even red and ground squirrels if you can believe it," says Lavergne.
She's interested in the impact of predator-induced stress on individual hares and the offspring of females who experience high levels of predation risk during pregnancy. She's focusing mainly on maternal programming, specifically how stress experienced during pregnancy can impact offspring quality, behaviour and ultimately chances at survival.
Science engagement and community outreach is important, says Lavergne, and sharing her research with elementary students is a priority. She visits schools to explain how rabbits differ from hares, the factors that can affect population levels, ecosystem interactions and why scientists collect fecal samples.
"Generally I bring in a bag of poop pellets and they love that. They are always surprised to hear that red squirrels and ground squirrels are responsible for the majority of baby hare mortality. Then we usually play a lynx-hare-willow version of tag, or if they're older, we'll learn how to track animals using radio-telemetry. The games keep it fun and get their attention the best. 
"One of my main reasons for going is that many of the students don't realize how intensely the boreal forest in this area is studied, and the type of research that is happening literally in their backyards. Many of their families may snare hares for food, or have done so in the past. They've certainly seen hares, squirrels and maybe lynx around but in most cases do not know how they interact, and how linked these animals are in the ecosystem."
Back at UTSC, Lavergne has also logged many hours working on committees and organizing graduate-level seminars.
"We have a lot of graduate students on campus but we don't always meet or run into each other on a regular basis. So the Graduate Student Seminar Series is a really great way to find out what other student researchers are up to, explore potential collaborations (both within and between departments), and from the presenter's point of view, it gives students the opportunity to present work or ideas to a supportive and constructive audience. I organized the Graduate Research Celebration with Sarah Forbes last year because the quality and volume of excellent graduate work at UTSC is something to be proud of, and in my opinion often goes unrecognized."
It helps, Lavergne says, that Professors Rudy Boonstra and Patrick McGowan understand the importance of her extra-curricular work.
"I am very thankful to have supervisors who give me the freedom to pursue some of these non-strictly academic activities, and recognize the importance of scientific outreach and community building initiatives."
During the year, Lavergne splits her time between UTSC and the Yukon. From May until September and for two weeks in the winter she conducts field research at the station.
"It's an incredible place to do research," says Lavergne. "The landscape is stunning and the research station is in an incredible spot with a rich history of ecology research. On any given day you see an incredible number of species. Yesterday, on our evening drive we spotted a goshawk, three moose, eight elk, a brown bear, two porcupines, plenty of hares and ground squirrels. 
"Being based at KLRS is also excellent because I get to meet and live with a broad spectrum of people, graduate students and researchers who are at the top of their fields in botany, ecology, hydrology, anthropology, glaciology and geology."
Don Campbell is a writer with the University of Toronto Scarborough.