Researchers to study burnout among female health-care workers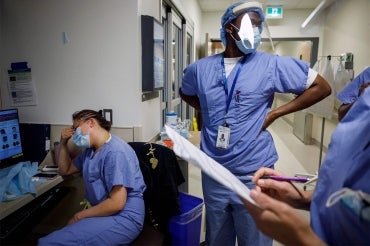 The COVID-19 pandemic has exacerbated the long-standing issue of burnout among health-care workers – a problem that will be studied in depth by a University of Toronto research team. 
Prior to 2020, severe burnout – characterized by intense emotional exhaustion and decreased professional achievement – was found in 20 to 40 per cent of health-care workers in Canada, according to a brief prepared for Ontario's COVID-19 Science Advisory Table. By spring 2021, rates of severe burnout surged to more than 60 per cent of Canadian doctors, nurses and other health-care professionals.
Moreover, data from Statistics Canada show in the fourth quarter of 2020, job vacancies in health occupations rose by 28,000, which accounts for more than one-half of the overall increase in job vacancies compared with the year before.
"Seventy-five per cent of health-care workers are women, and there is a huge supply-and-demand issue right now in the health-care workforce," says Abi Sriharan, an expert in health human resources and director of the System Leadership and Innovation program at the Institute for Health Policy, Management and Evaluation (IHPME) at the Dalla Lana School of Public Health.
Sriharan, an assistant professor at IHPME, adds many female health-care workers are leaving their occupation or moving away from front-line care. The exodus of female health professionals could lead to poorer quality of care, longer wait times and more medical errors, she says.
Sriharan was awarded a $100,000 grant from the Canadian Institutes of Health Research to lead a team of researchers to study the experiences of female health care workers with the goal of supporting them so that they stay in the field. The team includes IHPME faculty Whitney Berta, Audrey Laporte, Tyrone Perreira and Gillian Strudwick.
The researchers will first studythe literature to understand the reasons why some women decide to leave the health-care field. "We want to understand the underlying factors of workforce retention," says Sriharan, who notes organizations like the Ontario Hospital Association are particularly interested in knowing what hospitals need to put in place to support women in the workforce.
Next, they will conduct in-depth interviews with female doctors, nurses, pharmacists and other allied health professionals to understand their experiences and gain insight to support their retention.
Sriharan notes that in nursing, for example, recent graduates work in clinical settings for an average of five years before moving into administrative roles, while personal support workers deliver front-line care for about four years before leaving the field altogether.
Sriharan says health-care professionals are going to choose occupations that support work-life balance.
"We've seen the power of flexible work arrangements and taking out unnecessary, low-value care," she says. "Now it's time to document those things to say, 'Here is some evidence about process issues and how the system is set up.' In a sense, we have a [health-care] system based on 1970s health care needs, but we are living in the 2020s. There are technologies that we have not utilized effectively."
The ultimate aim of the research is to provide decision-makers with the evidence they need to address the current health-care worker crisis.
"To give high-quality, efficient health care, we need a high-functioning workforce," says Sriharan. "Given that 75 per cent of our health workforce is women, if we don't address their needs, we're going to have issues."
IHPME