'Representing disability for what it is': U of T grad Chandler Fitzpatrick on overcoming obstacles, building community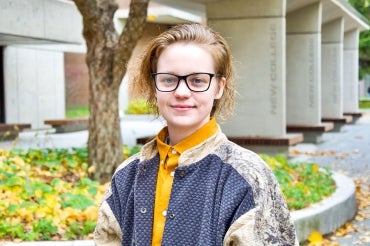 Chandler Fitzpatrick came to the University of Toronto as an undergraduate student in the Faculty of Arts & Science through a college-to-university transfer program. 
In addition to graduating with a major in equity studies and a specialist in women and gender studies, Fitzpatrick has been involved in a variety of extracurricular roles, including vice-president, finance in the Equity Studies Student Union (ESSU) and as a member of the Arts & Science Student Union's Budget Review Committee. A member of Woodsworth College, Fitzpatrick was awarded the Brookfield Peter F. Bronfman Gold Scholarship for demonstrating leadership, community involvement and high academic achievement.
Fitzpatrick has been open about their struggles with various disabilities, and speaks about navigating the university landscape, seeking support and the importance of finding a community of like-minded people.
---
What have been your most memorable experiences at U of T?
I was supposed to graduate last spring, but I started taking a new medication because I live with disabilities, and it prevented me from completing my work within the university's timelines. So, I had to go through the petition process.
That was memorable because I never thought I would find myself in that position. I was really lost and confused. 
One much more positive memory was winning the Brookfield Bronfman Gold Scholarship. It completely changed my situation. The recognition for the hard work I've put in and receiving financial aid when I needed it were key. 
Tell us a little bit about what you're planning for the future. 
I started to pursue the American Sign Language and Deaf studies program at George Brown College this year, but I'm withdrawing because, like a lot of other students, I have misunderstood or undiagnosed disabilities which sometimes prevent me from navigating environments in ways that allow me to meet my goals. But I'm hopeful that I'll be able to take the program again. 
Otherwise, I'm very interested in grad school. Overall, I hope to use my experiences to work towards increasing access to post-secondary education for students of all backgrounds and walks of life. 
What makes you so passionate about equity and disability studies?
I'm always in favour of representing disability for what it is rather than hiding it. That's why I talk openly about it. 
I move through the world observing people's behaviour and learning how to interact with them. And equity studies also does just that: We study what is happening with people in a certain space or context. Often, that's about how power functions and what people in power decide for those who aren't in power. 
Part of what I love about equity studies is the idea that everybody can have opportunities in a world that can be really difficult. It's so validating to study and participate in that. 
These programs really gave me a language to interact with the world and fight injustice and oppression. It's cool to be involved in building change. Sometimes it's really difficult, but it gives me hope. 
Tell us a bit about your experiences living and studying in Toronto.
I'm from the Newmarket/Aurora area, and the biggest thing for me was the difference between being queer inside and outside of Toronto. My partner and I were the only openly queer couple in our Catholic high school and moving to Toronto liberated me completely. I could hold my partner's hand in public without feeling nervous. I found lots of other queer folks here. 
What about your involvement with the Equity Studies Student Union? 
My involvement in the ESSU gave me a lot of energy. There was so much openness and space to discuss and work through a lot of things we were finding on campus that were difficult.
I also incorporated my work with ESSU into a project for Professor Michelle Murphy's course, "Toxic Worlds, Decolonial Futures." The idea is that we don't have to leave this campus to talk about equity or decolonization. There's so much to know and change about this institution.
What has it been like to seek support services on campus? What advice would you give to other students going through a similar experience?
I've had different challenges as a student: academic ones, disability-related challenges, financial struggles. Once I started to seek support – like workshops, engagement programming, financial assistance – it gave me opportunities without which I would've floundered unnecessarily. 
I went through the Blueprint Program – now known as Starting Point – to get to know the campus and its resources. I had a transfer adviser through the diploma-to-degree program who helped me get settled and made sure things were on track. And I got a lot of help with decision-making from my college registrar.
If a student doesn't do well, they'll sometimes assume there's something wrong with them. And that is not the case at all. 
Finally, it's been really useful to access writing support. At New College there are writing sessions, retreats and the Caribbean, African and Equity Studies Writing Group. That became a place for me to go and do some work around some really wonderful people. 
One of the best parts of getting involved in support systems is that if you keep going back, you end up seeing the same folks. They become your team.
Do you have any words of advice for current or prospective U of T students?
I think a lot of students entering post-secondary studies feel pressured into pursuing certain things or completing their studies in a certain way. I would encourage students to think carefully about what they take on. Be aware from the outset that things can get stressful. 
Also, it can at times feel lonely and isolating trying to get through your degree. There are things we can do about that. If students can honour who they are instead of punishing themselves, that can be so beneficial.
Campus involvement hugely benefited my personal wellbeing. I really urge students who have the capacity to involve themselves in student activism. Learn as much as possible about how the university functions – the history, dates and deadlines, restrictions, procedures, services – and then find a community of people that will fight with you for what you need. For example, the awards officer at Woodsworth helped me access thousands of dollars of financial support, on multiple occasions, which really improved my well-being and academic capacity.
Finally, communicate to the best of your ability with your college registrar and professors if you're experiencing problems. It can feel like the end of the world, but if you say, "I'm struggling, is there a way I can get an extension?" – they might just say yes.
Arts & Science