Remembrance Day to be marked at U of T with virtual ceremonies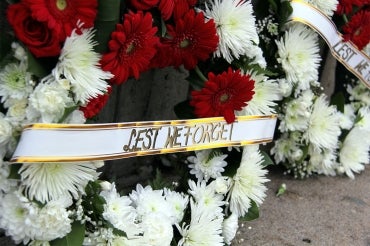 Members of the University of Toronto community are invited to come together virtually to honour soldiers and veterans via online Remembrance Day events organized by the university's three campuses. 
The annual services on Nov. 11 were modified this year to protect the health and safety of the community during COVID-19 pandemic, and to help curb the spread of the virus. 
As a result, the number of people participating in the ceremonies has been reduced and the ceremonies themselves have been adjusted – all in order to respect public health guidelines while paying tribute to the students, faculty, staff and alumni who fell in the First and Second World Wars and other action. 
Here's how Remembrance Day ceremonies will be observed at the three campuses this year: 
---
St. George
The Service of Remembrance will begin at 10:30 a.m. on Nov. 11 and will be streamed online, with members of the university able to register in advance to view the livestream.
President Meric Gertler and Chancellor Rose Patten are expected to attend the ceremony – which will not be open to the public – at Soldiers' Tower.
The ceremony will feature: the recitation of the poem In Flanders Fields, written by University College and Temerty Faculty of Medicine alumnus John McCrae, who died in the battlefields of France towards the end of the First World War; the laying of wreaths; the observation of two minutes of silence; and the playing of hymns and the national anthem.
Campus police will be on site to ensure that people don't gather. Road and pedestrian access will be restricted around Soldiers' Tower before and during the ceremony.
Scarborough
At U of T Scarborough, the virtual service will be made available online on Nov. 11 at 10:30 a.m.
The service will begin with opening remarks by Wisdom Tettey, vice-president and principal of U of T Scarborough, followed by the playing of The Last Post, the observation of a moment of silence, and the playing of Reveille. After the recitation of In Flanders Fields, Tettey will recite the Act of Remembrance and offer closing remarks before the national anthem is played.
Tettey will be joined at the remote ceremony by representatives of U of T Scarborough's students, faculty, staff and alumni.
Mississauga
U of T Mississauga will also be holding a livestreamed ceremony in honour of members of the armed forces.
The service will be live-streamed from 10:30 a.m. to 11:30 a.m. on Nov. 11, with students, faculty, staff and members of the surrounding community able to view the ceremonies on Microsoft Teams.
UTC