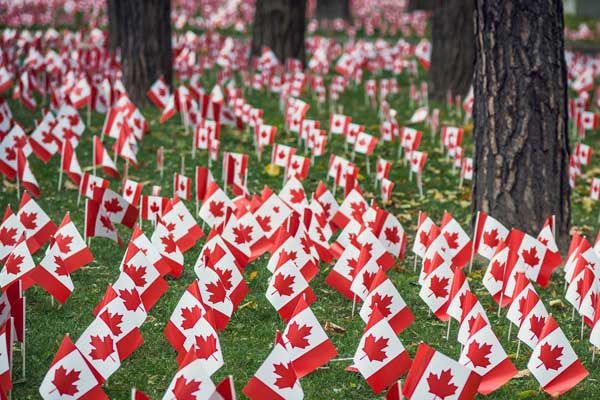 Remembering the veterans of Sunnybrook: a Convocation 2015 story
"I got to bear witness to the end of a generation that experienced this unfathomable horror," says former firefighter who graduates today
Black-and-white photos taped to hospital doors show healthy, strong young men in uniform, on their way to fight the Nazis.
Then, because they were the lucky ones, the men appear as smiling young grooms and proud fathers — and as gray-scale turned to colour, beaming grandfathers.  
University of Toronto physical therapy student Danny Slack spent five weeks interning at Sunnybrook Veterans Centre last year. He expected to help the residents, many in their late 90s, improve their mobility and manage their pain.
But today, as he celebrates his convocation on the same day Canada remembers its war dead, Slack looks back on that experience as perhaps the most important part of his education.
"There's an incredible amount of history that's about to disappear," says Slack, who just completed his Master of Science in physical therapy at the Faculty of Medicine. "I got to bear witness to the end of a generation that experienced this unfathomable horror.
"To witness the people who were part of that moment in history, it was a great thing."
He'll never forget the 97-year old man who had outlived his wife and even his children. Slack could look at the photos on his door and watch the couple getting older together, starting from their their wedding day. Confined to the veterans' home with limited mobility, this World War II vet had one last ambition. 
"I couldn't believe how much he wanted to exercise," says Slack. "We'd do 10 minutes on a reclining bike and he wanted to keep going. He said he wanted to be the oldest man in there. He didn't make it — but you could learn a lot from that outlook on life." 
Growing up in England, Slack heard stories of the war from his grandfather, who had survived terrible odds as a bomber – and never rode in an airplane again. His grandfather had always wanted to be a doctor, but after years at war, couldn't start a long education from scratch. He became a head teacher instead.
Slack grew up to become a firefighter, but when his Canadian wife wanted to move home, he realized it wasn't too late for him to go into health care. After completing an undergraduate degree in physiology at U of T, the York native was drawn to physiotherapy. 
"I wanted to do something where you're constantly active, that's intellectually stimulating and challenging," he says. "In physio, you're always learning." 
Slack may not have a chance to work with this inspiring group of men – and some women – again. But he says he'll always remember the people, and the photos that reminded everyone of the rich lives they had lived.
"They were so active, and really determined to live life to the fullest even at the end," he recalls. "I just happened into this experience,and I didn't know what to expect. But it was fascinating. It was like being part of a documentary every day." 
(Image below: Sunnybrook Hospital on the opening of its veterans' wing)