Remembering former U of T Scarborough Principal Ron Williams
The University of Toronto community is mourning the death of George Ronald (Ron) Williams, former principal of U of T Scarborough and professor emeritus in the department of biochemistry and the Institute for Environmental Studies.
"I was chair of what then was the division of humanities when Ron was principal," says Wayne Dowler, a professor emeritus of history. "I still feel the warmth, congeniality and sense of co-operative enterprise that he fostered."
Williams was the sixth principal of what was then known as Scarborough College, from 1984 to 1989 – and he cared deeply about the college. 
"He was generous in giving it his attention," says Eleanor Irwin, associate professor emerita of U of T Scarborough. "He amazed me with his shrewd knowledge of all the faculty."
When someone was needed to serve on a committee, she says, Williams would go down the list of faculty and always identify the right person with suitable interests and abilities.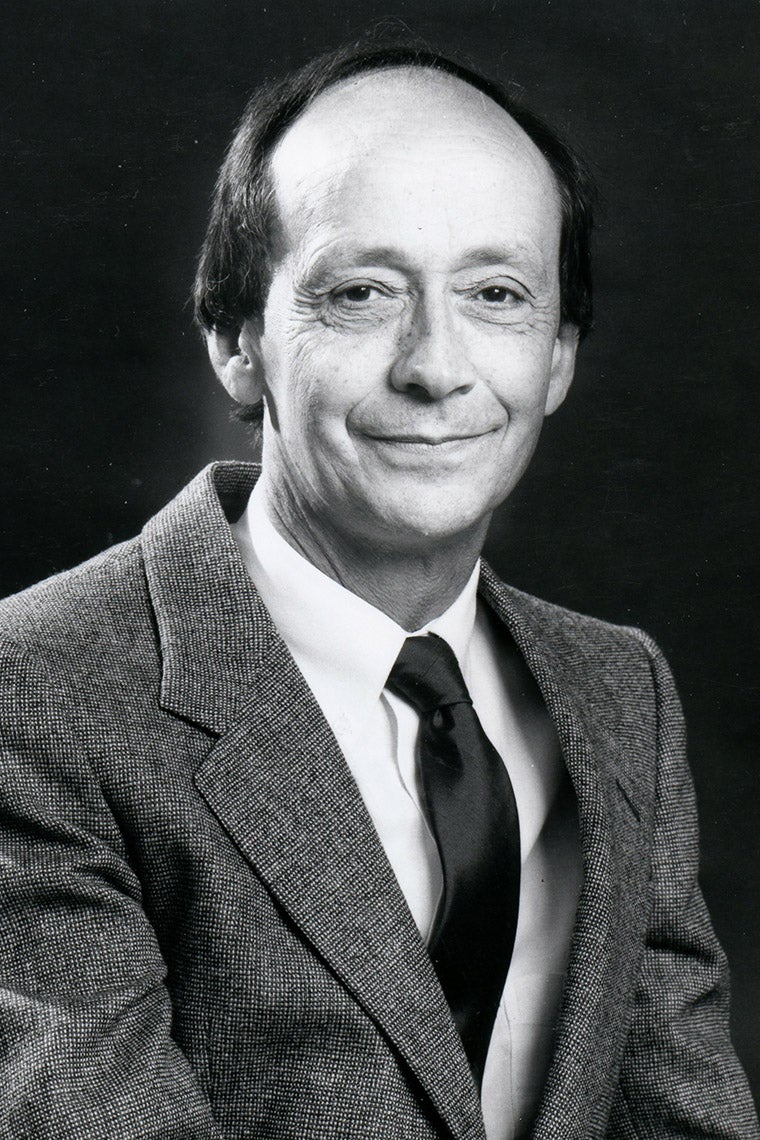 Joan Foley, Williams's immediate predecessor as principal, says Williams cared for students as much as faculty. "While promoting research and scholarship as principal, he was also a strong advocate for students, particularly supporting their need for a student centre," she says, adding that his support was essential to the eventual construction of the Student Centre in 2004.
Born in Liverpool, England, Williams attended Merchant Taylors' School and earned his PhD from the University of Liverpool. He pursued post-graduate work at U of T, the University of Pennsylvania and the University of Oxford. He became a faculty member at U of T in the 1950s.
Williams chaired the department of biochemistry from 1970 to 1977, growing the department and creating an environment that allowed students and research to flourish and thrive. 
"Ron Williams was a dear and lovely man, always positive, interested in all the world has to offer," says Paul Gooch, who was chair of the division of humanities from 1977 to 1982. "He had the mind of a scientist and the heart of a humanist."
Under Williams's watch, undergraduate instruction in biochemistry for arts and science students was expanded to include students in disciplines other than biochemistry, as well as larger numbers of biochemistry specialist students. During his tenure as chair, members of the department received Canadian Biochemical Society Ayerst [Merck-Frosst] awards on three occasions. Williams combined his passion for biochemistry with concern for the environment and, in 1996, published The Molecular Biology of Gaia about the stability of the Earth's environment.
"He had a wide appreciation of the academic subjects offered at the college and was particularly supportive of the performing arts. He attended college concerts, plays, and art exhibitions," says Irwin.
Williams' devotion to the campus continued even after his retirement. He maintained contact with many of his former colleagues at U of T Scarborough and elsewhere at the university.
Williams and his wife, Joyce, raised three children; Geoff, Glynis, and Tim. He was grandfather to Jeremy, Dave, and Jano, and great-grandfather to Nia and Lila.
UTSC