Remembering Emma Leckey: Memorial for U of T student killed earlier this year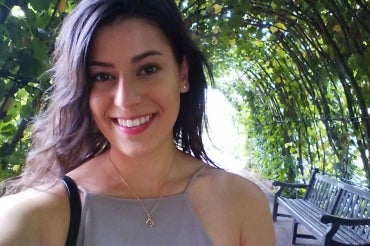 She was known for her ready smile and determination to make the world a better place.
Fourth-year University of Toronto student Emma Leckey was killed earlier this year after a hit-and-run involving a suspected drunken driver. On Sunday, friends and family gathered at Woodsworth College – on what would have been her 22nd birthday – for a memorial, vowing to carry on her legacy of compassion and social justice advocacy.
Her father urged the gathering of approximately 100 family, friends and peers to turn their grief into positive action.
"Emma's death may have been senseless, but let it not be meaningless," said Geoff Leckey.
"Let's pledge we will never – nor will we let someone else – drive while they are a danger to others."
He urged her friends to "keep Emma in your heart. Talk to her often. When you are feeling lost, ask her what she would do, and be inspired by her."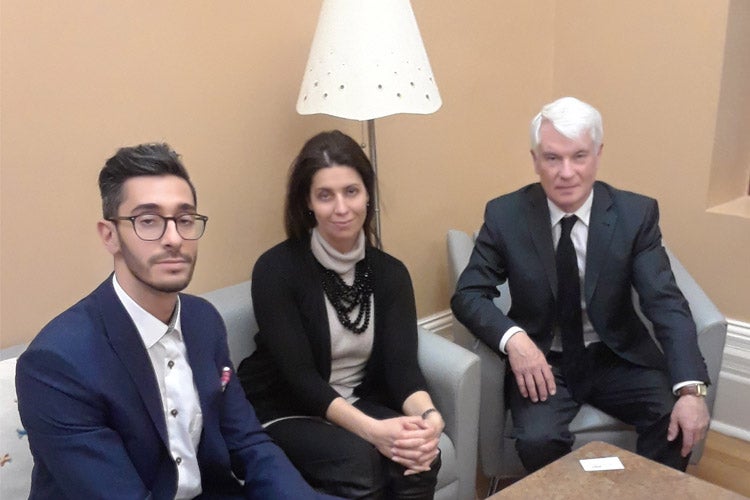 Emma Leckey's siblings and family members attended the memorial. From left to right, Mark Antunes-Alves, Sara Antunes-Alves and Geoff Leckey (photo by Peter Boisseau)
Leckey, a Woodsworth College student in ethics, society and law at the Faculty of Arts & Science, died after being struck by a vehicle on March 15 as she tried to cross the intersection of Huron and College streets. Police believe alcohol was a factor in the deadly crash and have since charged the vehicle's driver.
On Sunday, her roommate recalled a friend who was more like family, a young woman full of joy and life who would dance around the kitchen while they cooked, someone who was always ready with kind words of support.
"She always believed in me, even when I didn't believe in myself," said Sam Purvis-Johnston, who helped select a playlist of her friend's favourite Beatles' songs for the memorial. "Dealing with difficult times was always so much more tolerable with Emma around."
Close friend Steven Worboys recalled their shared love of musicals and going to see Hairspray together a few months ago.
"That was the last time I saw her," said Worboys. "Emma brought me so much happiness. I'm just glad I brought her a little back."
An exceptional student who earned the respect of teachers and faculty for her dedication to academics, she was also known for her charitable work with the nearby Scott Mission, fundraising for the Canadian Cancer Society, advocacy for the LGBTQ community and her work with college orientation. She even found time to teach English to refugees.
"Emma always went out of her way to make sure everyone who attended our events was doing well," said her friend Alyy Patel, who worked with Leckey on college orientation. "Every time a new face walked through the door, she would go and talk to them and give them a warm welcome."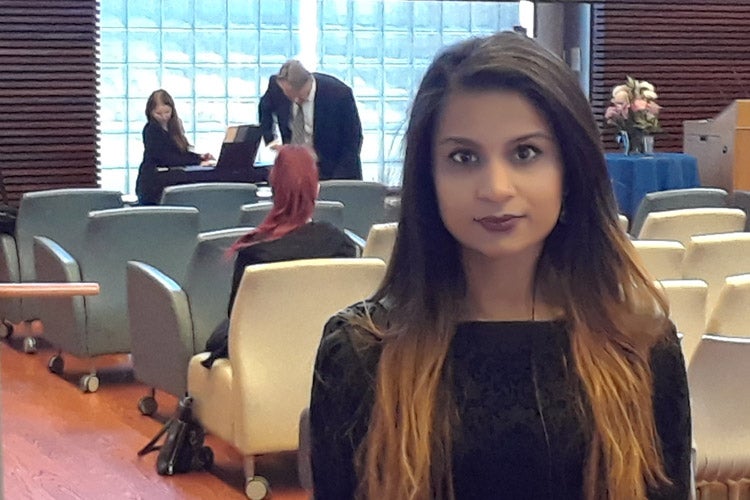 Friend Alyy Patel worked with Emma Leckey on college orientation (photo by Peter Boisseau)
Leckey's sister, Sara Antunes-Alves, recalled that she was an activist, who "wasn't in your face about it or into shaming. She would ask people questions and inspire them to think differently."
Liza Nassim, dean of students at Woodsworth College, said as the U of T community grapples to come to terms with her loss, there is some comfort in considering the impact she continues to have.
"Emma was involved in so many things," Nassim said. "This tragedy affected the whole community, but we can use whatever power we have to continue to work for those whose voices are not being heard, just like she did."   
The university has since awarded Leckey with a bachelor's of arts degree with distinction. Although she never regained consciousness in the hospital, her father said that it was comforting to hold her hand and tell her she didn't have to worry anymore about graduating.
A scholarship has also been established in her name. Geoff Leckey said the four years his daughter spent at U of T were the happiest of her life, and the scholarship will ensure that connection survives.
"U of T and Woodsworth will always be a part of Emma, and now Emma will always be a part of the university and the college," he said.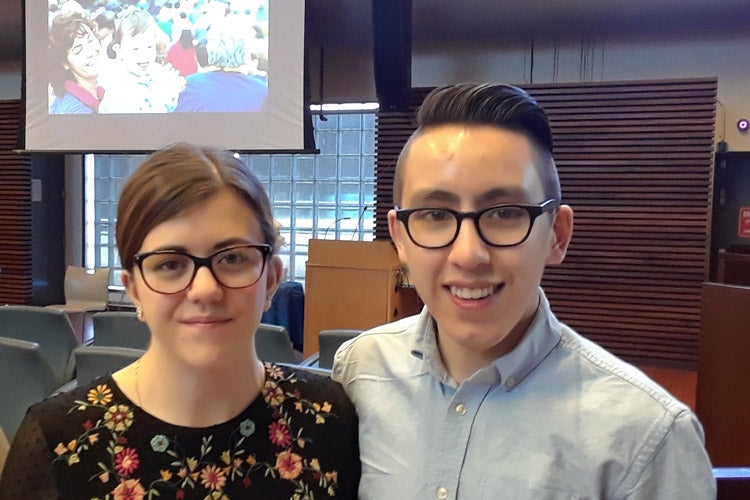 Sam Purvis-Johnston (left) and Steven Worboys (right) spoke about their close friendship with Emma Leckey (photo by Peter Boisseau)
UTC