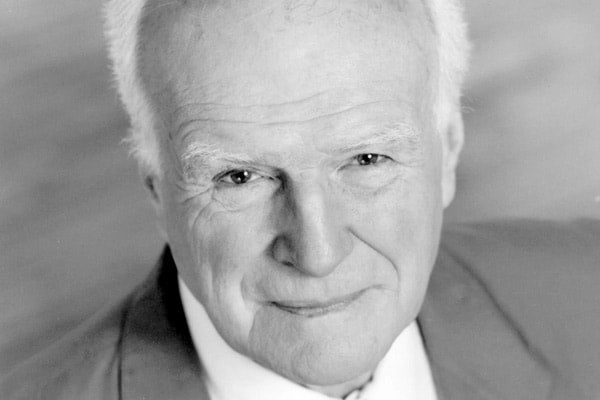 Remembering Dr. Fraser Mustard (1927 – 2011)
The University of Toronto mourns the loss of U of T alumnus Dr. Fraser Mustard – an intellectual giant whose influence spanned medical research and education, multidisciplinary advanced research and early childhood development. Along the way, Dr. Mustard inspired generations of students, scholars, and policy-makers around the world.
"Fraser Mustard will be remembered as the great renaissance man of Canadian intellectual life," said President David Naylor. "He was an absolute giant, who had a huge impact on his country, and a man of unflagging curiosity and great generosity of spirit."
Mustard, who died November 16 at 84, had recently been diagnosed with cancer. Awarded the Companion of the Order of Canada, he was widely respected for his ability to bring together experts from diverse fields to create research that guided public policy and influenced a wide range of academia. His early research in medicine focused on blood platelets and their relationship to heart disease. Later, Mustard became one of the world's leading authorities on early childhood development.
In 1999, Mustard and the Honorable Margaret Norrie McCain co-authored the groundbreaking Early Years Study: Reversing the Real Brain Drain for the Ontario government. Mustard and McCain wrote:
"We consider…that the period of early child development is equal to or, in some cases, greater in importance for the quality of the next generation than the periods children and youth spend in education or post secondary education."
Mustard maintained a legendary pace throughout his life, continuing to research, publish and influence decision-makers around the world. Founder of the Canadian Institute for Advanced Research, Mustard co-founded the Council for Early Childhood Development in 2004. In 2006 and 2007 he was a thinker-in-residence for the community and government of South Australia. Also in 2007, Mustard, McCain and Dr. Stuart Shanker released a second report in the Early Years series of studies; a third installment is set to be released in a few days.
Recently, Mustard had played an important role advising the University of Toronto in the development of its multi-disciplinary Institute for Human Development. Professor Julia O'Sullivan, dean of the Ontario Institute for Studies in Education at U of T spoke with Mustard last month.
"He expressed his high hopes for the University of Toronto's Institute for Human Development and what it could mean for the future of children, families and communities here and around the world, " said O'Sullivan. "He asked me to ensure the work we do at OISE in human development and education would always remain at the heart of the work of that Institute. I promised him that it would." 
A graduate of the University of Toronto Faculty of Medicine, Mustard was known as "Moose" during his varsity football days. Married to Betty Sifton in 1952, he received his MD in 1953 and later received his PhD from the University of Cambridge. The University of Toronto awarded him an honorary doctor of laws in 1988. He leaves six children and nine grandchildren.