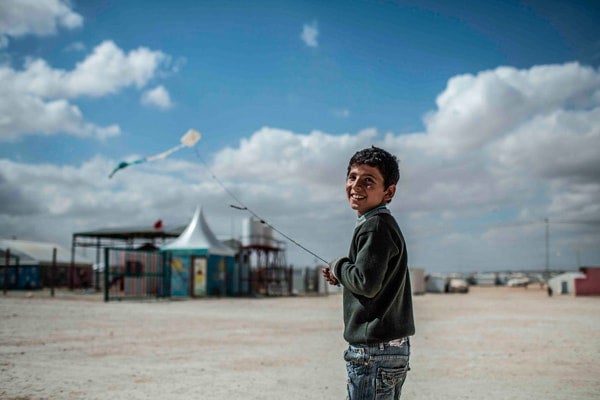 Refugee crisis: professors create Room for More to sponsor Syrian family
Muslim Students Association to supply volunteer translators
Jennifer Nagel and Sergio Tenenbaum, University of Toronto philosophy professors, have organized a group of 15 friends and family to privately sponsor a Syrian refugee family.
The six family members – a mother and five children, are expected to arrive in Toronto before year's end.
Nagel and Tenenbaum, both of the U of T Mississauga campus, are passionate about helping a refugee family. Nagel was moved by the "devastating," and widely circulated media photos of a young Syrian boy who died en route to Greece in September. Tenenbaum's grandparents escaped Poland before the Holocaust, but his extended family did not survive the war.
"All of the surviving members of my family were refugees – those who were not able to leave Poland ended up dying," he says. 
Nagel posted a message on Facebook soliciting interest from friends and family in the quest to privately sponsor a refugee family. The response was heartening: 13 others raised their hands to participate, including Professor Rachel Barney from the downtown Toronto campus and Professor Karolina Huebner from U of T Scarborough.
"It's a tri-campus effort," said Nagel. Other group members include two faculty members from York University, friends, neighbours and a cousin.
The group, dubbed Room for More, started the process by submitting a request for a refugee profile to the federal government. Keeping a promise to respond to such requests within 30 days, the government issued Room for More an invitation to take part in an instructional webinar on the Private Sponsorship process. The webinar ended with the opportunity to view an anonymized spreadsheet of available families identified by the United Nations as urgently needing protection.
Room for More randomly picked a family living in a refugee camp in Lebanon. The Canadian government has since conducted a security screening of the mother and her five children, who range in age from eight to 21.
Meanwhile, Room for More hasn't been sitting idle. Sponsoring groups are responsible for raising funds (ranging from $9,600 for a single refugee to $32,600 for a family of six) to cover family expenses during their first year in Canada. Thanks to donations, they have almost reached their goal, and by working through Humanity First, a charitable organization, their donations have tax-free status. 
The group members are also responsible for developing a settlement plan that addresses all aspects of the family members' new lives, including finding a family doctor, enrolling in English classes and getting housing. Each member of the group has specific tasks to handle. 
Nagel and Tenenbaum have been busy hunting for an apartment for the family and have found one on the west side of Toronto. They're receiving furniture donations and plan to have the apartment ready when the family arrives.
"We'll be moving it in for them so it will be all set up," says Tenenbaum. "There will be no need for them to have temporary housing."
Because the Syrian family speaks only Arabic and few members of Room for More have that skill, Tenenbaum reached out to the UTM Muslim Students Association and other groups for volunteer translators. He has assembled a team that can come in person or assist via video chats. 
"We are looking forward to meeting the family, but we also want them to have privacy," Nagel says. "They can call on us, but we won't be interfering with their lives."
The couple have enjoyed taking part in the sponsorship program and are eager to ensure that their charges "get settled and have a decent life here." Once that is accomplished, they anticipate staying involved with refugee work and promoting the private sponsorship program, which is unique to Canada.
"The entire process has been lots of fun," Nagel says. "There is a real community around this, and we have been struck by people's generosity and kindness."