Real or fake? U of T law students work with Amnesty International to verify conflict zone videos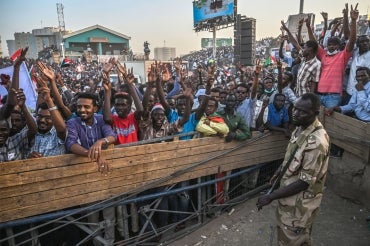 In January, videos surfaced on social media that appeared to show paramilitary forces in Sudan using tear gas on protesters at a hospital in Khartoum. It was an incident that, if true, illustrated the growing aggression by the ruling military regime against protesters in the eastern African nation where a peaceful revolution turned to turmoil after long-time leader Omar al-Bashir was ousted.
Such videos can be powerful tools for activist groups and other advocacy organizations who want to shine a light on injustices taking place around the world. But in the age of social media and manipulated video, it becomes harder to confirm that the depicted events actually took place.
That's why a global network of university students, including a group from the University of Toronto's Faculty of Law, are working with human rights organization Amnesty International to verify videos from conflict zones across the globe. Called the Digital Verification Corps, or DVC, the academic institutions involved are: U of T, the University of Hong Kong, the University of California, Berkeley, the University of Cambridge, the University of Essex and the University of Pretoria.
In the case of the Sudan video, the U of T students authenticated the content after Arabic speakers were able to identify the nicknames of a number of Khartoum neighbourhoods mentioned in the footage, thus allowing them to zero in on the specific location where the video was shot.
"This kind of thing is really important because there's no textbook out there for how to do this," says Amitpal Singh, a second-year law student at U of T. "In many ways, as we are doing this kind of work – verifying digital content – we are also writing the book so to speak for the first time."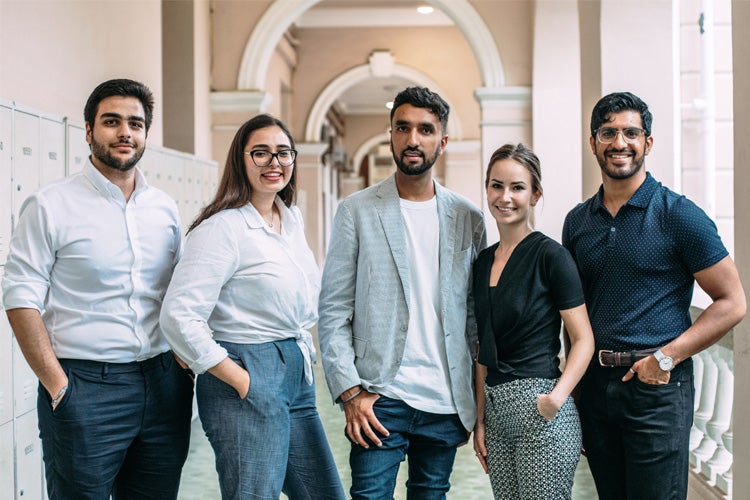 U of T's DVC working group pictured at the Hong Kong summit. (From left) George Ghabrial, Sara Bolourchian, Amitpal Singh, Milica Pavlovic and Aaqib Mahmood (photo by Alice Tse)
The DVC was created to ease the strain on Amnesty International as the volume of video footage coming in from different countries ballooned. The international group of student volunteers are trained on verification techniques, mostly using open-source software, in order to find clues to verify the accuracy of a video.
In June, participating students gathered in Hong Kong for an annual summit where they exchanged ideas, tips and tools on how to more effectively verify footage.
"Having our student researchers assist Amnesty is a real benefit that allows them greater capacity to do extensive investigations," says Samer Muscati, director of the Faculty of Law's International Human Rights program – the home base for U of T's DVC team.
Singh, meanwhile, sees the DVC as a credibility-building project for advocacy work.
"It's trying to show evidence-based advocacy is the human rights work of the future," he says.
U of T's DVC team has also worked on verifying videos during the Syrian civil war as part of Amnesty's Raqqa project – an initiative documenting the atrocities that took place in the Syrian city and Islamic State hub.
Students use open source tools like Google Earth's satellite imagery to confirm the location of video footage. They also dig into the video metadata to see if there are any clues – such as a geotag or a creation date – that could provide information on where and when the video was filmed.  
"Our attitude when we start is a skeptical one. There's more and more credence once these pass through hoops," says Singh.
As the volume of user-generated content rises online, so does the vulnerability of social media users who may have trouble distinguishing the real from the fake, says law student Milica Pavlovic.
"We're in a period of time where a lot of people still put a lot of trust into what they see in the media and what's floating around on the internet," she says. "A lot of this content is being seen and there's no real credibility to say what's real and what's not unless there are people doing the verification work."
With the rise of more sophisticated video manipulation technology – including "deepfakes," which involve the use of artificial intelligence to fabricate real-looking footage of people – it'll become more of a challenge for those tasked with authenticating video, says recent law graduate Calum Agnew.
"As the tools to produce deepfakes get better, there will also be a bit of an arms race between people interested in open source investigations and maintaining the truthfulness of the public discourse in terms of developing technologies to detect these things."
Authenticating videos can a toll on students mentally and emotionally. The subject matter of the footage is often hard to watch – sometimes depicting violent acts from air strikes to murders.
"It's certainly very tough. One of the excellent things about the summit was that one of the things we tried to exchange with each other was strategies on how to cope with doing this kind of thing," says Singh.
He says students are encouraged, for example, to work at their own pace in order to mitigate the mental effects of being exposed to footage that's hard to watch.   
Though it's a tough job, U of T students participating in the DVC say the chance to effect change makes it worthwhile.
"It's a great honour for us to know that what we're doing is actually making a difference, and it might even be making a legal difference one day if the material we identify prompts some institution or practitioner somewhere in the world to launch a legal challenge," says Singh.
The DVC program also underscores the international reach of U of T's Faculty of Law, he says.
"As a law student, we know U of T is a global law school and this is one of the things we can point to – to actually substantiate that and show that this law school has a global impact because we are part of a community that is in Africa, Asia and Europe."
Muscati adds that the U of T students are also gaining valuable experience that will advance their careers.
"The DVC is an amazing opportunity for our students because it gives them cutting-edge tools that complement the more traditional research skills that we are teaching them in the classroom," he says.
Pavlovic agrees.
"It pulls you into a different world and shows you a new perspective of where your law degree can be used, and what kinds of opportunities there are outside of a more conventional path," she says.
UTC