Rapid COVID-19 screening project led by Creative Destruction Lab expands to U.S.: New York Times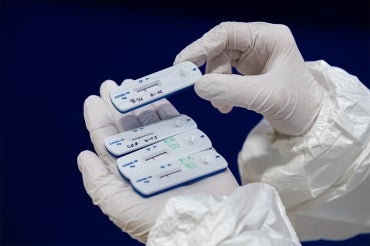 A rapid COVID-19 screening program for Canadian companies led by the Creative Destruction Lab aims to replicate its success in the United States.
The New York Times recently highlighted efforts to expand the Rapid Screening Consortium south of the border. The consortium – which aims to develop a cost-effective COVID-19 screening system that allows employers to safely re-open the economy – is a non-profit collaboration led by the Creative Destruction Lab at the University of Toronto's Rotman School of Management that includes researchers, the Canadian government and private businesses.
The consortium's rapid screening pilot has been running in Canada for several months. "Employees periodically stop into screening stations set up outside their workplaces and take rapid antigen tests," the New York Times reported.
Rapid antigen tests are relatively inexpensive and can produce results within 15 minutes, but they tend to be less accurate than polymerase chain reaction (PCR) tests. Employees who screen positive are immediately referred for further testing.
Janice Stein, a professor and founding director of U of T's Munk School of Global Affairs & Public Policy who sits on the Canadian consortium's steering committee, recently co-authored a piece in the Globe and Mail about how rapid testing can alleviate the economic ramifications of a possible third COVID-19 wave. 
U of T News