Bob Rae to teach undergrads in prestigious Vic One program this fall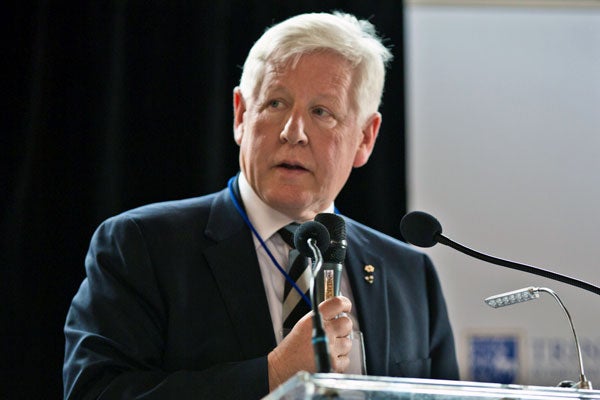 The Honourable Bob Rae will be teaching first-year students in the Vic One program at the University of Toronto this fall.
A lawyer, community activist and author, Rae is also the former Ontario NDP premier, Liberal Member of Parliament and former interim leader of the federal Liberal party. He will be teaching Corporate Citizenship, Sustainability and Ethics in the Margaret Chambers Stream. 
"I am very much looking forward to working with first-year students on public policy issues – sustainability and corporate responsibility are at the heart of economic development in Canada and around the world," says Rae. 
This is the first year for the Chambers stream, designed in collaboration with University of Toronto's Rotman Commerce program. Angela Esterhammer, principal of Victoria College says it has received a very large number of applications for fall 2016. Limited to 25 participants, the stream is for students interested in business, leadership and policy.
"The College is immensely proud of Vic One and the high-calibre speakers who participate in its seminars and plenary lectures," Esterhammer says. "Mr. Rae's course will provide a unique opportunity for first-year students interested in commerce, economics, leadership and policy to learn from a major Canadian political leader and expert in crucial areas of policy such as First Nations issues, human rights and education."
Each Vic One stream features small group seminars and conversation-based activities, in addition to weekly plenary sessions with guest professors, visiting artists, writers, ambassadors and other public figures. Rae has given plenary lectures to all Vic One students over the past few years.
"With Mr. Rae's involvement in teaching, the Vic One program continues to transform undergraduate education and offer students an exciting start to their educational journey at Victoria College and the University of Toronto," Esterhammer says.
Rae has also taught "The Role of Government" and "Issues in Aboriginal Law and Policy" at the School of Public Policy and Governance at the University of Toronto. A double alumnus, he graduated with a B.A. from University College in 1969, earned a B.Phil. as a Rhodes Scholar at Oxford, England, in 1971 and completed an L.L.B. at U of T in 1977. 
"Bob Rae has a unique understanding of leadership and politics. Students will benefit enormously from his experience and wisdom," says David Wright, former Canadian ambassador to NATO and current Kenneth and Patricia Taylor Distinguished Professor in Foreign Affairs in the Lester B. Pearson Stream of Vic One.
Rae remains a senior partner at Olthuis Kleer Townshend LLP, where he practices Indigenous law.