Radiopharmaceuticals offer promise to image – and treat – cancer
$24-million cross-Canada grant will support development of radiopharmaceuticals from discovery to use in the health-care system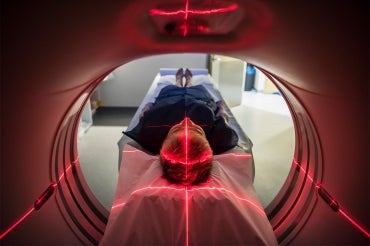 Nuclear medicine was first developed in the 1950s as a cancer treatment before shifting to primarily being used as a diagnostic tool, using tiny amounts of radioactive substances to image different parts of the body.
Now, nearly three quarters of a century later, the field is coming full circle as researchers like Raymond Reilly, a professor in the University of Toronto's Leslie Dan Faculty of Pharmacy, explore options for new cancer therapies.
Reilly is a leader in developing radiopharmaceuticals that combine radioactive isotopes with highly specific targeting agents to precisely deliver radiation to tumours. His work focuses specifically on radiopharmaceuticals that have "theranostic" properties – useful for both the imaging and treatment of cancer.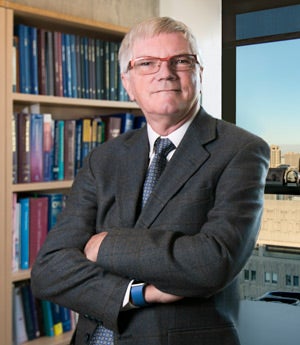 "Radiopharmaceuticals are unique in that you can use the radiopharmaceutical for diagnostic imaging purposes, but you can also use the same agent, sometimes at a higher dose or labelled with a different radioisotope, to treat the cancer," says Reilly. "And you can then use that same radiopharmaceutical to image the patient again after treatment to see if that patient responded to the treatment."
Cancer researchers and pharmaceutical companies have become more interested in the field after two radiopharmaceuticals were developed and used to successfully treat neuroendocrine cancer and prostate cancer.
"These are the vanguard or leading edge of this type of radiopharmaceuticals, but they are really just the tip of the iceberg of what is possible with radiopharmaceuticals," says Reilly. "Radiopharmaceuticals used to be a specialized area of medical research with a small group of dedicated scientists, but it's starting to emerge as a new cancer treatment that could overcome resistance to other treatments."
However, Reilly explains that the current availability of radioisotopes suitable for cancer therapy is extremely limited. For example, the world supply of one particularly effective isotope called actinium-225 would only be enough to treat a few thousand cancer patients.
A new $24-million grant aims to address this shortage. The New Frontiers Research Fund (NFRF), a highly competitive federal research grant to support research that will realize transformational change for a major challenge, is supporting a large cross-Canada team that will develop rare isotopes for cancer from discovery to their integration into the health-care system.
The project is led by François Bénard, an internationally recognized leader in nuclear medicine, at the BC Cancer Agency, and includes 16 co-investigators across Canada, including Reilly, who is the sole U of T co-investigator on the project. The team includes researchers at TRIUMF, Canada's world-leading particle accelerator centre in British Columbia that creates medical isotopes, chemists who will study ways of attaching the isotopes to targeting agents and clinical trials specialists who will study the radiopharmaceuticals for the first time in patients. Health economists on the team will try to understand how best to implement the radiopharmaceuticals into Canada's health-care system.
Reilly is leading one component of the research that aims to develop radiopharmaceuticals to image and treat recurrence of head and neck cancer. His team is collaborating with researchers at University Health Network to test the new radiopharmaceuticals in preclinical models and find ways to detect recurrence early so that it can be effectively treated with radiopharmaceuticals.
Radiopharmaceuticals have potential to treat breast and brain cancers
In addition to the work being done through the NFRF project, Reilly and his team have made significant advances with other radiopharmaceuticals for cancer treatment.
For example, Reilly's team developed a radiolabelled version of the breast cancer drug Herceptin, which was used in a small clinical trial that examined its treatment for brain metastases of breast cancer. In the trial, the researchers studied whether high-intensity focused ultrasound would allow Herceptin to more effectively cross the blood-brain barrier and reach the tumour. Reilly's radiopharmaceutical was key to imaging if – and where – the drug accumulated in the brain.
His team has also been working on developing radiation nanomedicines, which combine radiopharmaceuticals and nanotechnology. They have recently developed radiolabelled gold nanoparticles that, in preclinical models, are able to precisely deliver radioisotopes to brain tumour cells and kill them without harming normal tissue. They have had promising results with these first-generation radiolabelled nanomedicines and are continuing to develop and improve them.
As the field grows from a niche specialty to a more widely studied potential cancer treatment, Reilly says he is excited about the potential for radiopharmaceuticals to have a significant impact in improving patient outcomes.
"One of the transformations that has emerged in recent years is a tremendous resurgence of interest in radiopharmaceuticals for cancer treatment – not just for imaging – and now combining them into this theranostic concept," says Reilly. "The New Frontiers research grant will link nuclear medicine specialists and radiopharmaceutical scientists across Canada to develop the next generation of radiopharmaceuticals that will have this dual purpose.
"It's a really exciting time in radiopharmaceutical research."
Pharmacy