Supermileage Team co-captains Melissa Fung (left) and Callum Bartlett (right), and their teammates, examine their hyper-efficient prototype vehicle, called Shadow, which will be competing at the Shell Eco-Marathon Americas race (photo by Roberta Baker)
The U of T Supermileage Team's newest vehicle – a black, bullet-shaped prototype called Shadow – will be competing this week in the Shell Eco-Marathon Americas (SEMA) race against more than 90 teams at the NASCAR-grade Sonoma Raceway in California.
Now in its fifth year, the U of T Engineering student team designs, fabricates, builds and races hyper-fuel-efficient vehicles. This year's vehicle runs on a 30-millilitre engine with a maximum recorded efficiency of 5,505 kilometres per litre (3,421 miles per gallon), meaning Shadow could drive the 541 kilometres from Montreal to Toronto on about 25 tablespoons of fuel. 
To improve their performance in Sonoma, the team has made a number of changes from previous years.
"Last year at the competition we had some difficulties with our rear drive train, so we completely redesigned it to withstand higher torques and we're hoping that will give us some efficiency improvements," says Supermileage Team co-captain Callum Bartlett. "We have also been working on our engine to make it more efficient and that included rewiring the whole system, which was a big project for us this year."
The Shell Eco-Marathon event, from April 18 to 23, challenges engineering students to think small when it comes to the amount of energy required to power a vehicle. Over several days, contestants drive a set number of laps around the race track in Sonoma, Calif. At the end of the competition, organizers calculate the distance traveled and measure the amount of fuel consumed by each vehicle. The team with the most energy-efficient vehicle in each category wins.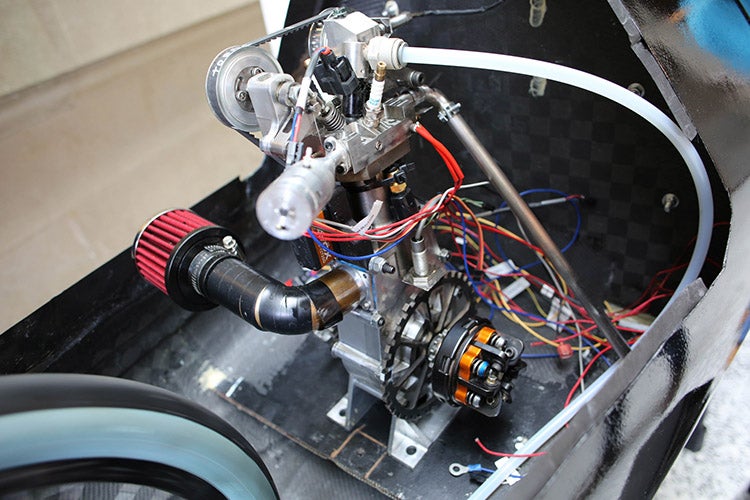 A rewired 45 cc engine is one of many upgrades the U of T Engineering student team made to the new vehicle (photo by Roberta Baker)
This year, the Supermileage Team has been hard at work enhancing the vehicle's design with the goal of reclaiming their 2015 first-place title in the gasoline prototype internal combustion category.
Co-captain Melissa Fung is optimistic that the U of T team will come out on top, but will be keeping a close eye on long-time rival Université Laval, which took the title for the past two years.
"Laval is always our toughest competitor, but I think we have a really good chance of placing first this year because of the upgrades we made to the vehicle," says Fung.
Improvements include clearer windshields and side windows to enhance driver visibility.
One challenge the team faced in preparing for the competition was the limited amount of space in their current work room. This fall, Supermileage will be one of seven U of T Engineering student clubs and teams moving into the Myhal Centre for Engineering Innovation & Entrepreneurship. The team will have a dedicated garage space and direct access to prototyping tools and equipment, and additional storage.
"[The Myhal Centre] will give us more space for fabrication, design work and theoretical modeling," says Bartlett. "This will be important to the future success of the team because it will enable us to take our prototypes to the next level."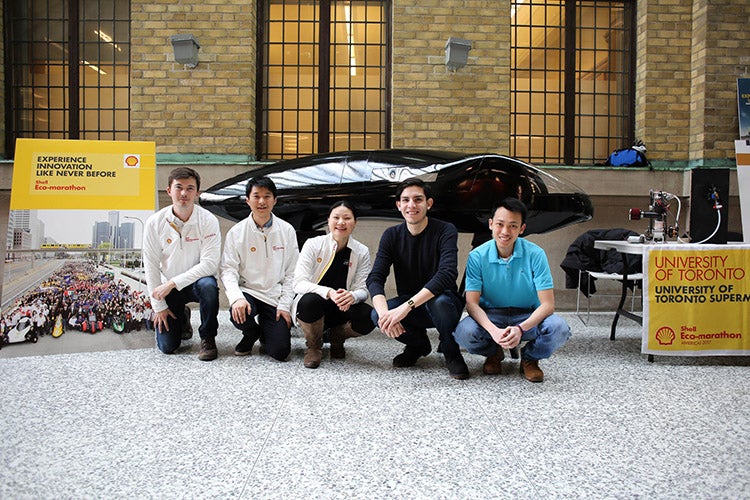 The team with its hyper-fuel-efficient prototype vehicle Shadow (photo by Roberta Baker)