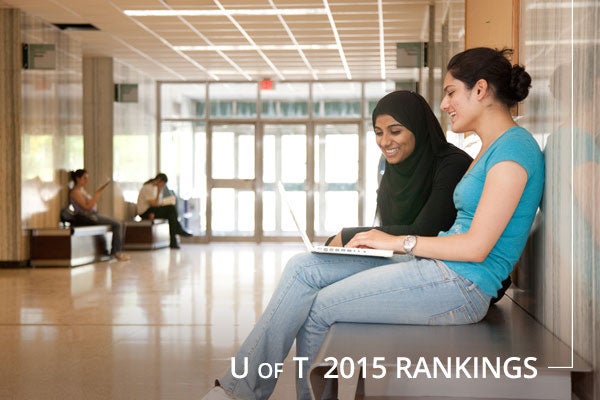 QS World University Rankings discounts medicine and life-science citations
U of T and all Canadian peer institutions with medical schools drop in placement
QS World University Rankings released its 2015 report on 15 September, including a new methodology that attempts to equalize citation performance across all disciplines.
This new QS system dramatically affected ranks for many institutions, particularly those where life sciences and medicine are strengths.
The new QS framework resulted in a drop in the rank of University of Toronto and all Canadian universities with medical schools. A number of leading universities with strong medical programs also dropped, including such renowned institutions as Johns Hopkins, Imperial College London and the University of Pennsylvania.
The 2015 QS rankings place U of T at 34th – a fall from its 20th position with QS last year. This result is an anomaly compared with the university's top-25 or higher placement in all other major international rankings, such as Times Higher Education, where U of T ranks 20th, Shanghai, where it ranks 25th, US News & World, where it ranks 14th, and NTU where U of T ranks fourth in the world.
McMaster now sits at 149th place in the latest QS rankings – a drop of 36 places since last year. Queen's dropped 19 places to its current ranking of 206. UBC fell to 50th-place with a drop of seven spots. McGill – now the top-ranked Canadian university according to QS – also fell from 21st to 24th.
"It is noteworthy that on Academic Reputation the University of Toronto is ranked 14th in the world in this same ranking," said Marny Scully, assistant vice-president, government, institutional and community relations.
"When you look at the actual scores of each of the metrics used, it is clear U of T's position in the overall ranking is due to a change in the QS methodology, not a meaningful change in performance at U of T." 
| | | | |
| --- | --- | --- | --- |
| OVERALL RANKING METRIC | 2015 Score | 2014 Score | Variance |
| Academic reputation | 99.9 | 100 | -0.1 |
| Employer reputation | 95.6 | 96.8 | -1.2 |
| Student-Faculty ratio | 82.6 | 78.8 | 3.8 |
| Citations per faculty | 57.3 | 87.4 | -30.1 |
| International faculty | 97.1 | 96.9 | 0.2 |
| International students | 90.3 | 88.6 | 1.7 |
| Overall score | 87.1 | 92.4 | -5.3 |