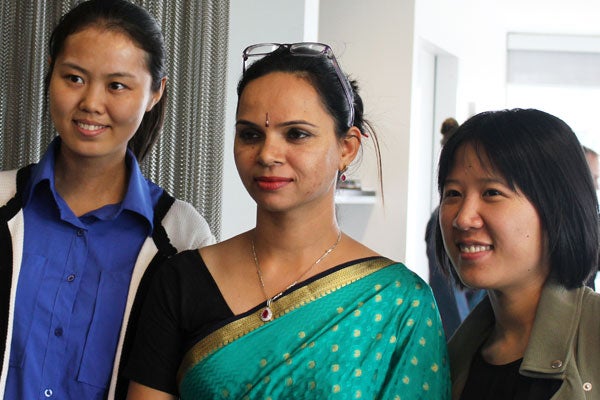 Punjab educators take part in U of T teacher training program
OISE hosts 50 teachers for intensive development program
A skilled educator with 15 years of experience teaching high-school science in her hometown of Punjab, India, Sapna Verma was searching for ways to improve her teaching. 
Enter the University of Toronto's Ontario Institute for Studies in Education (OISE). 
Verma was among 50 government teachers, teaching coordinators and officials sent by the government of the Indian State of Punjab who took part in an intensive four-week teacher-development program at OISE last month. 
"Being selected to come to Canada and to be at the University of Toronto to participate in this program signifies the years of service you have generously given to the noble profession of teaching," Liz Coulson, OISE instructor and the program's coordinator, told participants. "Your commitment to students and to the betterment of this world through your own pursuit of knowledge is to be commended."
Throughout August, OISE faculty led sessions and hands-on workshops that touched on the principles of teaching and learning, inclusive education and instructional technology, innovative ways to support student learning using adaptive technologies, special education and motivating students in a mixed-ability classroom, as well as inclusiveness in the classroom. The teachers were also taken on several trips to Ontario schools in the GTA, and visited the Ontario College of Teachers and the Ontario Ministry of Education.
"The things we explored here far exceeded our expectations," said Maninder Kaur, who teaches physics in Punjab. "We highly appreciated learning different teaching methodologies, especially strategies to motivate students to think more critically."
The program's goals? To improve teaching skills, assist participants in meeting the needs of diverse learners, help teachers adapt to changing curriculum, incorporate current research into daily teaching practice, enhance the Punjab state's education system and, ultimately, enable the teachers to become mentors, Coulson said. 
"This was a reciprocal learning experience for all involved," said Coulson. "Many of the trainers and workshop leaders from OISE and from Boards of Education commented on how much they learned working with this group about different ways of learning and leading." 
For Verma, the biggest lesson she learned "was about flexibility. The importance of being flexible with the children you teach," she said, just moments before the program's graduation ceremony on August 21.
At the graduation ceremony, Coulson and Karen Mundy, OISE's associate dean of research, international and innovation, congratulated the 50 graduates.
"In India, there are half a billion young people who have the right to education in your national legislation. And you are entrusted with ensuring that every single child gets that right to education," said Mundy. "By sharing with a group of your peers, you may touch thousands or maybe tens of thousands with what you've learned here."
The Punjab teacher-development program is one of a number of internationally-focused, customized programs developed by OISE's continuing and professional learning office. 
Initiatives aimed at international educators and students have brought delegates from Europe, South America and Asia, including the more than 80 students from China who visited OISE this summer to improve their counselling and English skills.
Liz Do writes about education for U of T News.